vSim® for Nursing Mental Health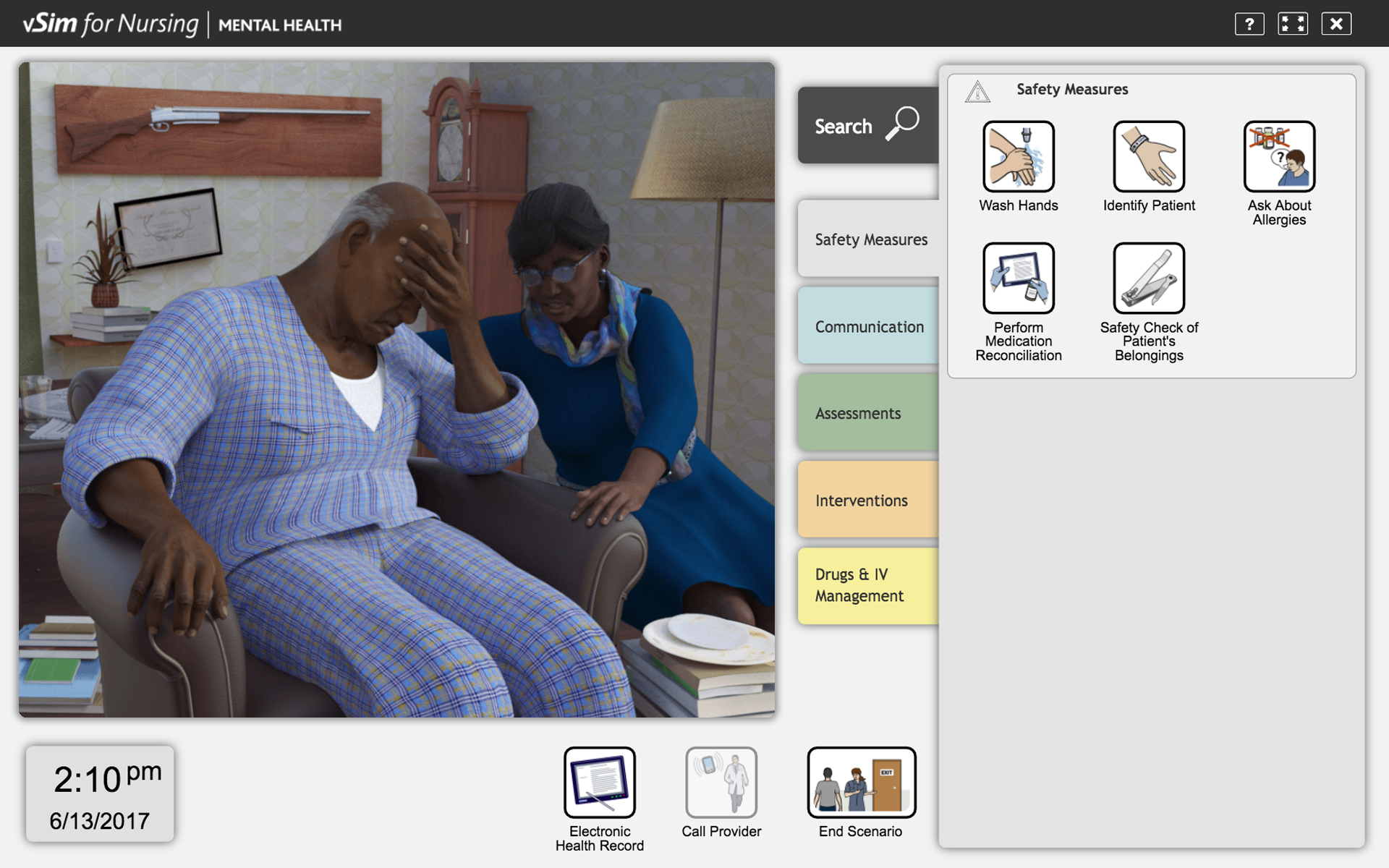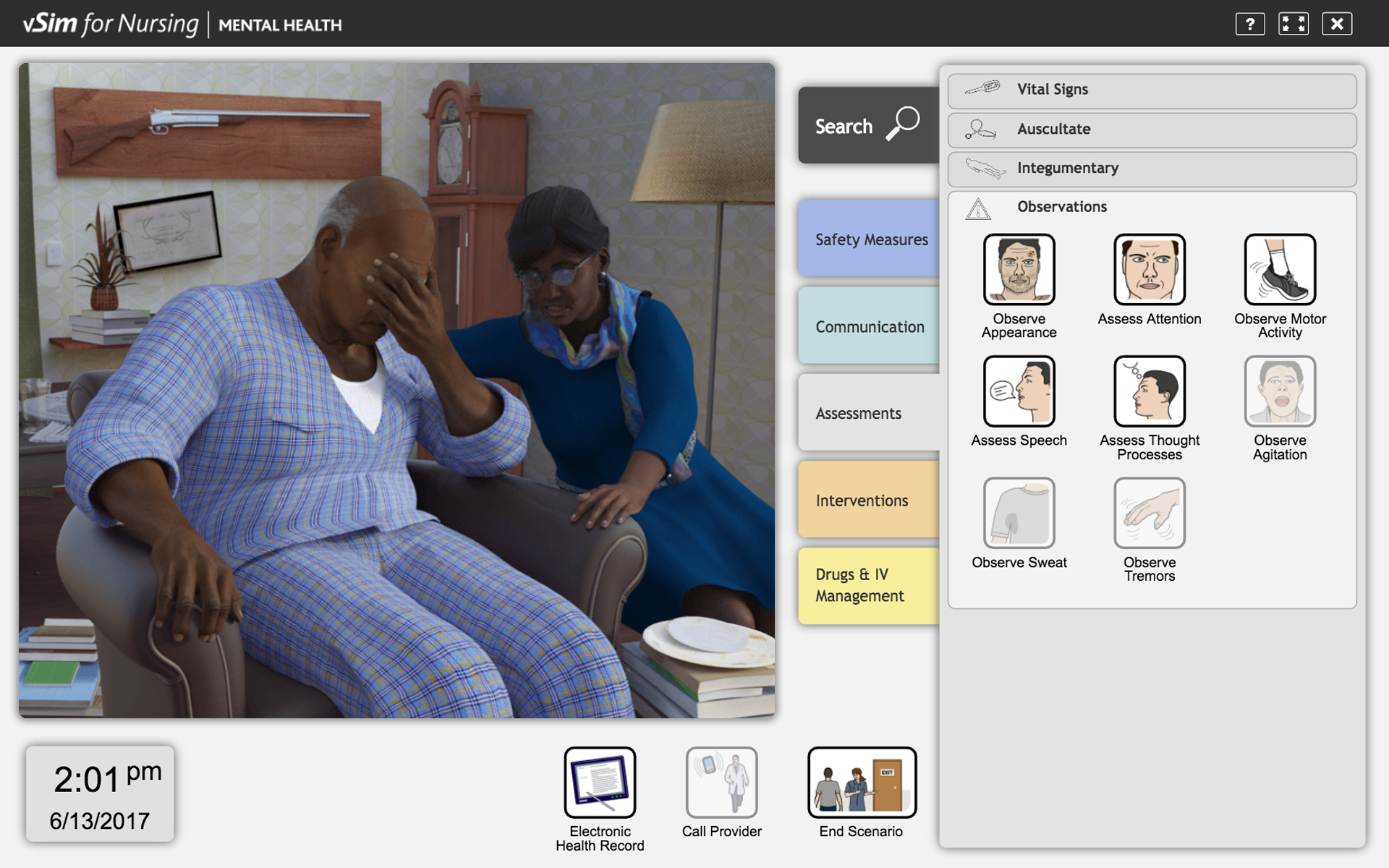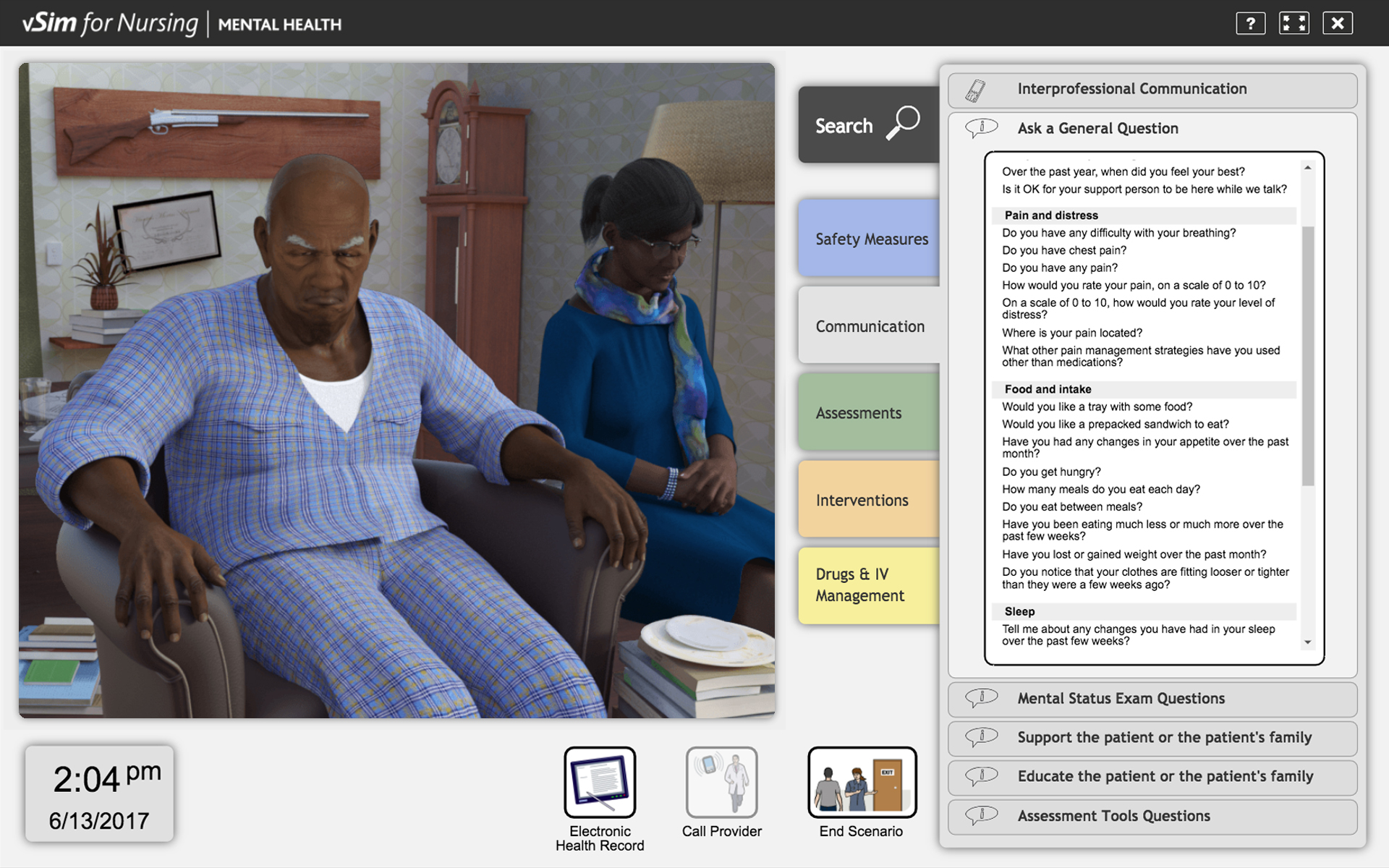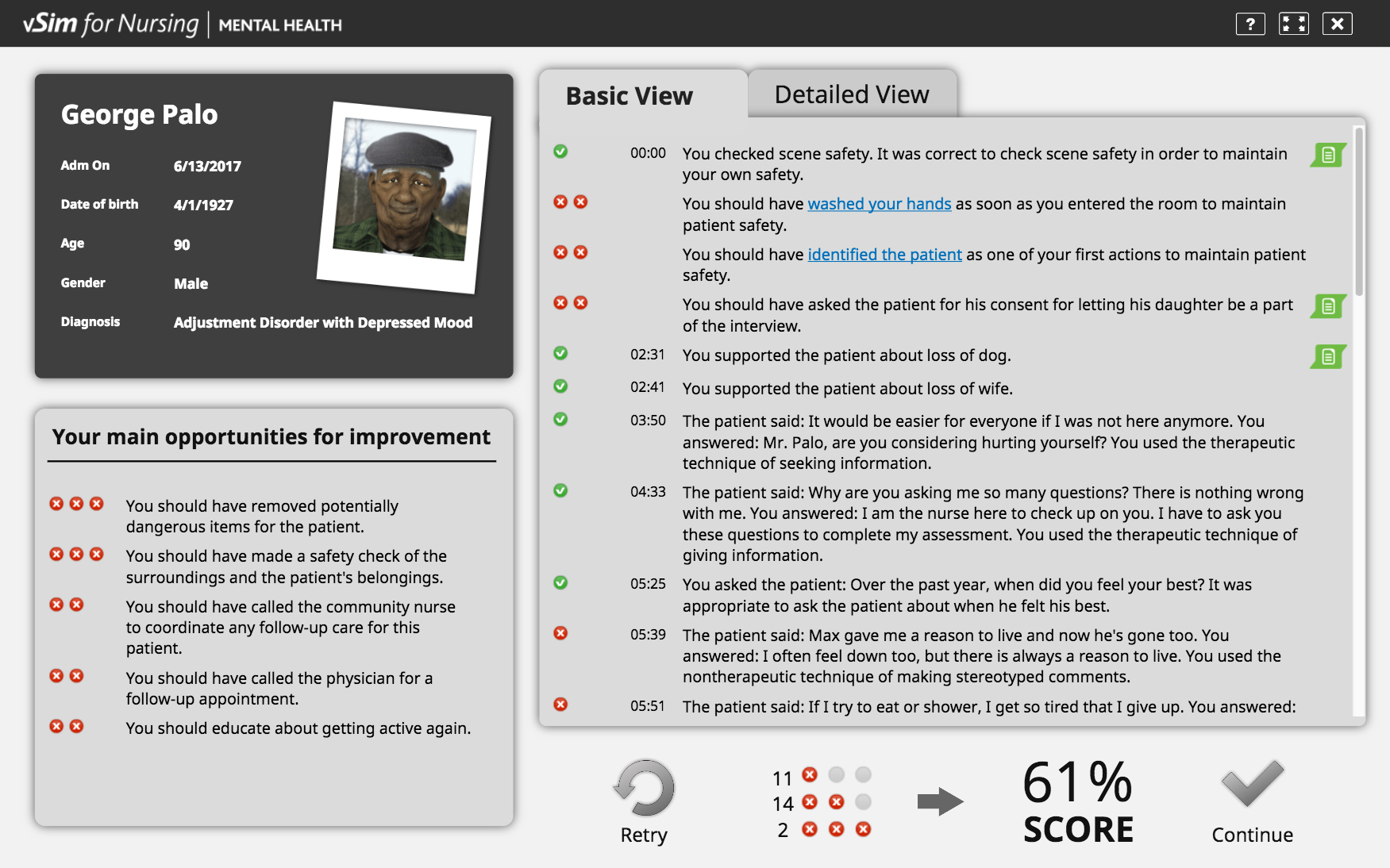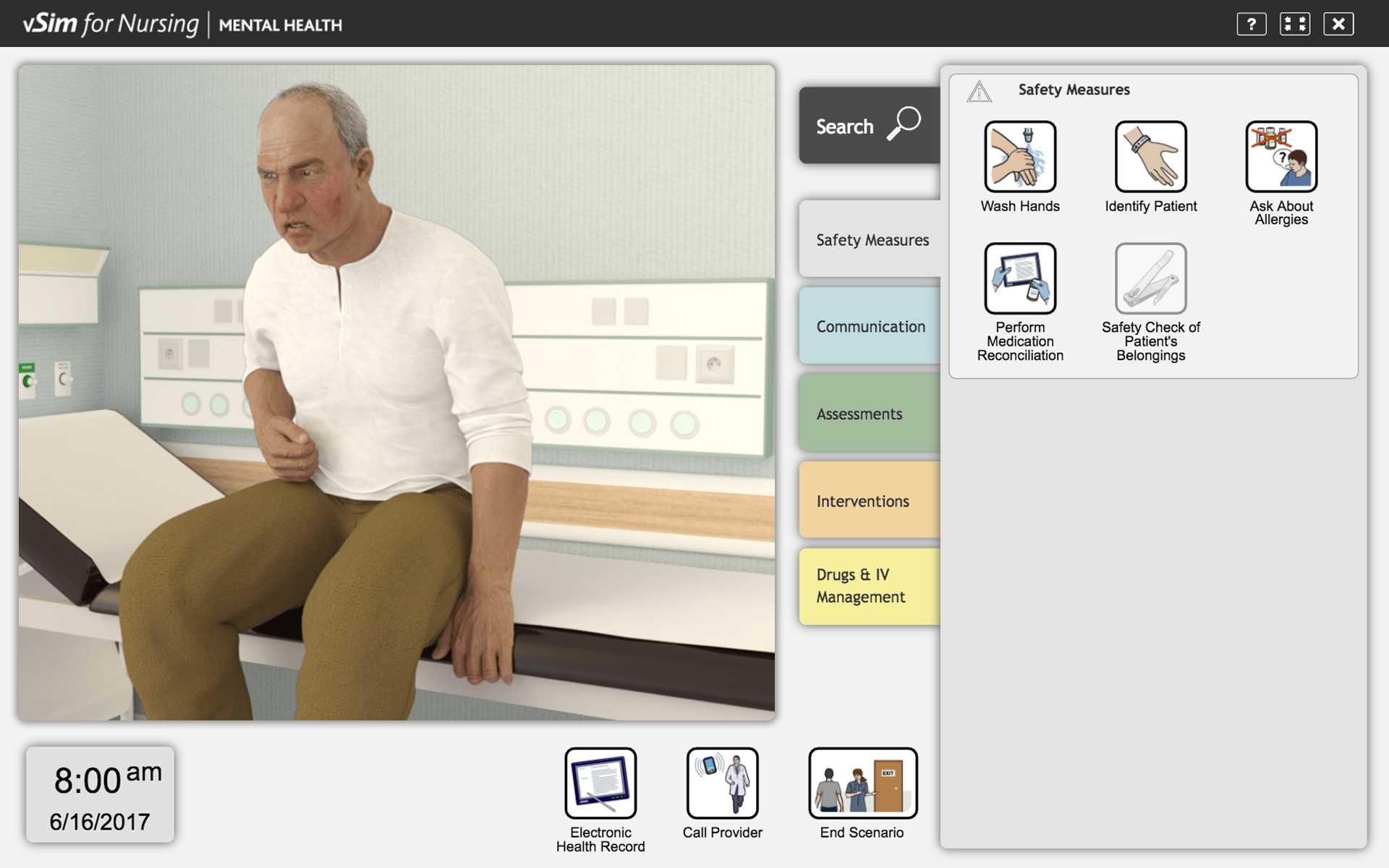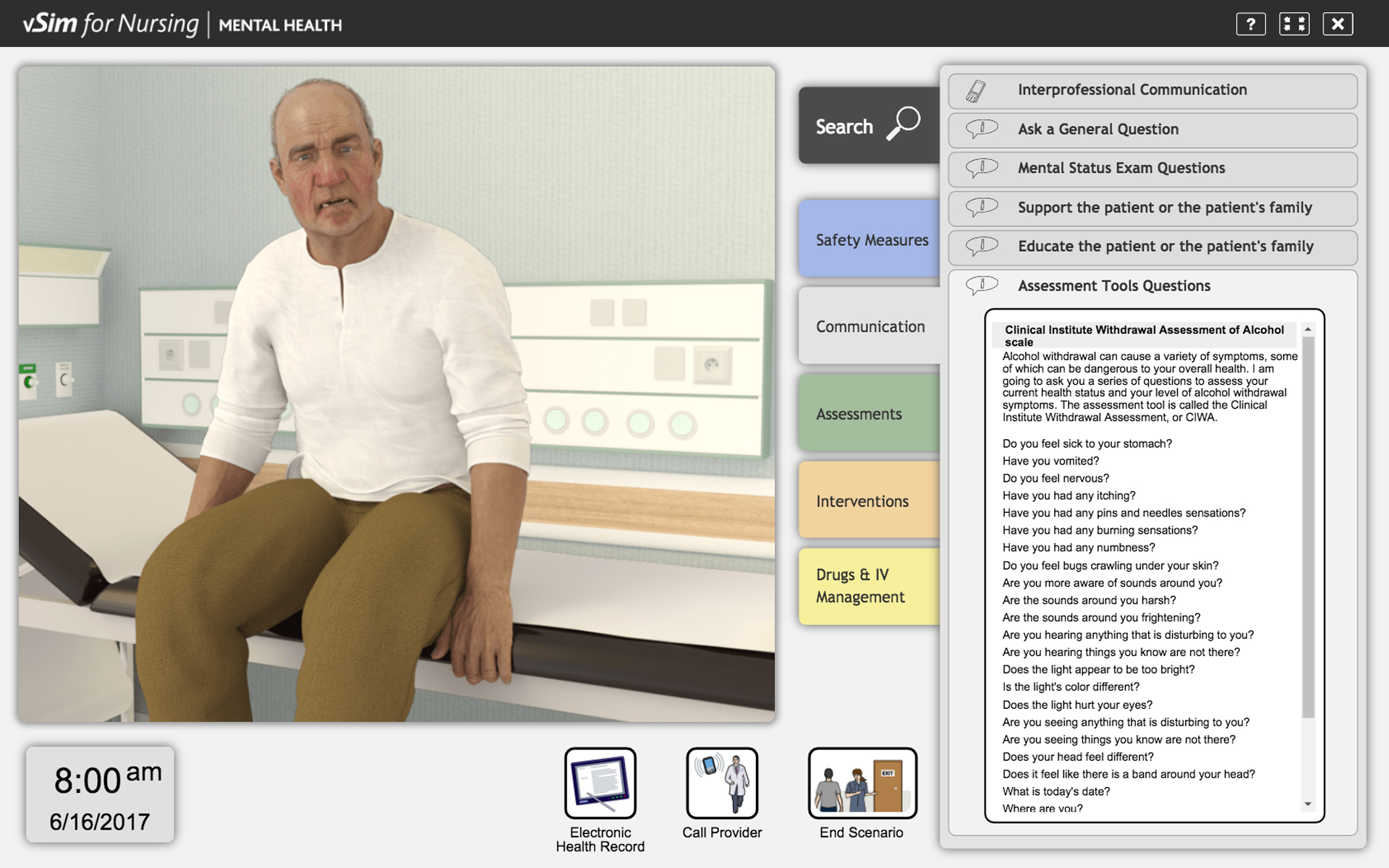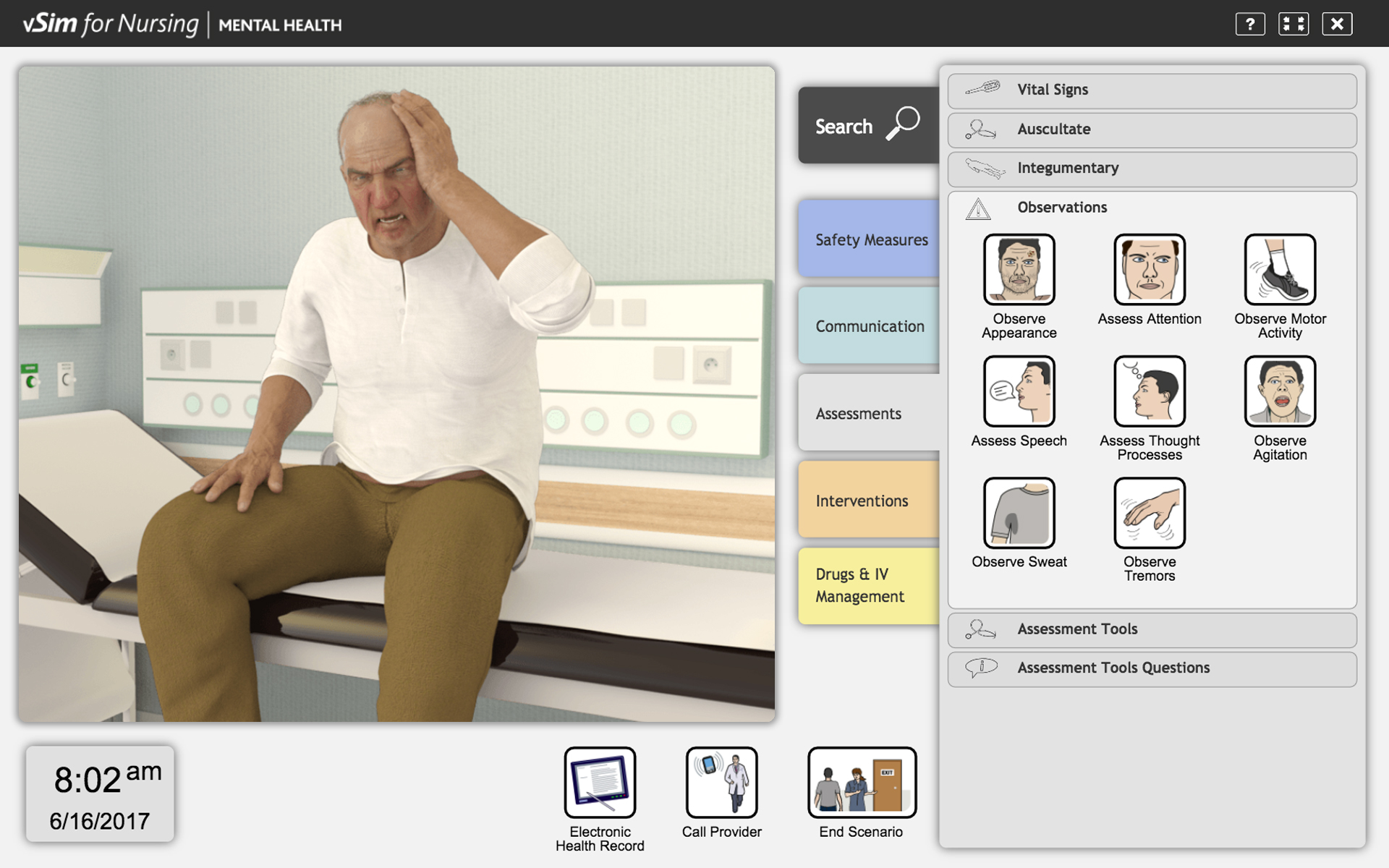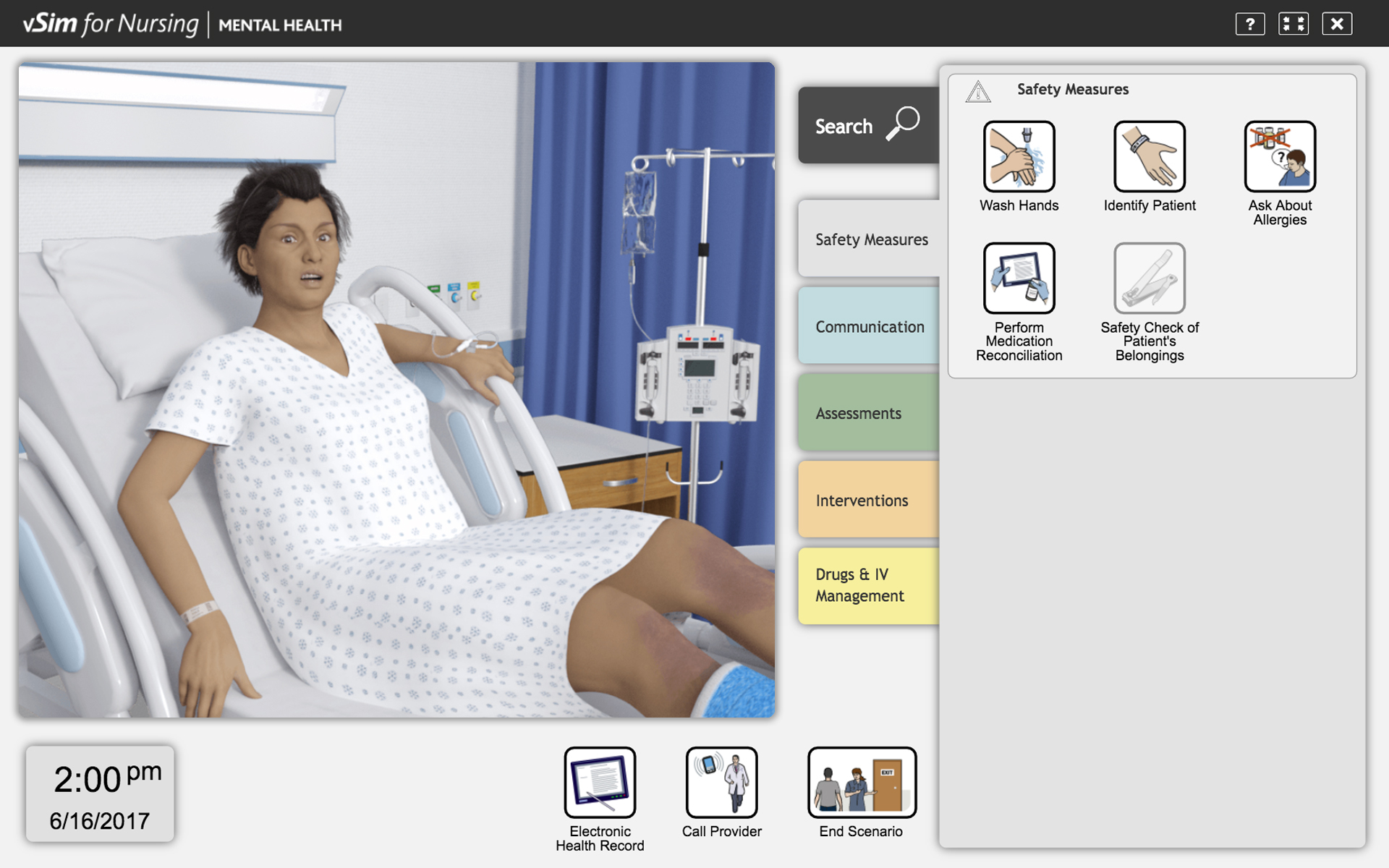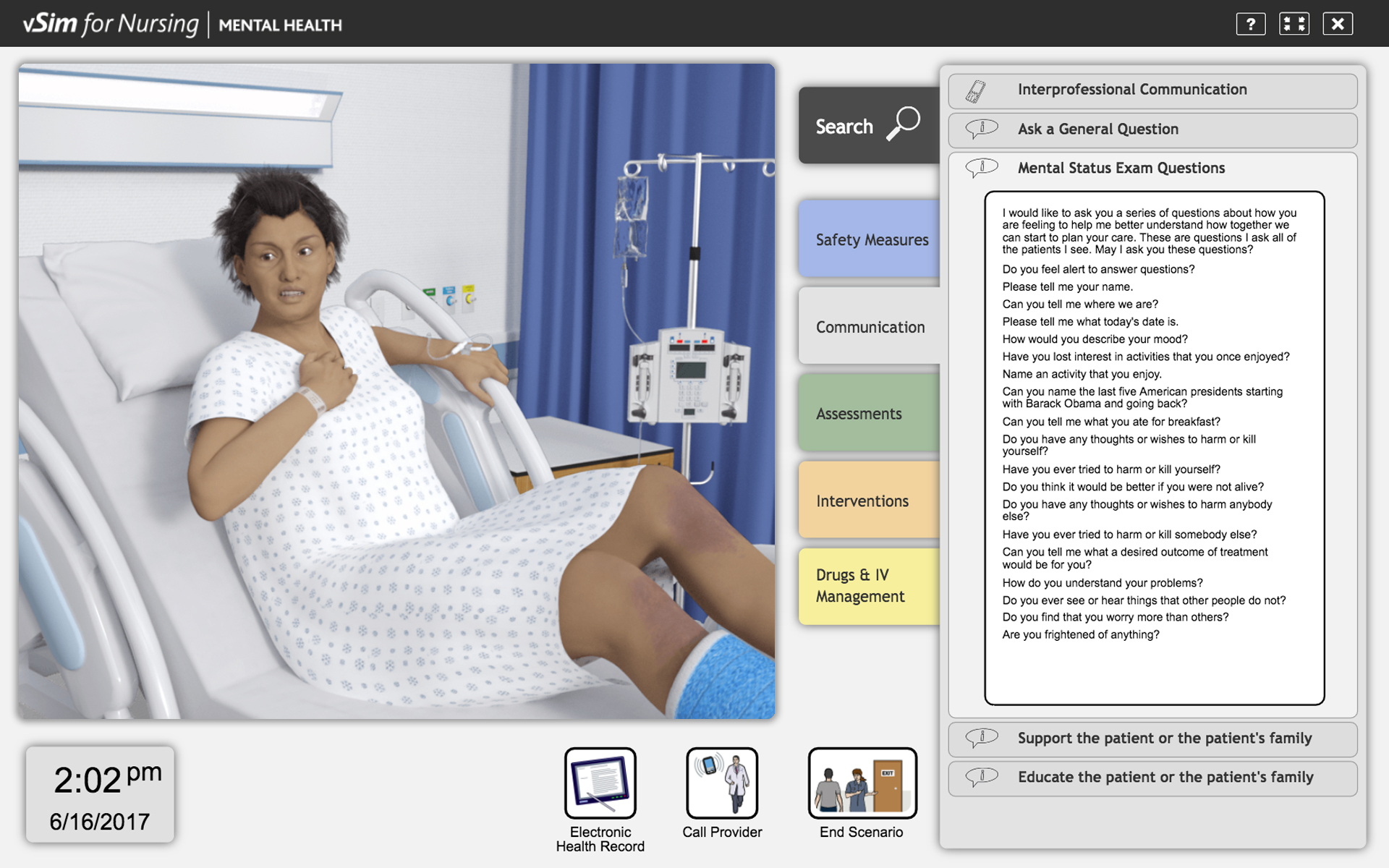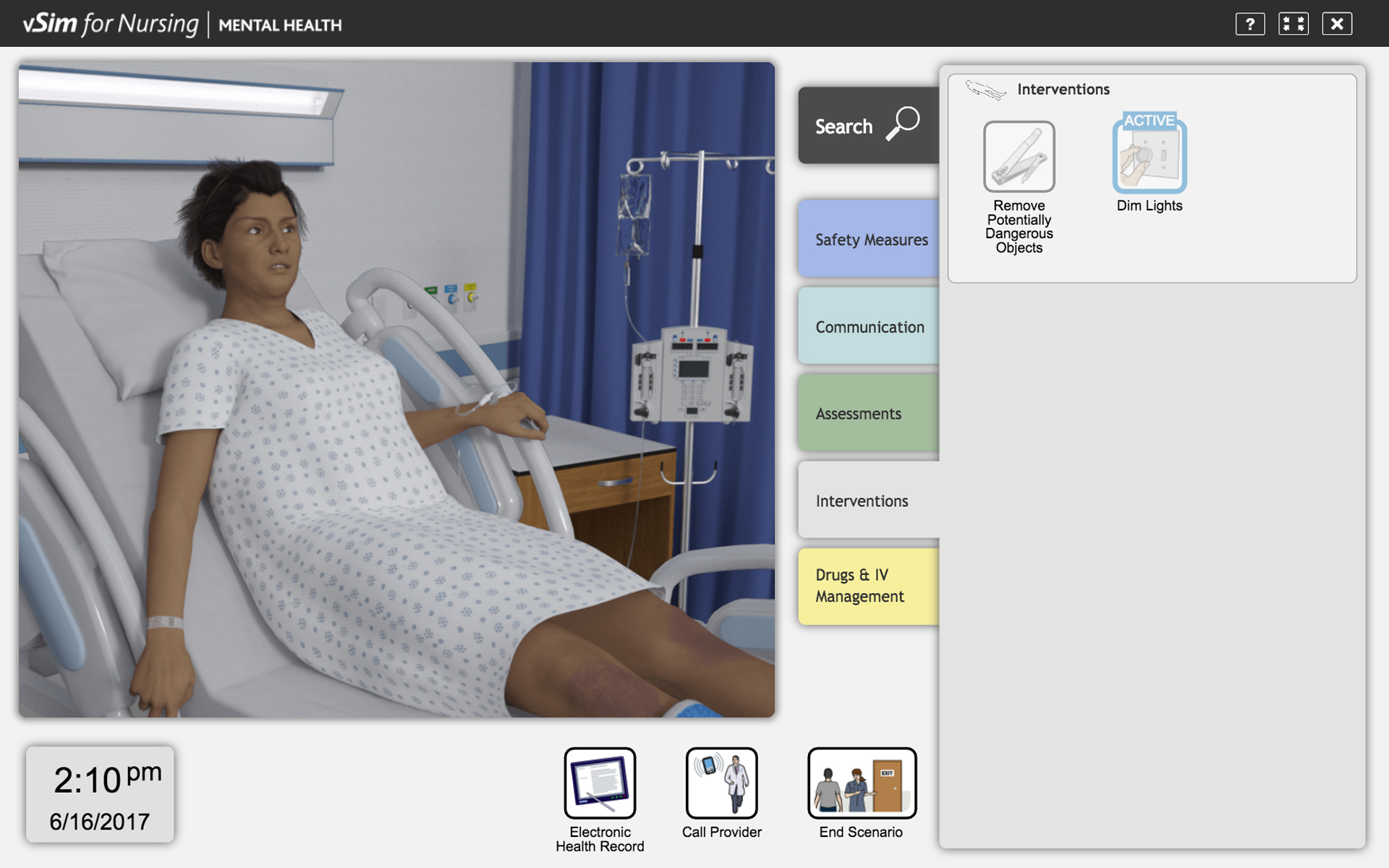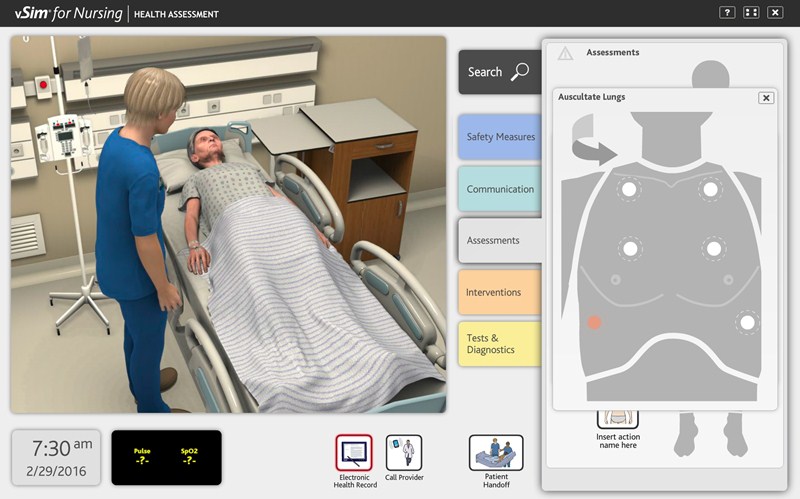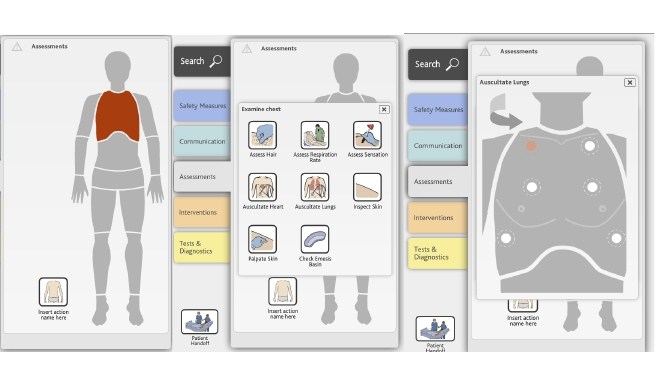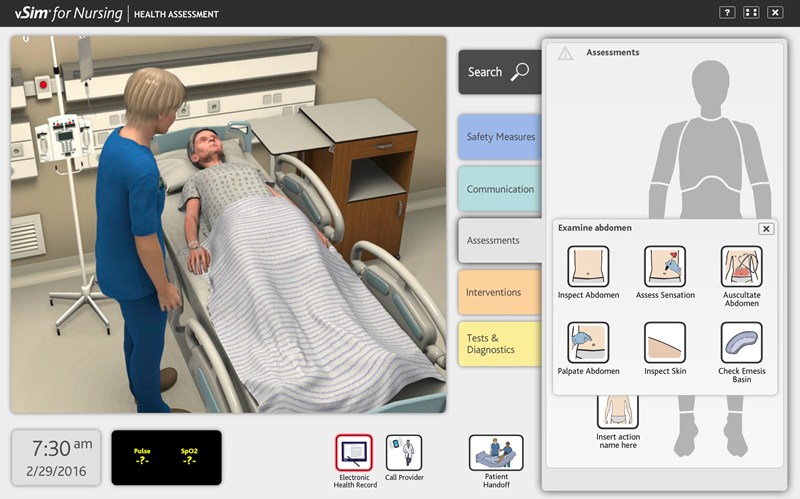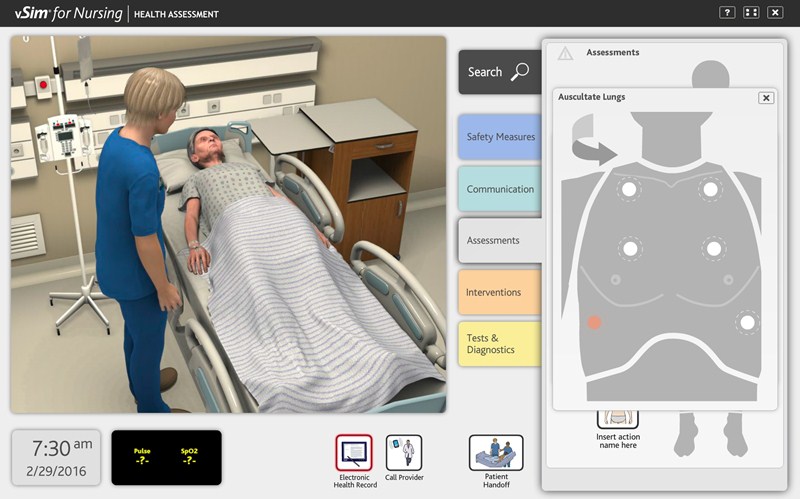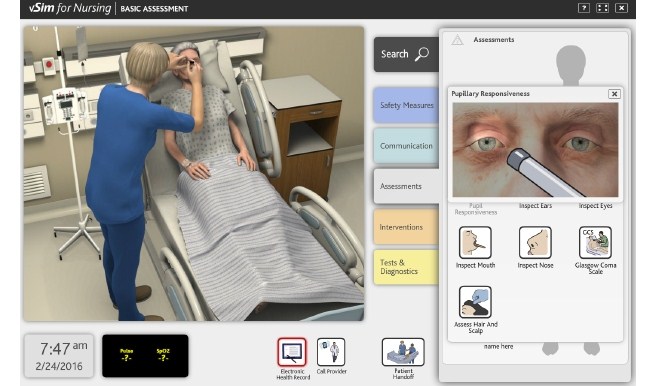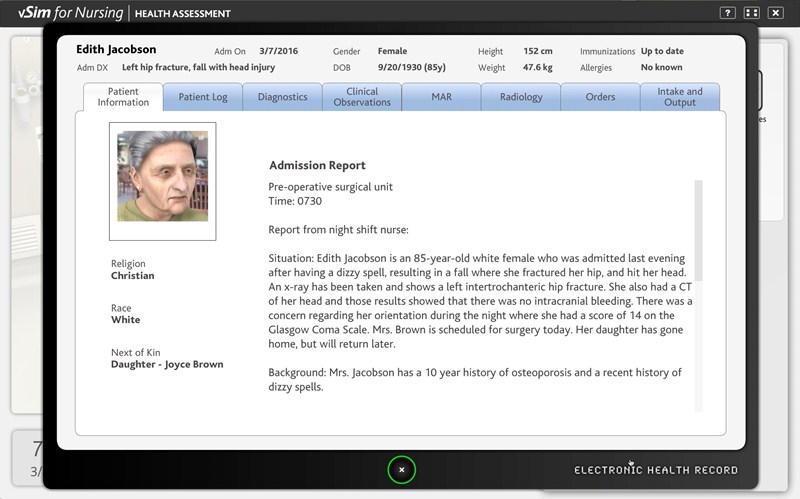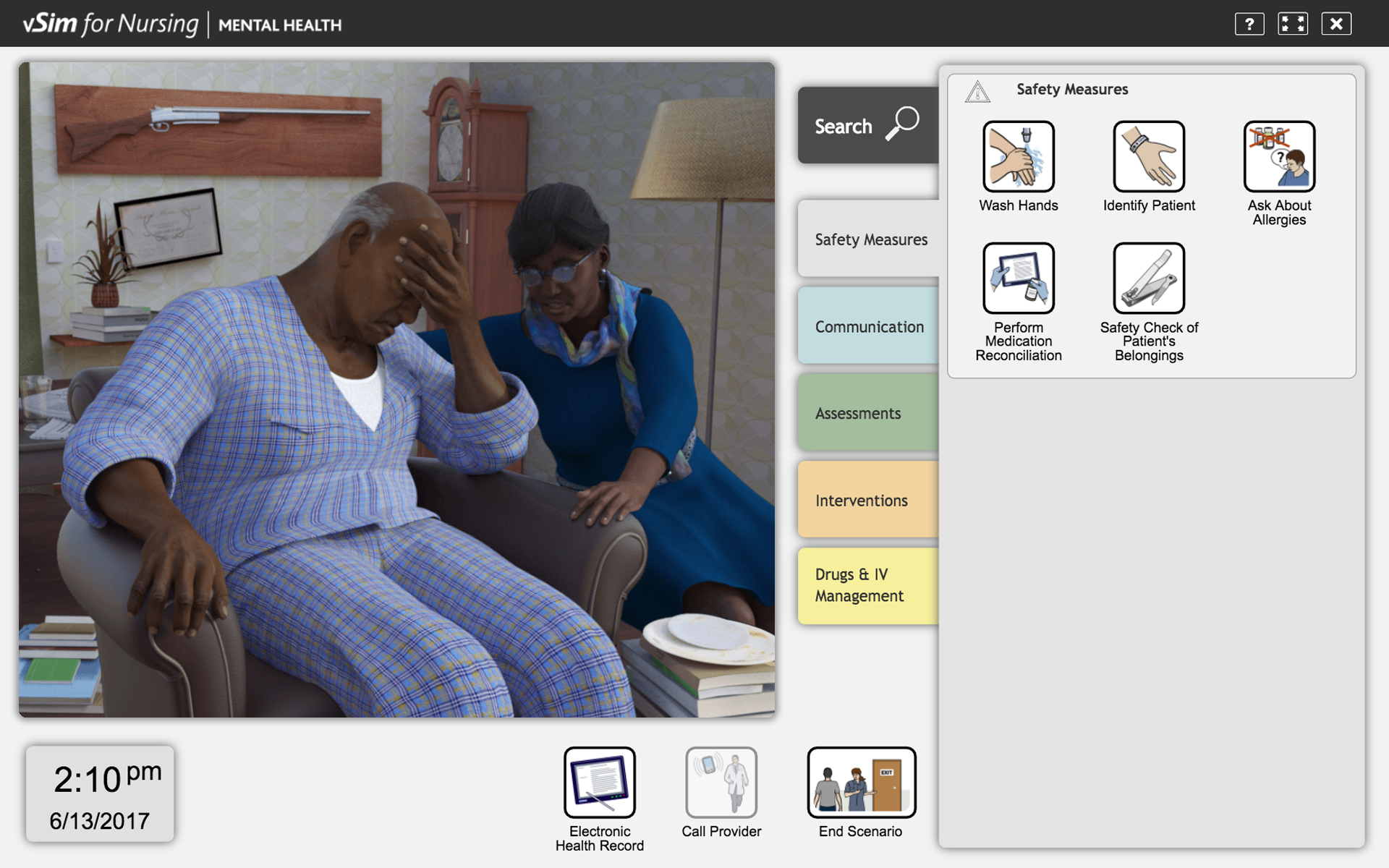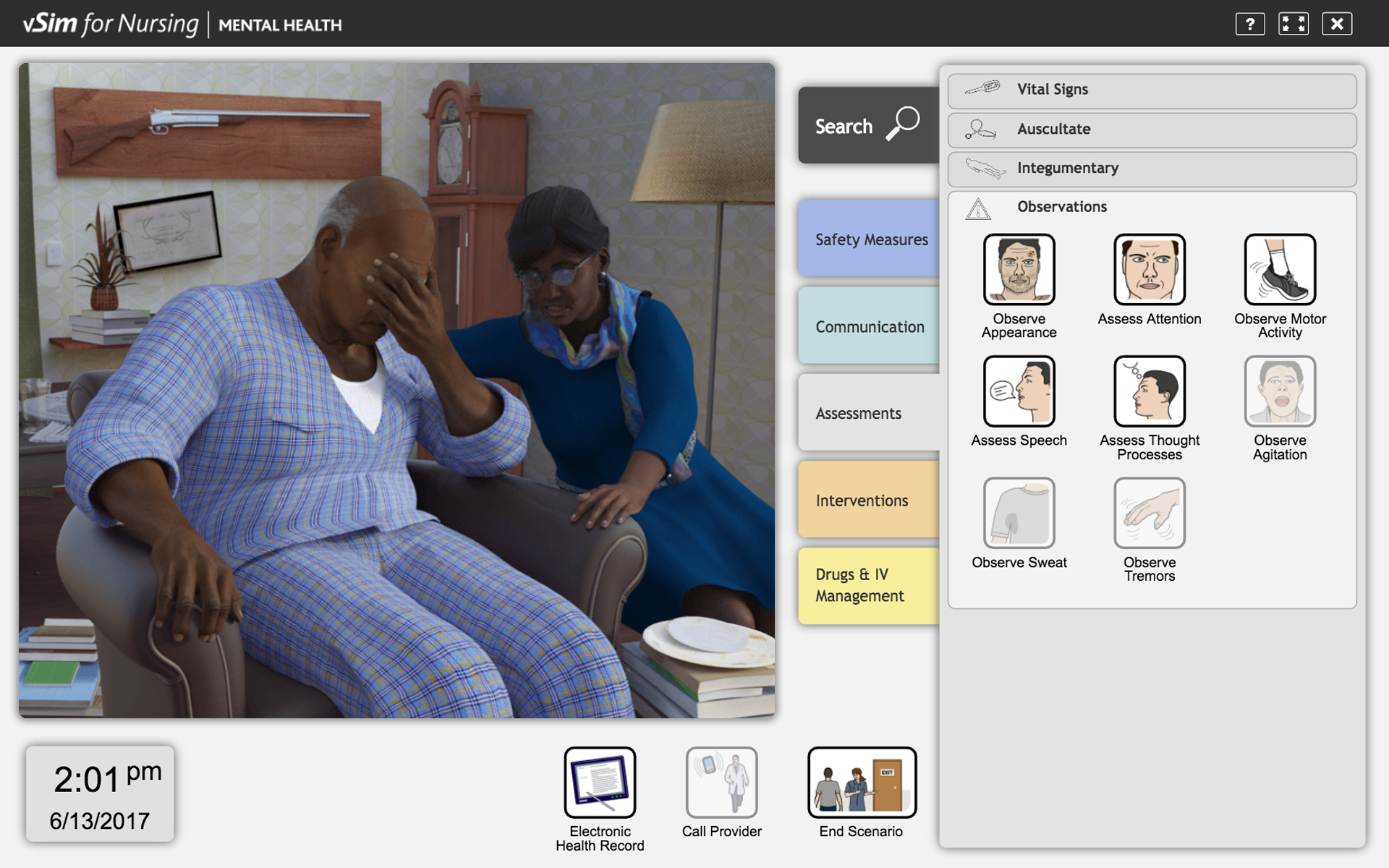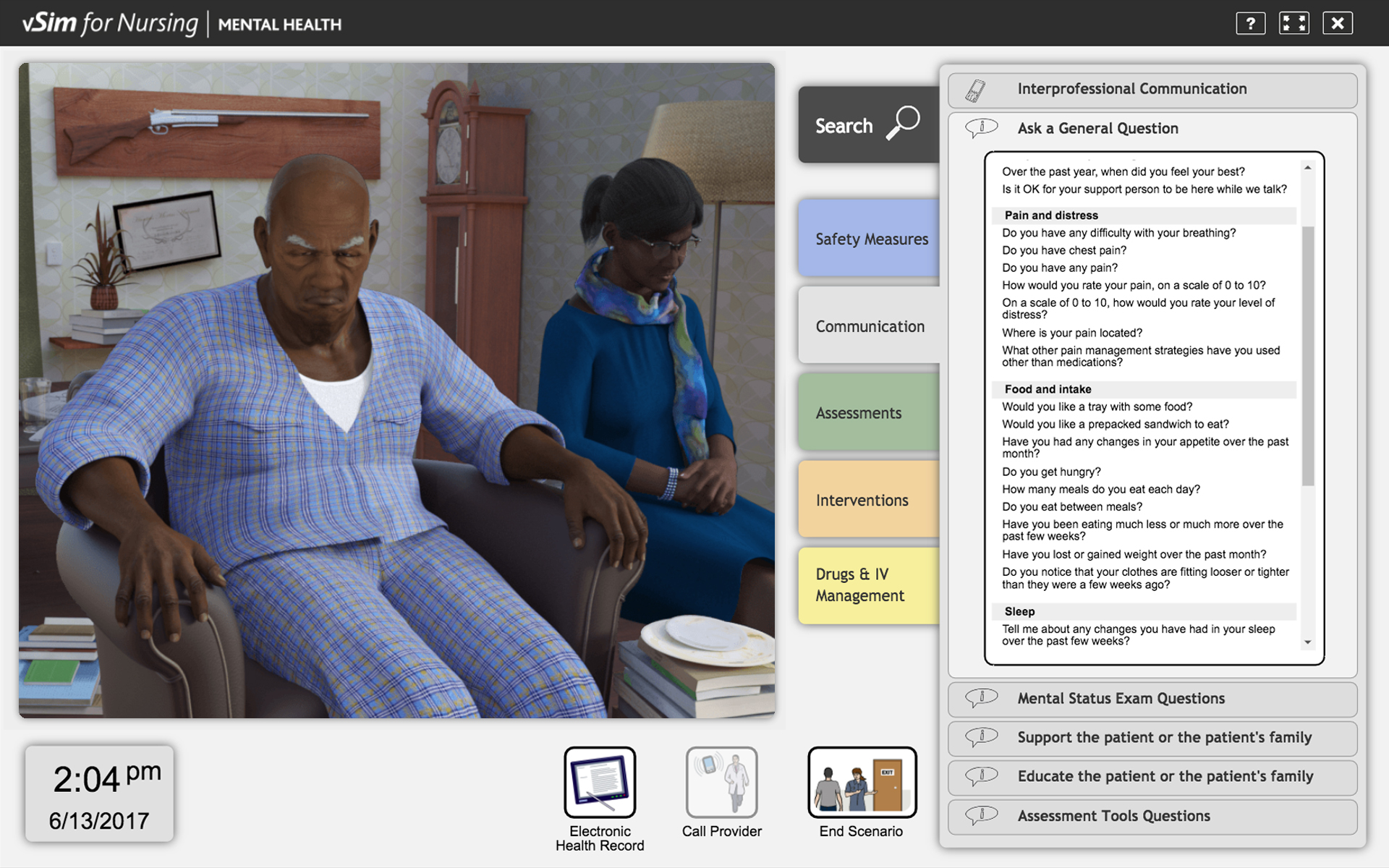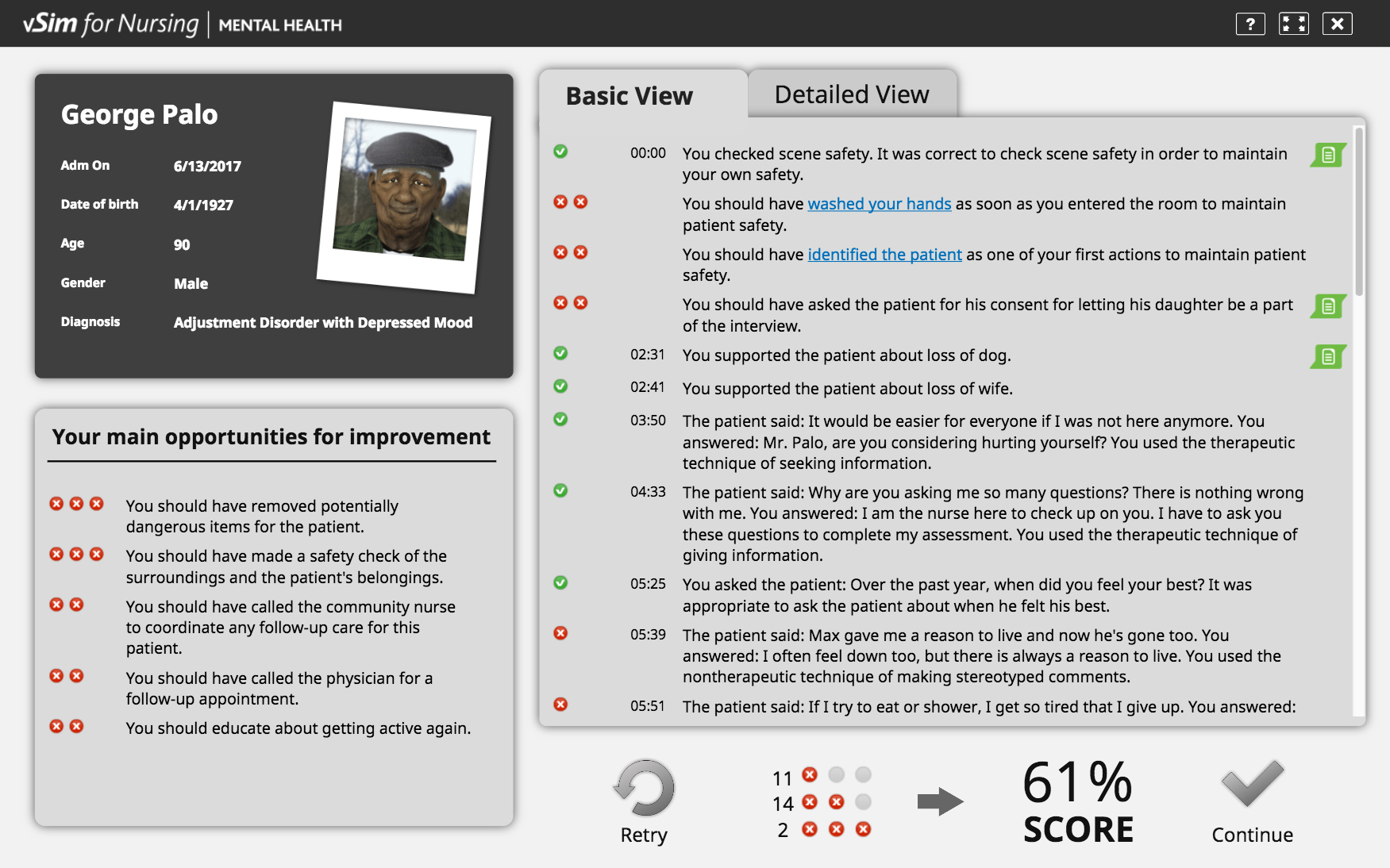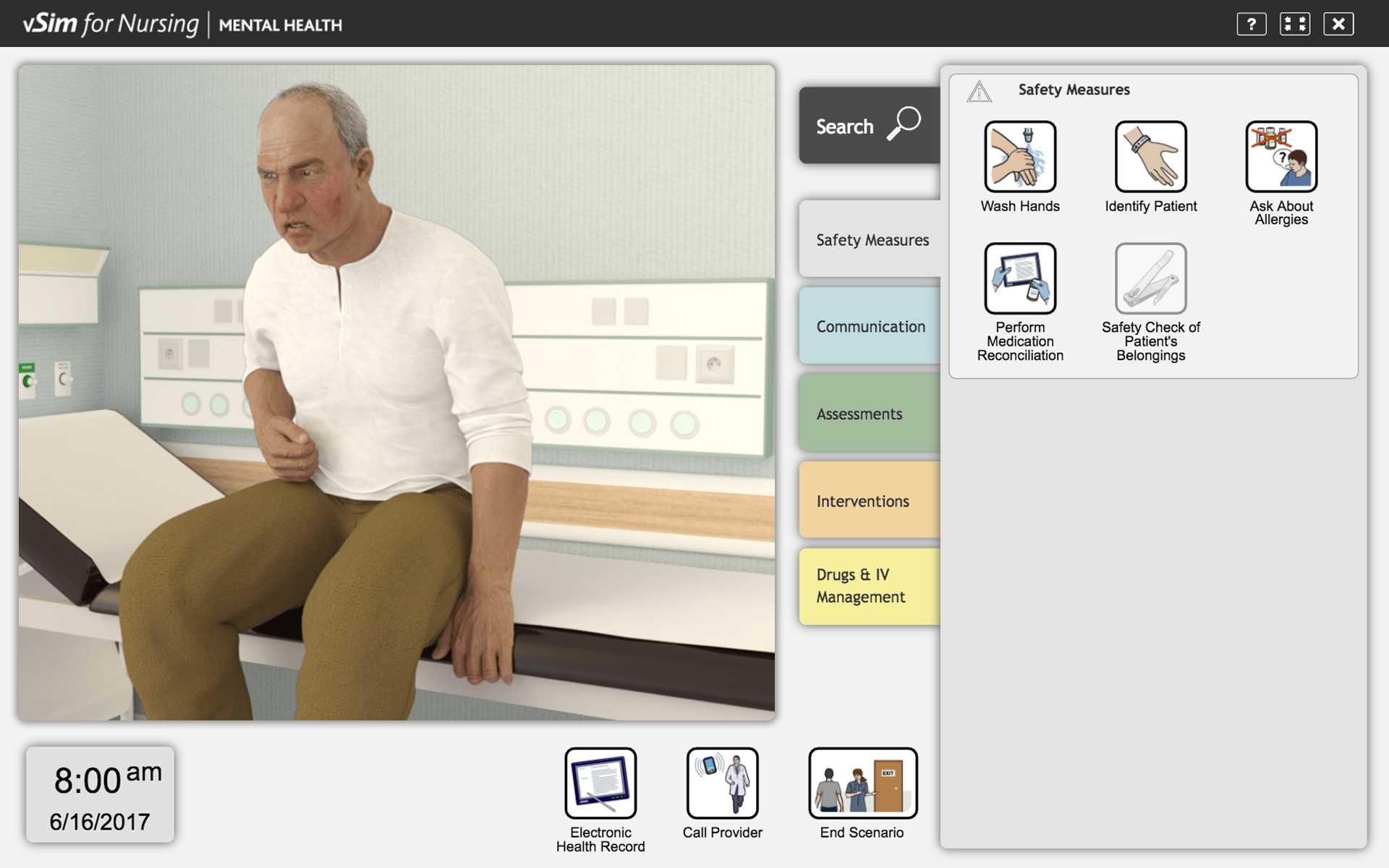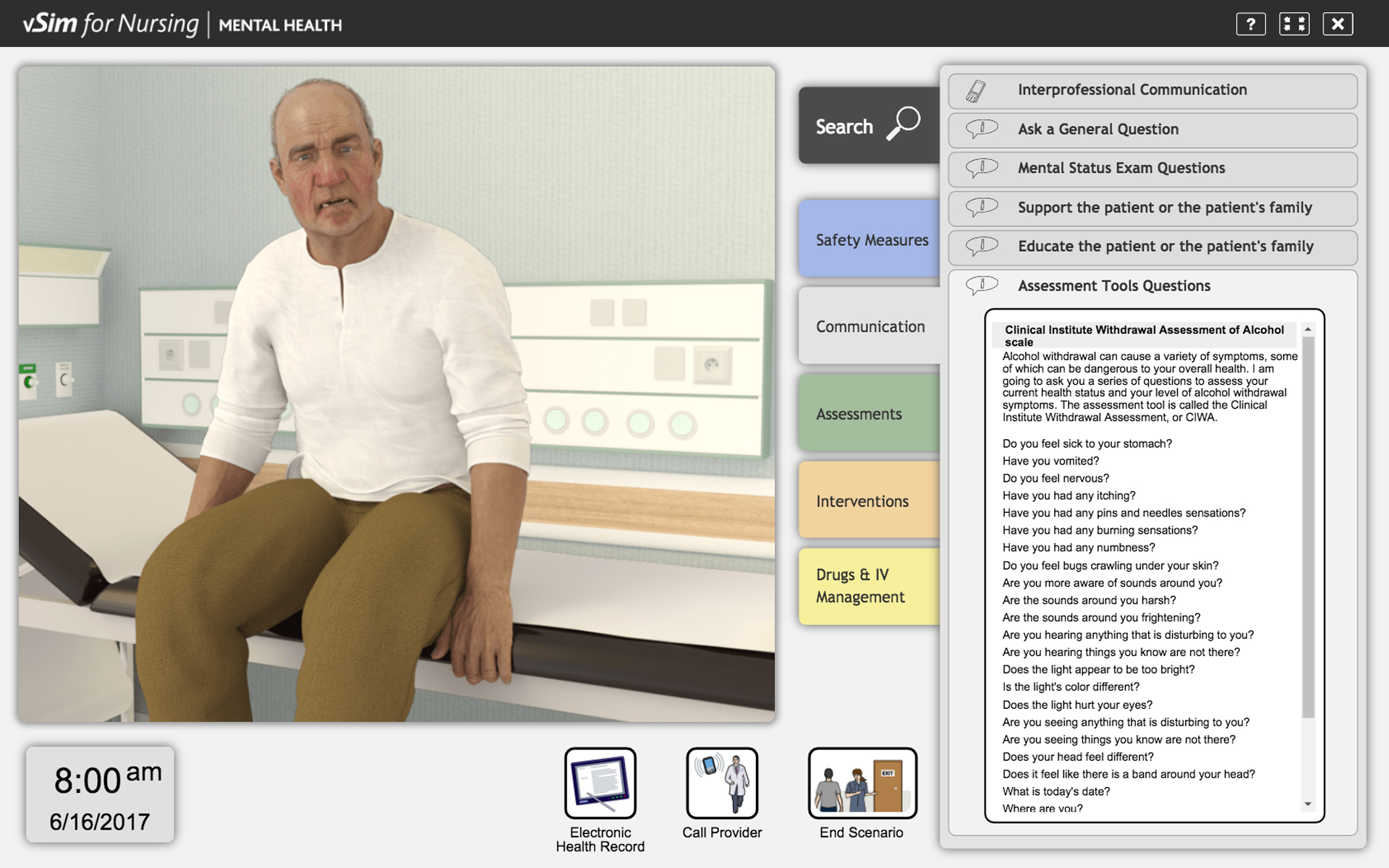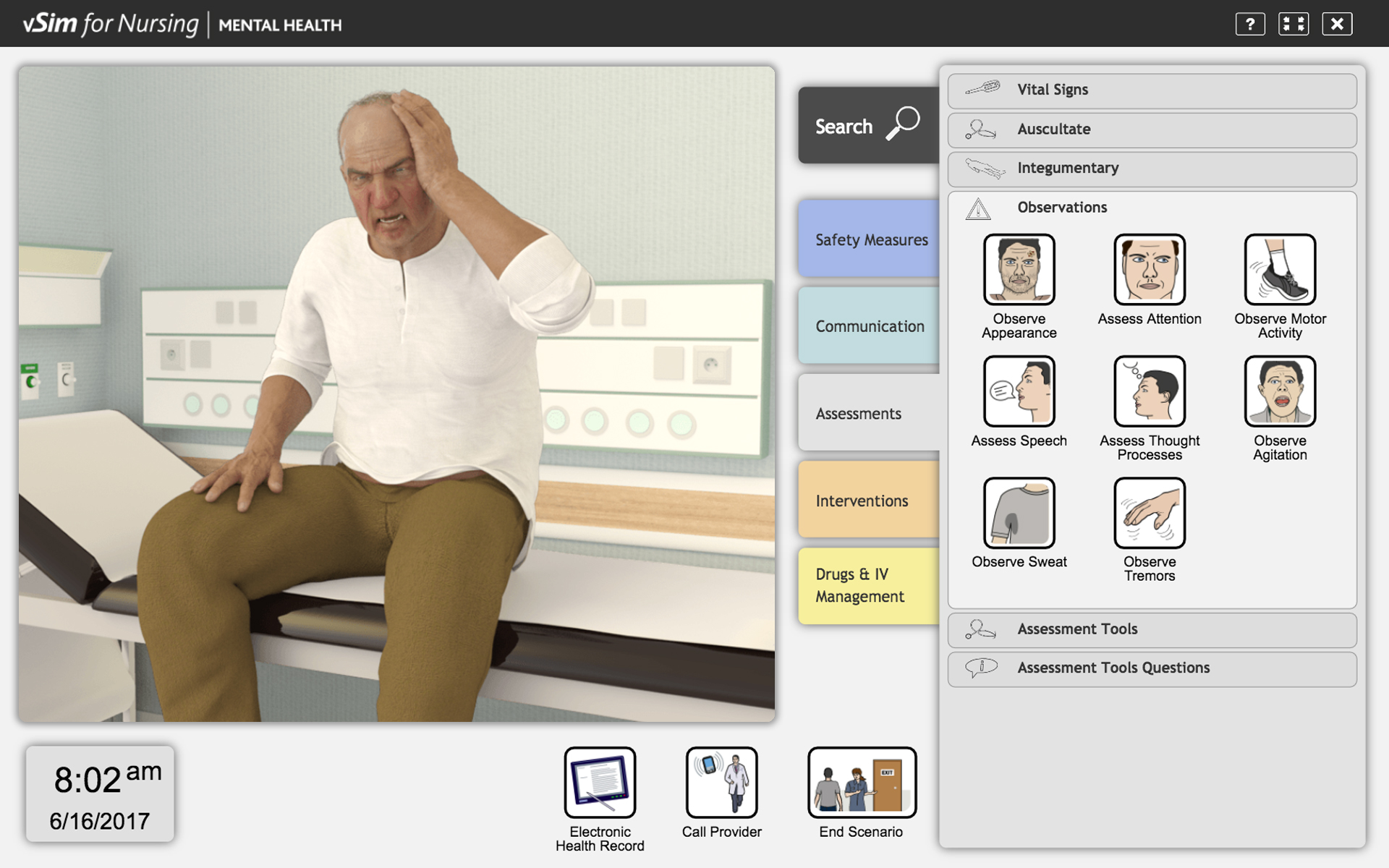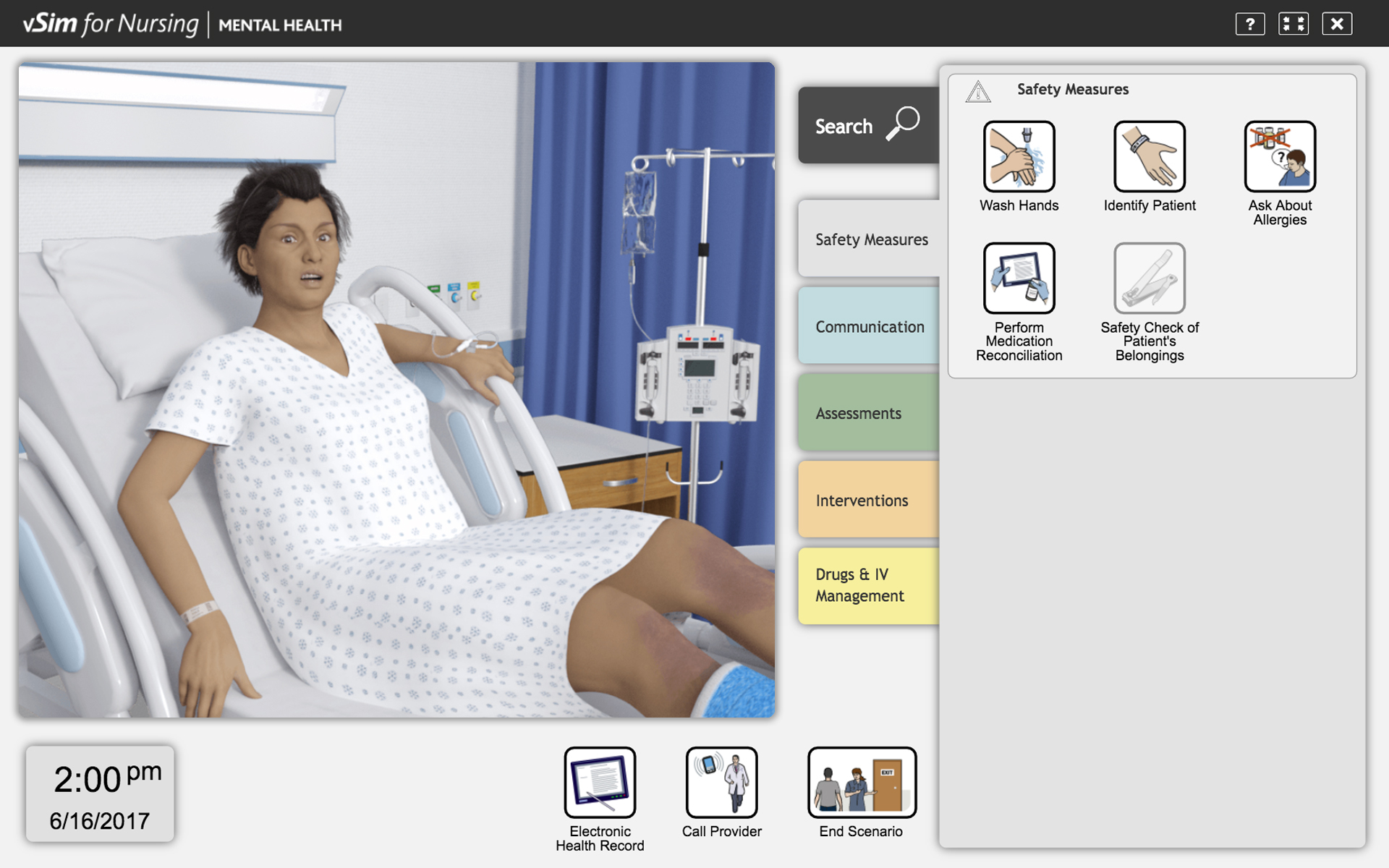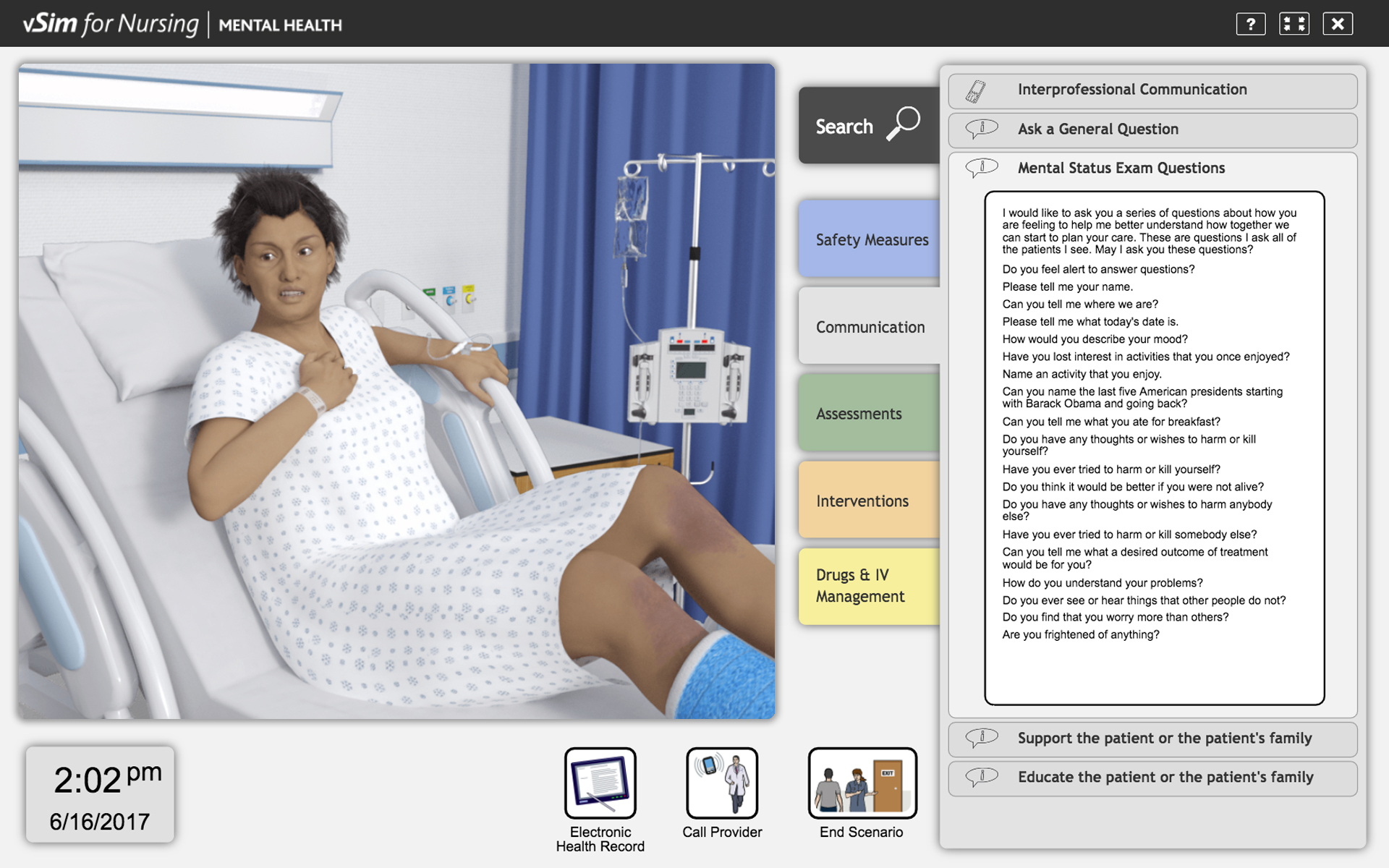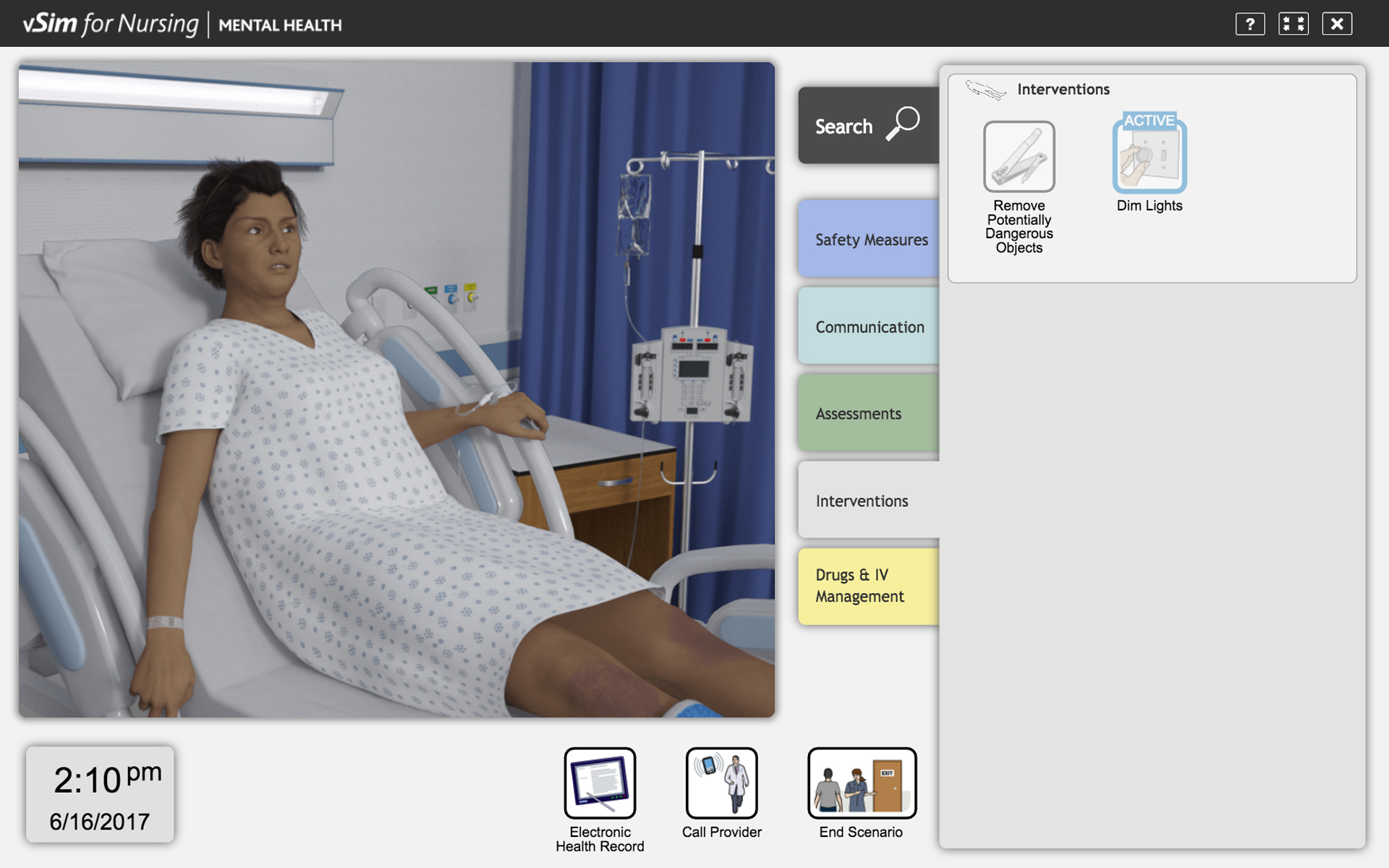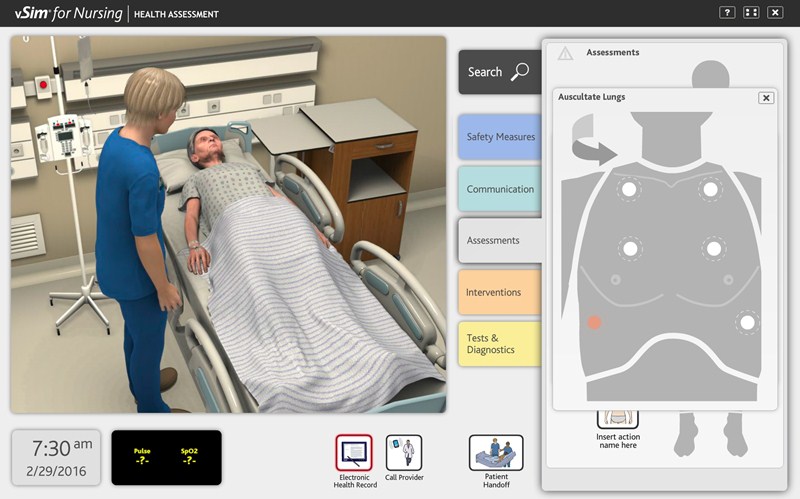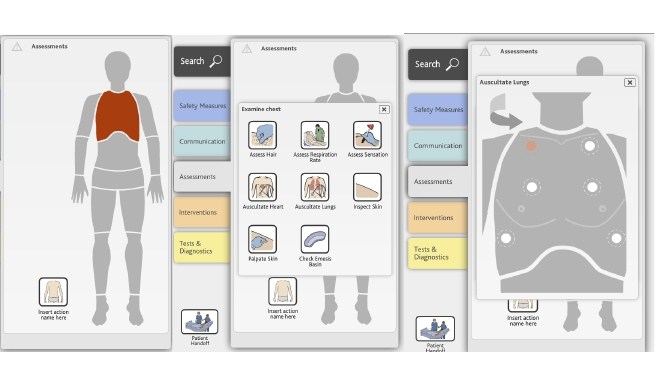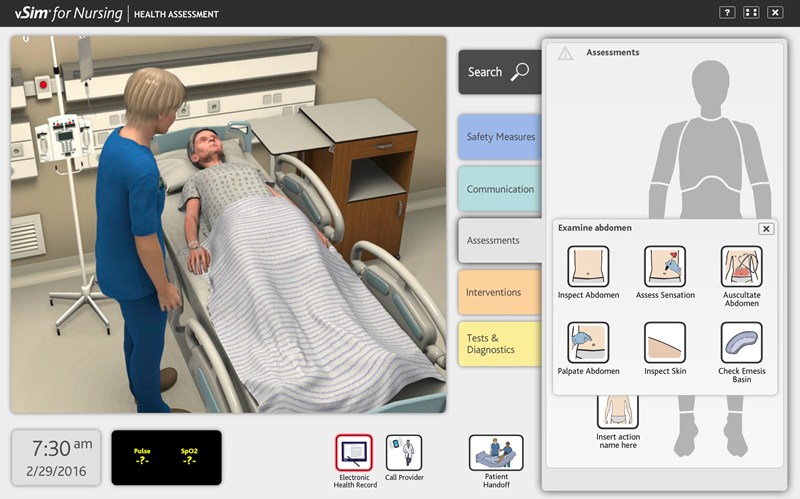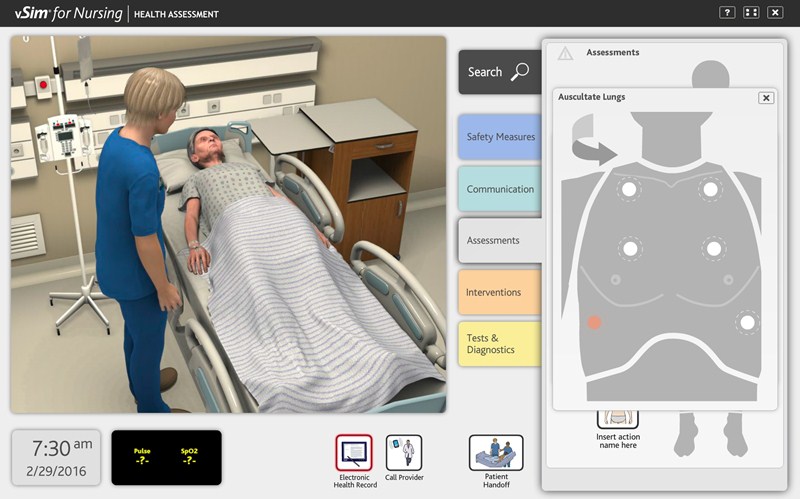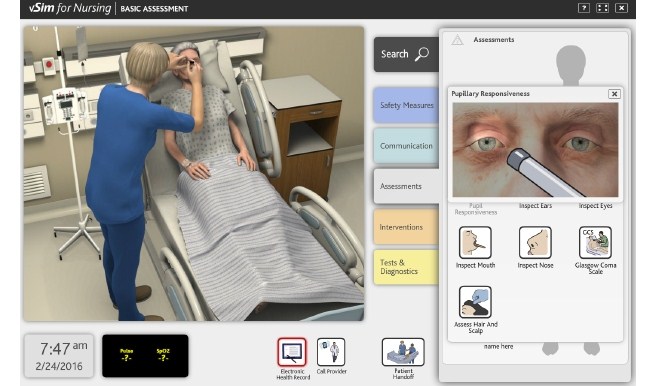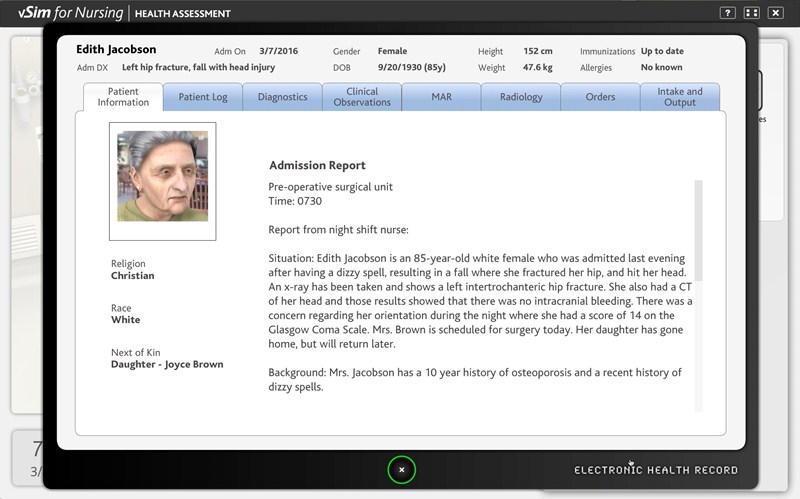 Designed to simulate real nursing scenarios, vSim® for Nursing, co-developed by Laerdal Medical and Wolters Kluwer, allows students to interact with patients in a safe, realistic online environment.
Real-World, Evidence-Based Scenarios
Adaptive, interactive virtual simulations with integrated curriculum resources and personalized feedback provide a full simulation learning experience for every student to promote confidence and competence in patient-centered care. The vSim for Nursing | Mental Health solution features the following virtual patient simulation scenarios, authored by the National League for Nursing:
Andrew Davis: Alcohol Withdrawal
David Carter: Schizophrenia, Part 1
David Carter: Schizophrenia, Part 2
George Palo: Adjustment Disorder with Depressed Mood
Li Na Chen: Major Depressive Disorder, Part 1
Li Na Chen: Major Depressive Disorder, Part 2
Linda Waterfall: Severe Anxiety
Randy Adams: Post-Traumatic Stress Disorder (PTSD) and Traumatic Brain Injury (TBI)
Sandra Littlefield: Borderline Personality Disorder
Sharon Cole: Bipolar Disorder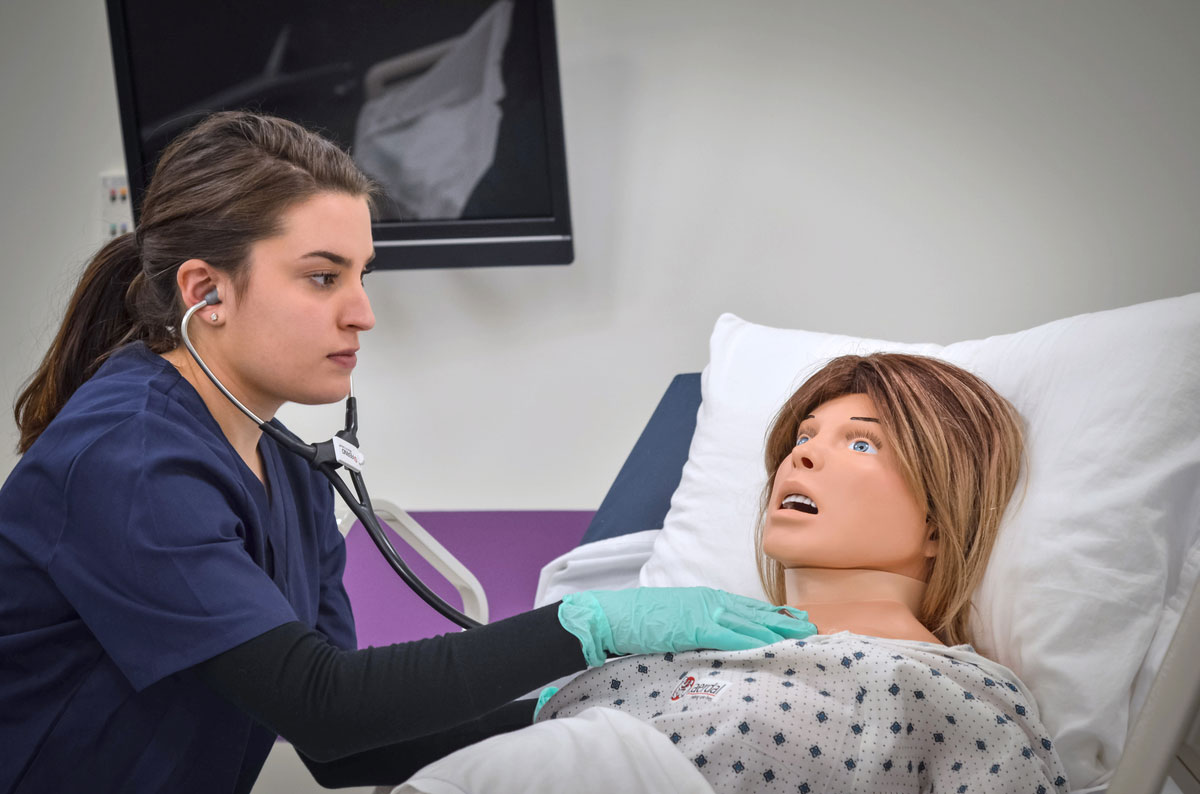 Patient-Centered Care
Nursing students develop clinical reasoning skills by prioritizing and implementing actions within several dimensions, including:
Safety Measures – Practice safe procedures
Communication – Interact with the patient through questions that result in text and audio responses.
Assessments – Conduct specific physical assessments
Interventions – Take action with the patient to improve their health status
Drugs and IV Management – Administer medication according to provider orders
Tests and Diagnostics – Perform lab or diagnostic tests to support clinical decisions
Search - Find available interactions to take with the patient
Electronic Health Record - Reference provider orders and patient information to influence decision making
Call Provider - Request additional information during the scenario
Patient Handoff - End the scenario at any time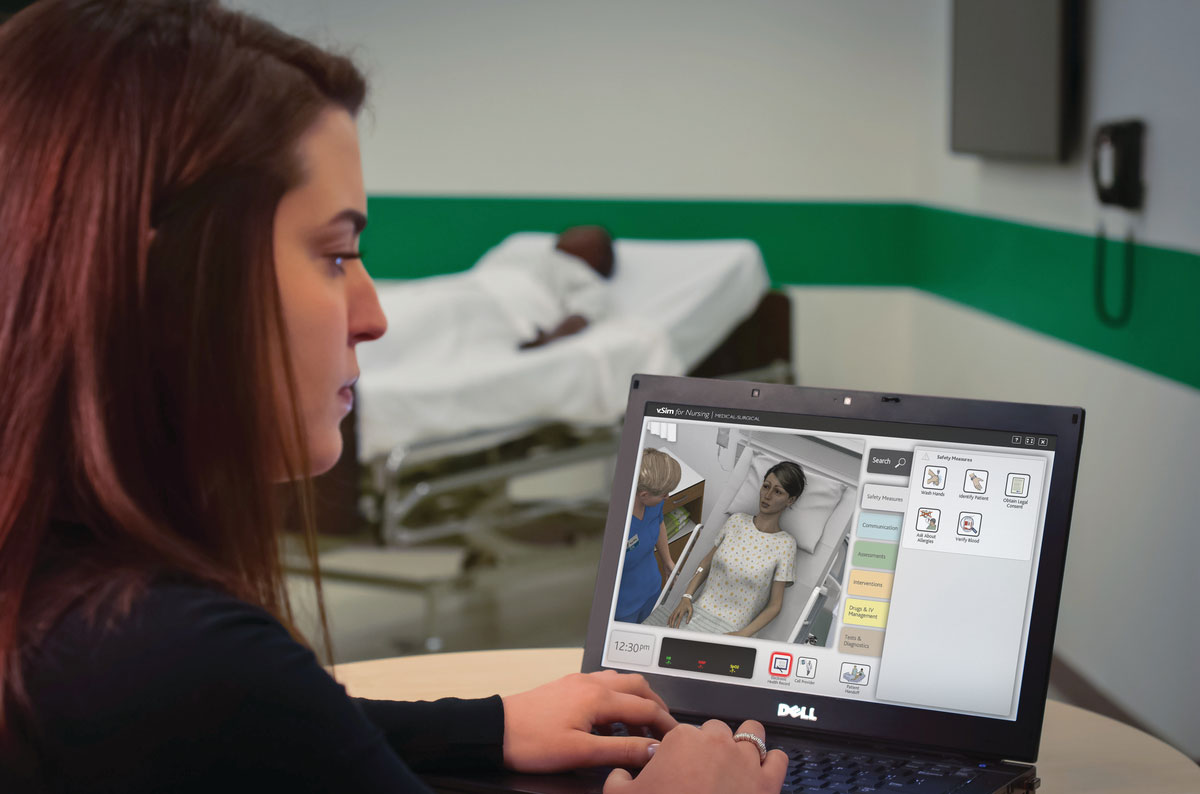 Unique, Personalized Learning
vSim for Nursing allows each student to have a different experience with the patient. By recording interactions throughout the patient care scenario, the personalized feedback log is generated, customized to the user experience, Each time students repeat the scenario, they will receive a personal feedback log outlining their clinical reasoning choices.
vSim Score – Immediate feedback calculated based on severity of errors
Main Opportunity for Improvement – Identify key focus areas
Basic View - Review a timeline of student actions with feedback and remediation
Detailed View - View patient status at the time of student actions
Free vSim for Nursing Resources
Curriculum Integration Guides
Are you considering implementing vSim for Nursing into your existing curricula? Download these free nursing education guides for best practices on integrating virtual simulations into your nursing program.