Virtual Simulation for Students
Student Shop
Virtual simulations in Nursing are a type of clinical experience where interactions with patients are performed virtually on a computer or other digital learning environment, in ways that parallel real-world engagement. Virtual simulations provide students with a comprehensive and repeatable hands-on learning experience to practice assessment, diagnosis, and clinical procedures in a simulated space.
NextGen vSim® for Nursing
The most advanced virtual simulation experience for building clinical competence and confidence with realistic patient encounters and interactive communication.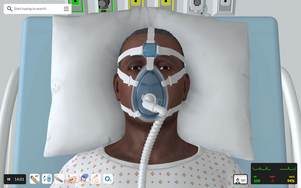 NextGen vSim® for Nursing Advanced Medical-Surgical/Critical Care
Item Number: 978-1-9751-9788-9
Learn More | Shop Course
Original vSim® for Nursing: Enhanced Experience
The first-generation version of vSim for Nursing providing students with clinical experience through virtual simulation anywhere, anytime.