Siirry osioon
Yleistä
Ota meihin yhteyttä
Osta
Providing learners with clinical experience through virtual simulation
Simulated clinical experience is now more immersive and accessible than ever with vSim® for Nursing, co-developed by Laerdal Medical and Wolters Kluwer.
Based on real nursing scenarios authored by the National League for Nursing, vSim® for Nursing delivers adaptive, interactive virtual simulations with integrated curriculum resources and personalized feedback to provide a full simulation learning experience for every student.
vSim® for Nursing helps reinforce the lessons of high-fidelity patient simulators and allows students to practice their clinical reasoning and decision-making skills with diverse patient cases before they practice these skills in the sim lab or with real patients in a clinical setting.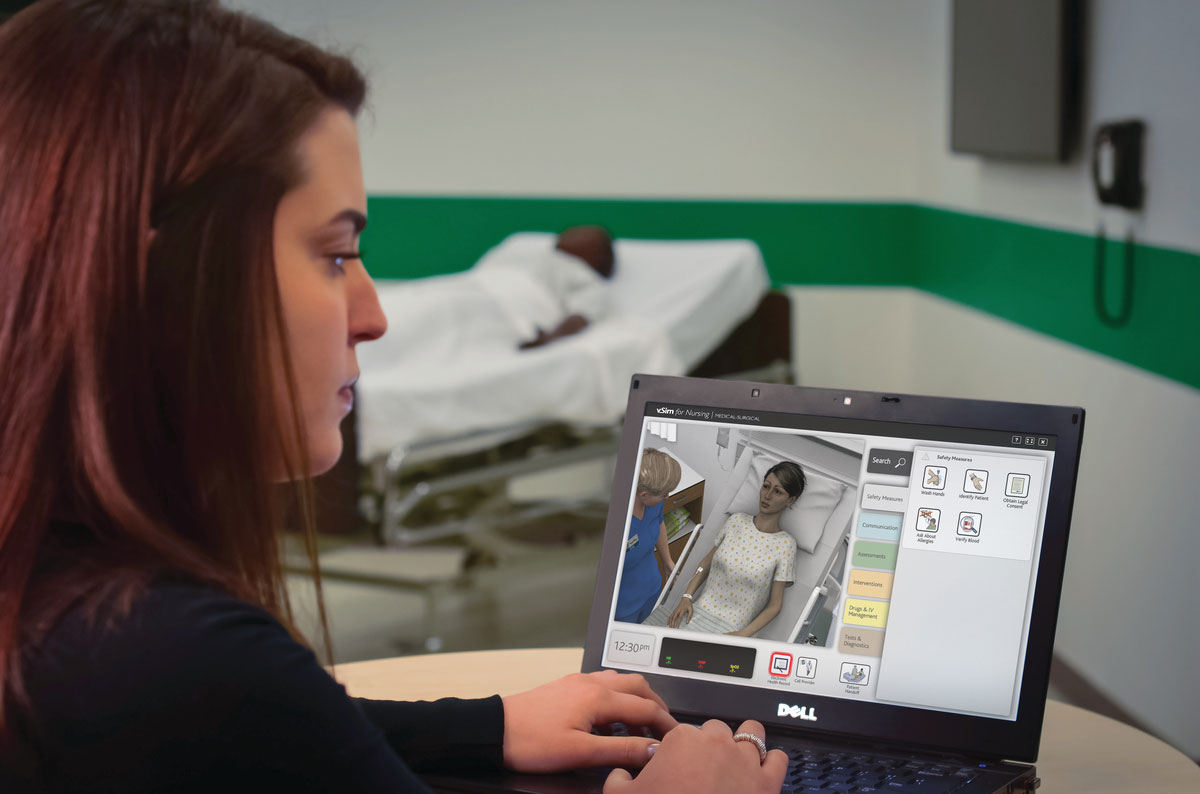 Unique, Personalized Learning for Clinical Preparedness
Real-world practice in patient-centered care
vSim for Nursing scenarios are authored by the NLN and are also included in Lippincott® nursing textbooks, allowing students to follow their patient cases as they evolve.
Realistic clinical experience – available anytime, anywhere
Deliver instant online access, immersing students in virtual simulation wherever they prefer.
Personalized learning and precise remediation
Measure students' progress, identify weaknesses and deliver instant remediation for more efficient learning.
True-to-life clinical experience at your control
Real-world experience students need to transition to practice, with increased competence they'll rely on throughout their career.
vSim for Nursing Solutions (availability varies by country)
Free vSim for Nursing Resources
Curriculum Integration Guides
Are you considering implementing vSim for Nursing into your existing curricula? Download these free nursing education guides for best practices on integrating virtual simulations into your nursing program.


Take Your Simulation Training Further
vSim® for Nursing can be used as one component of a more comprehensive solution to further enhance clinical skills training for better preparedness of nurses.
Modular Skills Trainer
Optimized for distance learning, the Modular Skills Trainer is an affordable, practical solution for repetitive, independent skills practice and to assist with skills validation.
Nursing Anne Simulator Geriatric
Nursing Anne Simulator Geriatric increases simulation fidelity to maximize training outcomes.
Laerdal Scenario Cloud
Find hundreds of high-quality, expert-validated scenarios made ready for you.
Virtual Faculty Development
Faculty and staff can also reap the benefits of virtual learning. As your simulation program continues to expand and adapt to challenges, keeping up with new simulation technology and pedagogy becomes even more critical. Virtual training courses for your faculty can ensure that they are confident leading simulations that take place onsite or remotely - all while keeping them safe and adhering to social distancing guidelines. Learn more about our Virtual Courses.