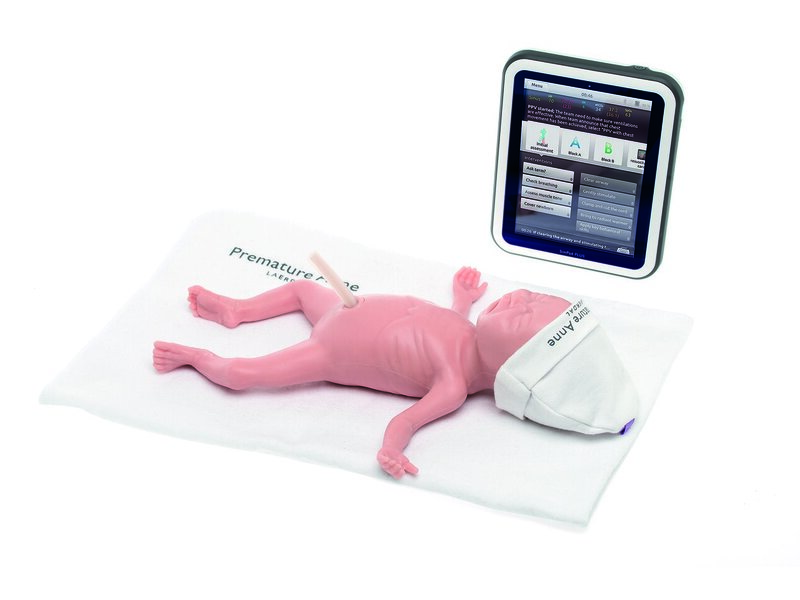 295-55101
Premature Anne with SimPad PLUS
Premature Anne is a realistically proportioned 25-week preterm manikin developed in collaboration with the American Academy of Pediatrics (AAP). Premature Anne is designed with heart, lung, vocal sounds and cyanosis to facilitate the training of healthcare professionals in the initiation of proper care and resuscitation of preterm infants.
Este producto no está disponible para su compra en línea
Descripción general
Premature Anne is packaged in a soft bag that has been designed for storage. In the packaging, standard peripherals are included with this product, which are:
SimMom Birthing lubricant
Laerdal Airway Lubricant 45ml
Simulated Blood Concentrate
Umbilical cords (3)
42mm Face Mask
3M "Kind Removal Silicone Tape"
10ml Syringe
Premature Anne Power Cable / Charger
Software Update Cable
Hat and Blanket
User guide and Important Product Information
SimPad PLUS with 8 preloaded NRP scenarios
Premature Anne Software License
AC Adapter
Wrist Strap
USB Cable
Meet your learning objectives
Premature Anne, when paired with SimPad PLUS, helps place learners in scenarios that simulate real-life experiences.
Training scenarios can be conducted in-situ to enhance and improve cross-functional team communication within the setting they will perform. These realistic simulations will help to strengthen the learner's ability to assess, diagnose and treat preterm infants as part of a team.
The AAP Premature Anne Pack consists of the Premature Anne simulator and a SimPad PLUS hand-held remote with 8 pre-programmed scenarios written by the American Academy of Pediatrics and supports the Neonatal Resuscitation Program™.
Neonatal Resuscitation Program™ scenarios are designed for the resuscitation of a 25-week old newborn with:
Positive-Pressure Ventilation and Continuous Positive Airway Pressure (CPAP)
Positive-Pressure Ventilation and Endotracheal Intubation
Positive-Pressure Ventilation, Endotracheal Intubation, and Chest Compressions
Positive-Pressure Ventilation, Endotracheal Intubation, Chest Compressions, and Medication
CPAP, Oxygen Management, and Orogastric Tube
Positive-Pressure Ventilation, CPAP, Intubation, and Surfactant Administration
Intubation, Chest Compressions and Umbilical Vessel Catheter Placement: Ethics and Care at the End of Life
Resuscitation of 25-Week Newborn Twins
Just looking to practice your skills proficiency?
You can use Premature Anne as a task trainer.
Use the links below to find out more.