Ir a la sección
Descripción general
Especificaciones
Downloads & Servicios
Contáctenos
Tienda

Creación de profesionales sanitarios seguros de sí mismos
Un simulador sin cables que ofrece soporte al itinerario completo del paciente, desde los cuidados intensivos en el hospital, hasta el entorno de la asistencia domiciliaria pasando por el transporte en ambulancia – SimBaby con traqueotomía se utiliza para mejorar la confianza y la competencia en todos los aspectos de la asistencia pediátrica.
Si ya tiene un SimBaby puede adquirir una actualización de traqueotomía. 
Formación en la UCIP
Mejorando los resultados para el paciente
Hace falta todo un equipo
Permite a los equipos de la UCIP y a los proveedores de asistencia hospitalaria experimentar la inserción correcta de tubos traqueales en un paciente pediátrico.  Mejora su capacidad para actuar rápidamente en situaciones muy estresantes.
Simular para mejorar
Los estudios muestran que los profesionales sanitarios que recibieron formación mediante simulación sobre el cuidado de la traqueotomía de urgencia mostraron un nivel superior de confianza.
Sistemas operativos flexibles
Utilice SimPad o LLEAP para PC para controlar todos los aspectos de sus sesiones de formación.
Valioso debriefing
Sus equipos podrán revisar y reforzar sus destrezas para solucionar problemas clínicos tras las sesiones de formación. Un debriefing efectivo es una oportunidad esencial para mejorar las destrezas indispensables para salvar vidas.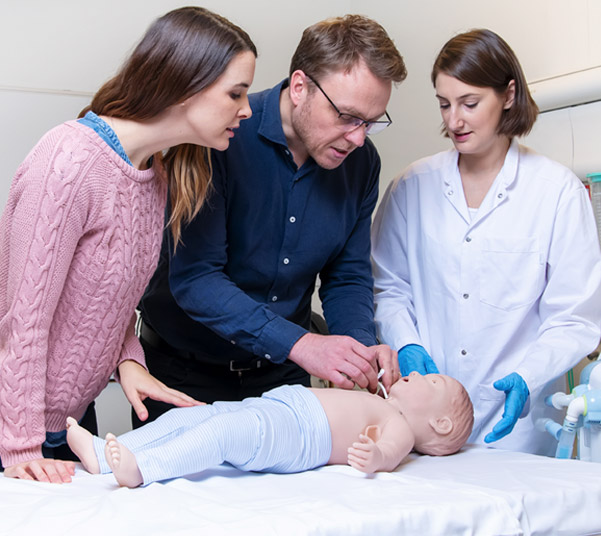 Formación para asistencia en casa
Aumentando la confianza de los proveedores de cuidados
Asistencia en casa
El mejor lugar para recibir asistencia a largo plazo es el hogar. Forme a padres y proveedores de cuidados sobre los procedimientos correctos de modo que los bebés con cánulas estén bien atendidos en su propia casa.
Formación de los padres
La confianza para manejar situaciones de urgencia es clave. Enseñe a los padres a cambiar tubos traqueales y proporcióneles orientación sobre el equipo. 
Traqueostoma ajustable
Controle el tamaño del traqueostoma de modo que los alumnos puedan practicar la inserción realista del tubo traqueal.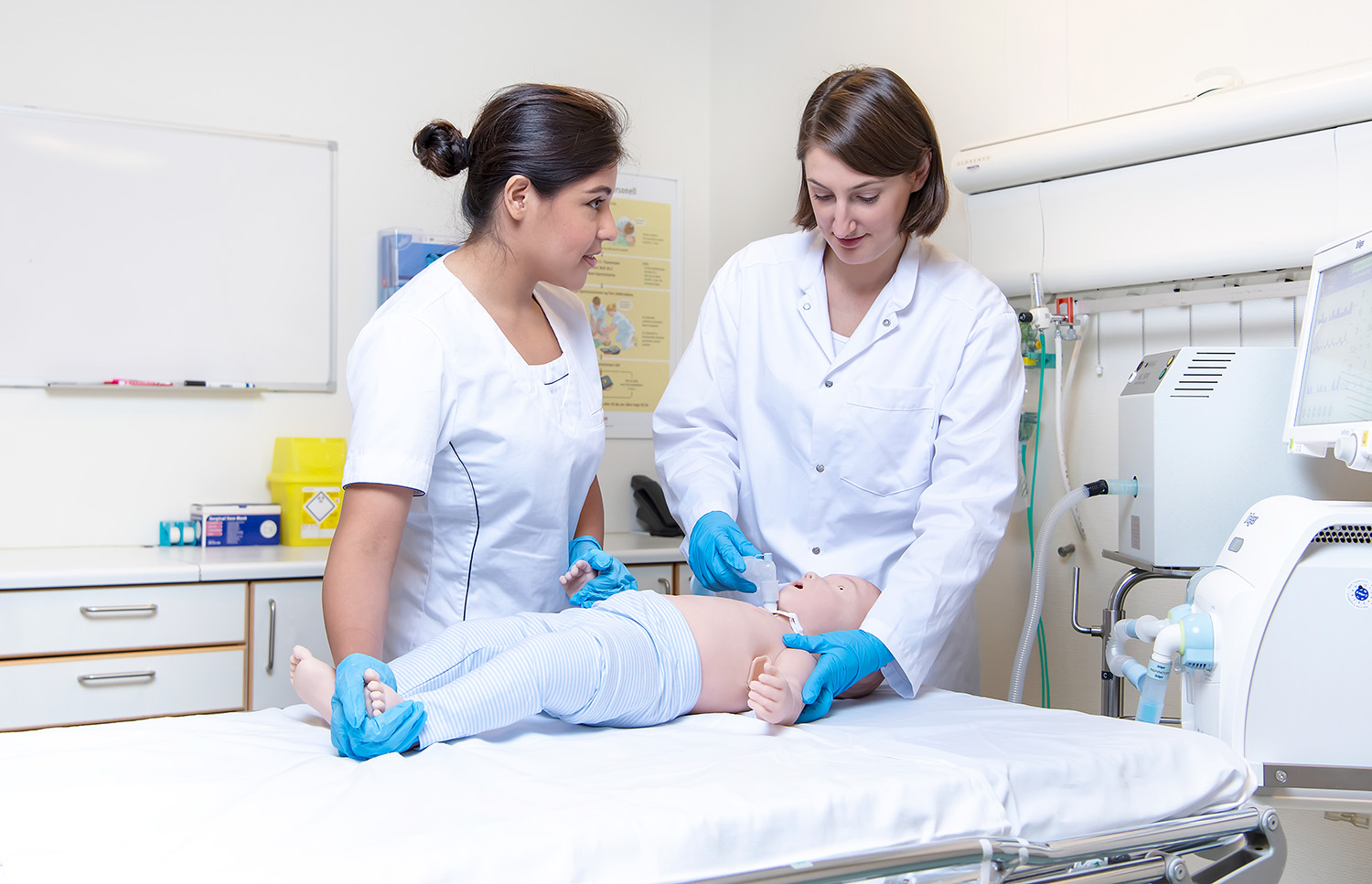 Practicar las fases iniciales de evaluación, diagnóstico e intervención
Los niños pueden tener diferentes respuestas fisiológicas al trauma en comparación con los adultos. Aprender a reconocer y responder de manera eficaz a las urgencias respiratorias, choque y parada cardiorespiratoria puede mejorar la capacidad de un profesional sanitario de responder con mayor confianza en una situación de emergencia.
Evaluar tiempo del relleno capilar
Valoración neurológica a través de la dilatación pupilar automática, miosis, midriasis y anisocoria.
Comprobación de pulsos bilaterales
For more information and full product specifications:
Simulación sin preocupaciones
Mantenga la plataforma siempre operativa y conozca las novedades más recientes en simulación con la ayuda de la amplia gama de servicios técnicos y educativos de Laerdal.
References
T. A. Stanley, M. Battles, N. Bezruczko, C. Latty (2019), Efficacy of Simulation for Caregivers of Children With a Tracheostomy, Clinical Simulation in Nursing, 2019 June; 31:6-19.
K Prickett, A Deshpande, H Paschal, D Simon, KB Hebbar (2019) Simulation-based education to improve emergency management skills in caregivers of tracheostomy patients International Journal of Pediatric Otorhinolaryngology, 2019 May; 120:157-161.
N M Tofil, C Rutledge, J L Zinkan et al, (2013), Ventilator Caregiver Education through the Use of High-Fidelity Pediatric Simulators: A Pilot Study, Clinical Pediatrics, 2013 October; Vol 52 Issue 11; 1038-1043.
N M Tofil et al, (2018) Tracheostomy Education for Parents Utilizing Simulation: A New Paradigm In Parental Education, Pediatric Nursing, May-June 2018, Vol. 44, No. 3; 111.
J Thrasher et al (2018), Hospital to Home: A Quality Improvement Initiative to Implement High-fidelity Simulation Training for Caregivers of Children Requiring Long-term Mechanical Ventilation, Journal of Pediatric Nursing, 2018 Jan - Feb;38:114-121.
Specifications
Controllable tracheostoma size for realism when inserting tracheal tubes. Settings: Open, Partially Open, Closed.
Bag-valve ventilation
Connect to a mechanical ventilator
Simulate false passage or removal of a mucus plug
For a full list of specifications, please visit the SimBaby page
Especificaciones
Sexo, edad, talla
Mujer

Disponible

Maniquí de cuerpo completo

Disponible

Pediatría

Disponible

Niño

Disponible
Heridas/Traumatismos
Sangre simulada

Disponible
Otros
Saturación de SPO2

Disponible

Fontanelas variables

Disponible

Movimiento del cuerpo

Disponible
Características de la vía aérea
Elevación y descenso realistas del tórax

Disponible

Intubación

Disponible

Descompresión torácica con aguja

Disponible

Técnicas de aspiración

Disponible

Tubos endotraqueales - inserción, fijación y mantenimiento

Disponible

Procedimientos de administración de oxígeno

Disponible

Intubación del bronquio principal derecho

Disponible

Maniobra de Sellick

Disponible

Simulación de obstrucción de vía aérea

Disponible

Intubación nasal y oral con fibra óptica

Disponible

Ventilación con presión positiva

Disponible

Auscultación del abdomen para verificar la posición correcta

Disponible

Intubación esofágica

Disponible

Laringoespasmo

Disponible

Auscultación de sonidos pulmonares

Disponible

Selección de sonido pulmonar individual o bilateral

Disponible

Sonidos pulmonares, sincronizados con la frecuencia respiratoria

Disponible

Descompresión de estómago

Disponible

Cuidados de traqueotomía y aspiración

Disponible

Complicaciones de la vía aérea (controladas por el instructor)

Disponible

Cierre mecánico de la vía aérea controlado por el instructor

Disponible

Edema de lengua inflable

Disponible

Sensor de ventilación

Disponible

Aumento de la resistencia de los pulmones izquierdo/derecho

Disponible

Inserción del tubo torácico

Disponible

Disminución de la distensibilidad pulmonar

Disponible

Vías aéreas supraglóticas

Disponible

Inserción por vía aérea nasofaríngea/orofaríngea

Disponible

Abertura traqueal para la colocación del tubo

Disponible
RCP
Marcas anatómicas

Disponible

Medida e información sobre la compresión

Disponible

Medida e información sobre la ventilación

Disponible

Evaluación detallada de la RCP

Disponible

Compresión torácica

Disponible

Medición e información de inclinación de la cabeza/elevación del mentón

Disponible

Maniobra de inclinación de la cabeza/elevación del mentón

Disponible

Ventilaciones con elevación del tórax visible

Disponible

Medición e información de colocación de las manos

Disponible

Ventilaciones con balón resucitador

Disponible
Circulación
Desfibrilación (manual/automática)

Disponible

Optimizado para ShockLink

Disponible

Sensores de desfibrilación

Disponible

Monitorización ECG

Disponible

Ritmo de ECG controlado por el instructor

Disponible

Auscultación de sonidos cardiacos

Disponible

Conversión automática de ECG con desfibrilación

Disponible

Regulación con marcapasos

Disponible

Cianosis

Disponible

Sensores de colocación de los electrodos de desfibrilación

Disponible

Convulsiones

Disponible

Sonidos cardiacos, sincronizados con ECG

Disponible
Presión arterial/pulsos
Frecuencia cardiaca ajustable

Disponible

Silencio auscultatorio, con opción de encendido/apagado

Disponible

Fuerzas del pulso dependientes de la presión sanguínea

Disponible

Intensidad de pulso ajustable

Disponible

Pulsos braquiales

Disponible

Presión arterial/pulsos

Disponible

Pulso femoral

Disponible

Pulsioxímetro SpO2

Disponible

Pulso sincronizado (con ECG)

Disponible
Gastrointestinal
Sondas NG - inserción, cuidado y extracción

Disponible

Distensión estomacal

Disponible

Sondas de alimentación - inserción y extracción

Disponible
Destrezas circulatorias y administración de fármacos por vía intravenosa
Retorno realista

Disponible

Infusión de volumen

Disponible

Inyecciones intraóseas

Disponible

Inyecciones intravenosas

Disponible
Administración de la simulación
Crear y editar escenarios

Disponible

Registro de eventos

Disponible

Registro

Disponible

Escenarios preprogramados

Disponible

Monitor de paciente simulado

Disponible

Crear y editar temas

Disponible

Kit de portabilidad

Disponible

Conectividad de PC

Disponible

Funcionamiento de wifi

Disponible

Conectividad de SimPad

Disponible
Software didáctico de Scenario Cloud y scenariocloud.laerdal.com
Escenarios de soporte vital avanzado pediátrico (PALS)

Disponible

Scenario Cloud

Disponible
Servicios educativos (opcional)
Curso de introducción

Disponible

Programación de escenario personalizado

Disponible

Introducción personalizada

Disponible

Curso de programación de escenarios

Disponible
Debriefing
Debriefing a través de eventos registrados

Disponible

Debriefing mediante vídeo

Disponible
Aspiración
Tiempo de carga de la batería

Disponible

Tiempo de funcionamiento de la batería

Disponible
Recién nacido
Miembros articulados

Disponible

Llorando

Disponible

Fontanela

Disponible

Boca abierta

Disponible
Servicios técnicos (opcional)
Programa de préstamos (solo para América)

Disponible

Mantenimiento preventivo

Disponible

Instalación

Disponible

Paquete ValuePlus

Disponible
Características de los ojos
Parpadeo

Disponible

Pupila dilatada

Disponible

Pupilas desiguales

Disponible

Pupilas sensibles a la luz

Disponible
Sonidos vocales
Sonidos vocales

Disponible
Descargas de productos
Contáctenos
No hay productos disponibles en esta categoría