CPRmeter 2
Medir para mejorar
En los primeros momentos críticos de un paro cardiaco, el CPRmeter 2 ayuda a los socorristas a optimizar el desempeño de la RCP proporcionando información en tiempo real sobre los parámetros esenciales de la RCP.
Consistent Quality
Quality compressions - every time
The consensus is clear, high-quality CPR has been shown to save lives.1,2 But, how do you know if your teams are consistently delivering high-quality compressions? The CPRmeter 2 is a simple tool you can use to ensure high-quality compressions are delivered from all the providers on scene.3,4 The CPRmeter 2 provides real-time measured feedback on depth, rate and release of CPR, while also enabling providers to self-evaluate their performance with event statistics on the spot.
Quality Improvement for First Response Providers
Response systems to cardiac arrest vary, but we know that the sooner high-quality CPR can be initiated, the better the chances for positive patient outcomes.5
Equipping front line teams with the CPRmeter 2 can help ensure high quality throughout the resuscitation event while complementing ongoing improvement initiatives with objective feedback.3,4
Quick and easy debriefing
Review key performance statistics of delivered compressions with one touch after the event. Resuscitation response scenes tend to be hectic with dispersing responders. Having instant access to objective key performance metrics can lead to quick feedback and debriefing, which has been shown to improve performance and outcomes.6,7,8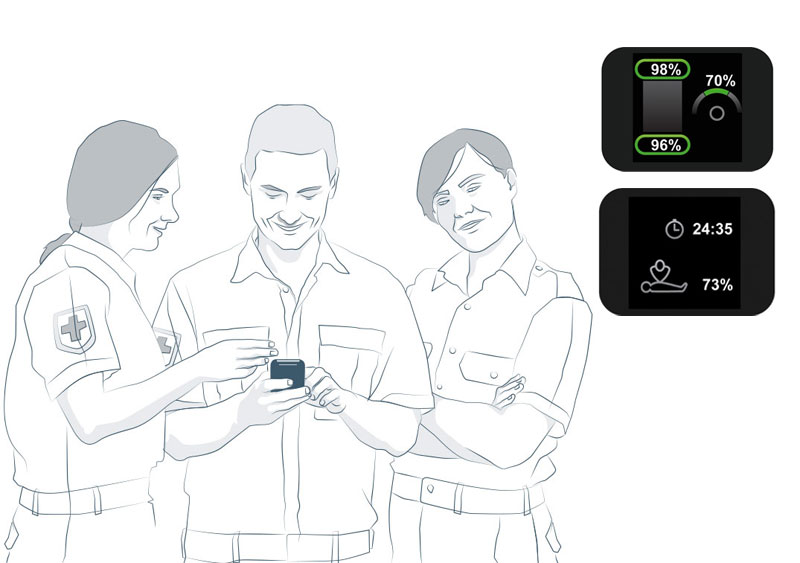 New and improved features
Larger and brighter display
Simple cleaning and disinfection methods
Longer run time with AAA battery
Fast wireless software updates
PHYSICAL
Weight
162g (5.7 oz)
Size HxWxD
153 mm x 64 mm x 25 mm
6.0" x 2,5" 1.0"

Ruggedness
IP55 and 1 meter drop test
OPERATION
Display Dimensions
28 mm x 35 mm

Type
TFT display

Resolution
128 x 160 pixels
Display indicators
Low Battery
Small Low battery icon on screen (turning on)
Large Low battery icon on screen (turning off)

Device Error Warning
Yellow light (solid or flashing)

Service Required
Spanner icon
CPR Targets
Compression Depth
≥ 50 mm (2") ±10 %

Compression Release Target
< 2.5 kg (5.5 lbs)
force: + 1.5kg to -2.0 kg
(+ 3.3 lbs to 4.4 lbs)

Compression Rate Target
100 to 120/min ± 3/min

Compression Counter
1-999 (reset after 5 secs)
Battery
Type
2 x 1.5V AAA

Capacity
minimum 10 episodes of 30min CPR

Standby life
2 years (after two years min 30mins CPR)
Data
Data storage
300 minutes of data or 20 CPR Sessions

Data transfer
Bluetooth Smart
ENVIRONMENTAL CONDITIONS
Storage temperature
-20° to 70° C (-4° to 158° F)

Relative humidity
5 % to 75 %

Operating temperature
0° to 50° C (32° to 122° F)

Relative humidity
5 % to 95 %
Patient Adhesives
Size
39mm x 90mm (1.5" x3.5")

Material
Foam pad with biocompatible adhesive on each side.

Shelf life
2 years when applied to CPRmeter or 4 years in unopened packaging
Warranty
One Year limited. Please see Laerdal Global Warranty for terms and conditions
EMC CLASSIFICATION
Meets IEC 60601-1-2 and RTCA/DO-160F
References
1.Steven L. Kronick, Michael C. Kurz, et al Part 4: Systems of Care and Continuous Quality Improvement 2015 American Heart Association Guidelines Update for Cardiopulmonary Resuscitation and Emergency Cardiovascular Care. Circulation. 2015;132:S397-S413

2.Nichol G, Thomas E, Callaway CW, Hedges J, Powell JL, Aufderheide TP, Rea T, Lowe R, Brown T, Dreyer J, Davis D, Idris A, Stiell I; Resuscitation Outcomes Consortium Investigators. Regional variation in out-of-hospital cardiac arrest incidence and outcome [published correction appears in JAMA. 2008;300:1763]. JAMA. 2008;300:1423–1431.

3.Buleon, J. Parienti, J-J, Halbout, L., et. al.(2013) AJEM; Improvement in chest compression quality using feedback device (CPRmeter):a simulation randomized crossover study

4.Skorning, M., Beckers, S.K., Brokmann, J.C., et al. (2010), Resuscitation; New Visual Feedback Device Improves Performance of Chest Compressions by Professionals in Simulated Cardiac Arrest"

5.Link MS, Atkins DL, Passman RS, Halperin HR, Samson RA, White RD, Cudnik MT, Berg MD, Kudenchuk PJ, Kerber RE. Part 6: electrical therapies: automated external defibrillators, defibrillation, cardioversion, and pacing: 2010 American Heart Association Guidelines for Cardiopulmonary Resuscitation and Emergency Cardiovascular Care. Circulation. 2010;122(suppl 3):S706 –S719.

6.Edelson, D. P., B. Litzinger, V. Arora, D. Walsh, S. Kim, D. S. Lauderdale, T. L. Vanden Hoek, L. B. Becker, and B. S. Abella. 2008. Improving inhospital cardiac arrest process and outcomes with performance debriefing. Archives of Internal Medicine 168(10):1063-1069.

7.Zebuhr C, Sutton RM, Morrison W, Niles D, Boyle L, Nishisaki A, Meaney P, Leffelman J, Berg RA, Nadkarni VM. Evaluation of quantitative debriefing after pediatric cardiac arrest. Resuscitation. 2012;83:1124–1128.

8.Dine CJ, Gersh RE, Leary M, Riegel BJ, Bellini LM, Abella BS. Improving cardiopulmonary resuscitation quality and resuscitation training by combining audiovisual feedback and debriefing. Crit Care Med. 2008
Especificaciones
RCP
Retroalimentación sobre la re-expansión completa

Disponible

Contador de compresiones

Disponible

Medida y retroalimentación de la compresión

Disponible

Evaluación detallada de la RCP

Disponible
Debriefing
Revisión rápida de la ejecución de la RCP

Disponible