Go to section
Overview
Specifications
Download & Services
Contact us
Shop
NeoNatalie is realistic in size and appearance with natural weight and feel when filled with lukewarm water. Including features such as spontaneous breathing, palpable umbilical pulse, and crying, NeoNatalie can be used for role-play scenarios such as normal post-birth care, standard resuscitation, and resuscitation measures including positive pressure ventilation and closed chest compressions.
Easy preparation
NeoNatalie is an inflatable simulator that can be easily prepared for use by filling the body with two liters of water, or alternatively with air.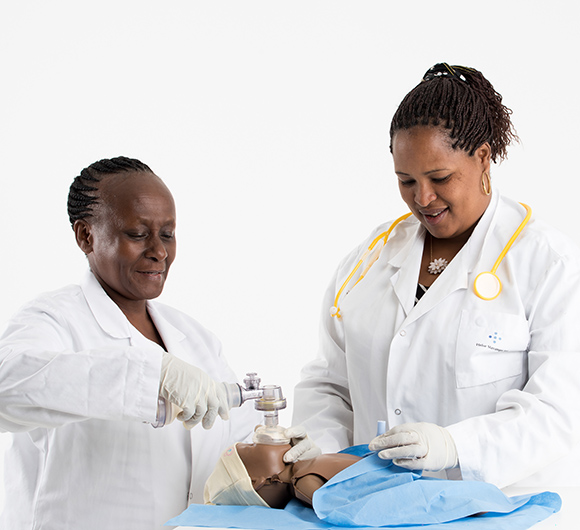 Correct mask placement
NeoNatalie's chest will only rise with the correct resuscitation technique. This enables more effective bag-mask ventilation training and greater confidence and competence in health worker's abilities to resuscitate asphyxiated babies after this practice.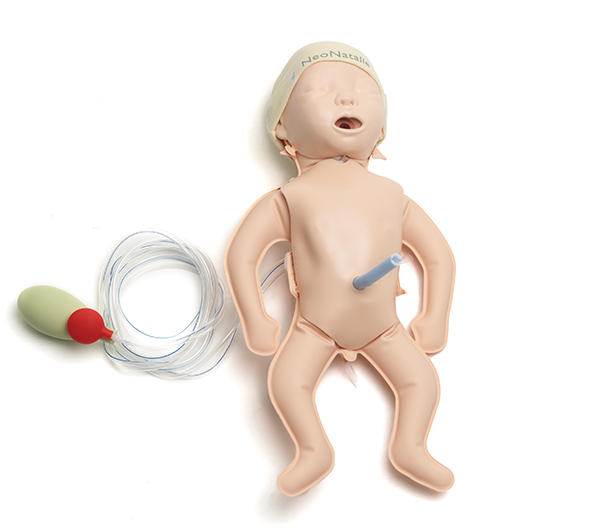 Heartrate, Breathing and Crying
NeoNatalie comes with squeeze bulbs that allow training facilitators to simulate spontaneous breathing, making NeoNatalie's chest rise and fall, palpable umbilical pulse, and crying. These improve simulations of caring for babies at birth, allowing trainees to accurately respond to different scenarios.
Developed by Laerdal Global Health
NeoNatalie was developed to help train millions of birth attendants in developing countries in neonatal resuscitation courses, such as Helping Babies Breathe.
Airway features:
Oxygen delivery procedures
Suctioning techniques
Positive pressure ventilation
Spontaneous chest rise and fall
CPR features:
Anatomical landmarks
Ventilation with bag-valve mask
Closed chest compressions
Auscultate heart sounds
Blood pressure/puls features:
Other features: