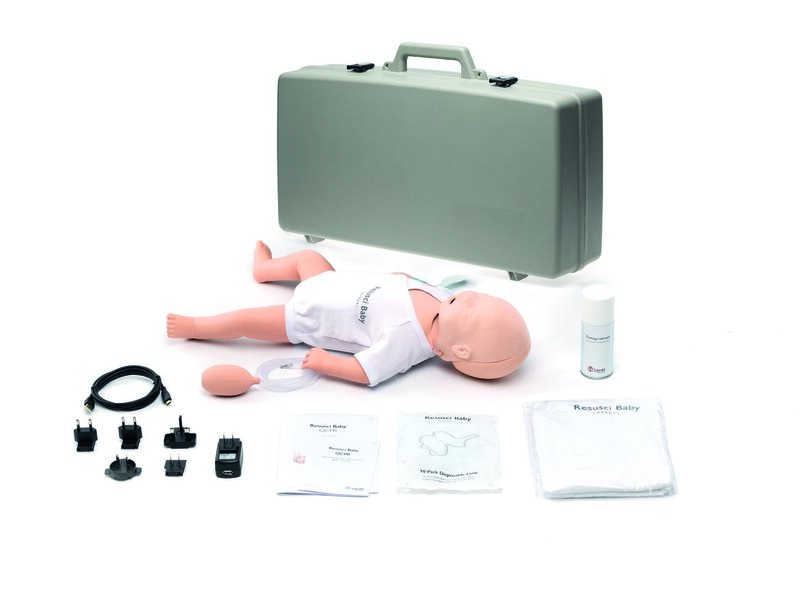 162-01260
Resusci Baby QCPR Airway
1 949,00 €
Preis zzgl. MwSt.
2 338,80 €
Preis inkl. MwSt.
Auf Lager
Für später speichern?
Melden Sie sich an, um dieses Element zu Ihrer Favoritenliste hinzuzufügen.
Produktinformationen
High-performance pediatric CPR training for professional first responders
Enables Training
Resuscitation team training or skills training
Advanced Airway Management with Airway devices
ERC, AHA and SRFAC Guidelines compliant CPR
Real time feedback to:

Compression depth, rate, release
Ventilation volume and hand placement

Improvement hints and guided debrief
QCPR Feedback Options
Resusci Baby QCPR AW head manikin includes
Full-Body Manikin with onesie clothing and Rechargeable Battery in Carrying Case 20 l
Pulse bulb, Training lubricant, 10 pkg disposable lungs, 5V USB Wall Adapter, USB C to A cable for charging manikin, Resusci Baby Blanket, QCPR armband, User Guide and IPI
Compatible Accessories and Upgrades
Clinical Features
Video below shows this configuration:
More information
Hygiene and cleaning procedures for CPR manikins
What types of intubation devices and methods does the Resusci Baby QCPR wireless Airway Head support?
What face skins and chest skins should I use with my Resusci Baby?
How to change Lung on Resusci Baby with Airway Head?
How to replace Face Skin on Resusci Baby with Airway Head?

What airway consumables can be used with the different versions of Resusci Baby?
Ähnliche Produkte
Als Teil eines Pakets kaufen