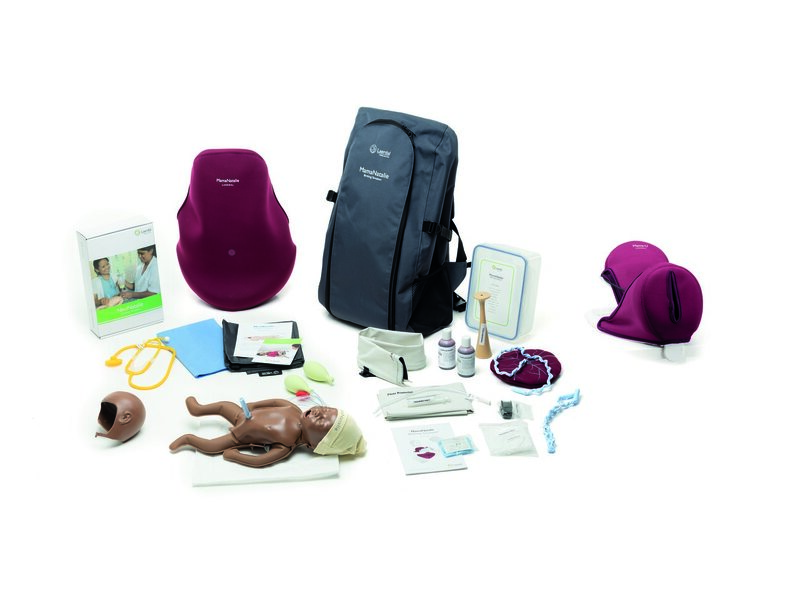 340-00433
MamaN Compl (DK) Mama-U
This product is not available to purchase online
Save for later?
Sign in to add this item to your favourites list.
Overview
MamaNatalie is a cost-effective way to deliver high impact in your obstetric simulation program. Learners can train on normal delivery, post-partum complications and neonatal resuscitation to improve management of skills and communication from ambulance to delivery room.  Mama-U represents a postpartum uterus after birth. It supports training in postpartum IUD and uterine balloon tamponade insertions and other postpartum uterus interventions. The model is ultra-portable and can be used as a tabletop model for task training, or inside MamaNatalie for a complete birth simulation.
Product Features
Mama-U Postpartum Uterus trainer w/ Shoulder bag (1)
MamaNatalie Birthing Simulator (Dark) (1)
Placenta w/umbilical cord (1)
Blood concentrate (2)
Pair of gloves (normal) (1)
Pair of gloves (long) (1)
Fetal stethoscope (1)
Fluid collection tray (1)
Fluid drain (1)
Floor protection (1)
Urine catheter (1)
20 ml syringe (1)
NeoNatalie skull w/ fontanelles (dark or light complexion) (1)
Backpack for MamaNatalie (1)
NeoNatalie Newborn Simulator (dark or light complexion) (1)
Simulation squeeze bulbs for simulation of birth cries, spontaneous breathing, palpable umbilical pulse and auscultation of heart sounds (1)
External umbilical cord (1)
Umbilical ties (2)
Sheets to simulate towels (2)
Head cap (1)
Transport bag for NeoNatalie (1)
Directions for use (1)

MamaNatalie Features:
Deliveries and drills (normal, assisted, breech, and PPH)
Delivery of the placenta
Cervix landmark
Urine bladder catheterization
Uterine massage (atonic and contracted uterus)
Controllable uterine firmness
Realistic bleeding
Bimanual compression

Mama-U Features:
Change uterine angle by applying pressure to the model
Practice "blinded" placements and lift cover of the uterus to evaluate placement
Use inside MamaNatalie Birthing Simulator for complete birth and postpartum simulation training
Ultra-portable in the compact shoulder bag and easy to use for on-site training

NeoNatalie Features:
Oxygen delivery
Suctioning techniques
Positive pressure ventilation
Spontaneous chest rise and fall
CPR features (Anatomical landmarks, Ventilation with bag-valve mask, Closed chest compressions, Auscultate heart sounds)
Manual umbilical pulse

MamaNatalie

Length: 48 cm / 18.9 in
Width: 35 cm / 13.78 in
Height: 26 cm / 10.24 in
Weight: 2.23 kg / 4.92 lbs

Carry Bag

Length: 57 cm / 22.44 in
Width: 37 cm / 14.57 in
Height: 28 cm / 11.02 in

Mama-U

Length: 31 cm / 12.20 in
Width: 19 cm / 7.48 in
Height: 18 cm / 7.09 in
Weight: 0.456 kg / 1.01 lb
Compatible solutions
Learn more about related products to enhance your experience.