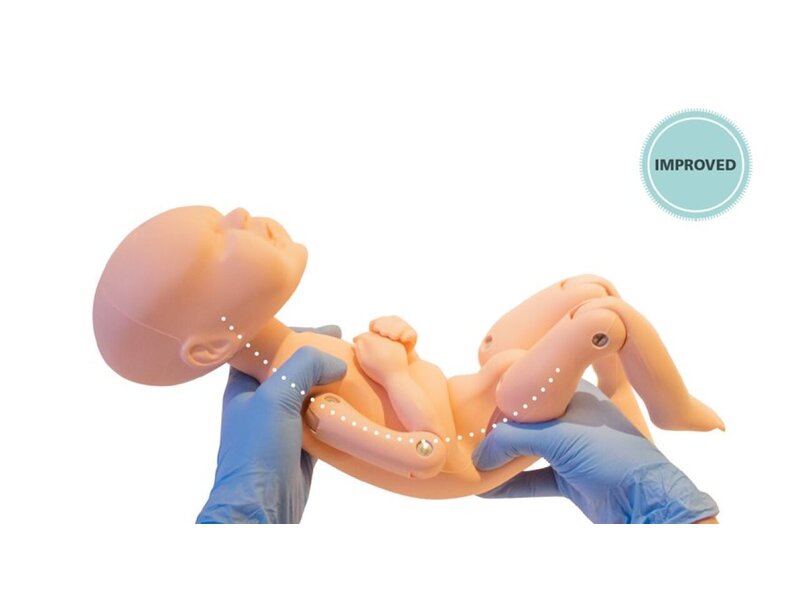 LIM-80121
PROMPT Flex Baby (Standard)
Works with PROMPT Flex Birthing Simulator Standard - Light (LIM-80100)
En existencias
Este producto no está disponible para su compra en línea
¿Guardar para más adelante?
Inicia sesión para agregar este elemento a tu lista de favoritos.
Descripción general
The PROMPT Flex Enhanced Standard Baby represents a full-term infant, which works with the PROMPT Flex Birthing Mother (LIM-80120) to simulate a variety of birthing scenarios. Its key anatomical landmarks and features allow for focused learning when managing the delivery of the baby.
The newly restructured articulation in the shoulder and hip joints further enhances the realism for difficult birthing scenarios such as deeply impacted head and shoulder dystocia.
This product is available in a dark skin-tone (LIM-80221).
SKILLS GAINED
When used with the Birthing Mother, the Enhanced Baby allows learners to practice both regular and difficult birthing scenarios
Ability to Identify key landmarks, which aid successful delivery
Improved articulation and range of movement in the arms and legs allows trainees to be more confident in deeply impacted head and shoulder dystocia scenarios
OVERVIEW
Works as part of the PROMPT Flex range
Improved and more realistic limb articulation
Correct anatomical landmarks for delivery
Versatile use for wide range of delivery types
Flexion allows for life-like maneuvering
REALISM
Fully articulated baby
Full-term infant
Realistic head to accommodate operative vaginal births
Narrow and shallow cranial sutures to help improve suction during vacuum assisted births
VERSATILITY
Can be used in conjunction with the PROMPT Flex Birthing Mother to train in a variety of different birthing scenarios, including; normal birth, breech birth, operative vaginal birth, vacuum-assisted birth and shoulder dystocia
SAFETY
ANATOMY
Distinct clavicles and scapulae
Flexible head with fontanelles
Fully articulated hip and shoulder joints
Flexion in the thoracolumbar region
Soluciones compatibles
Comprar como parte de un paquete