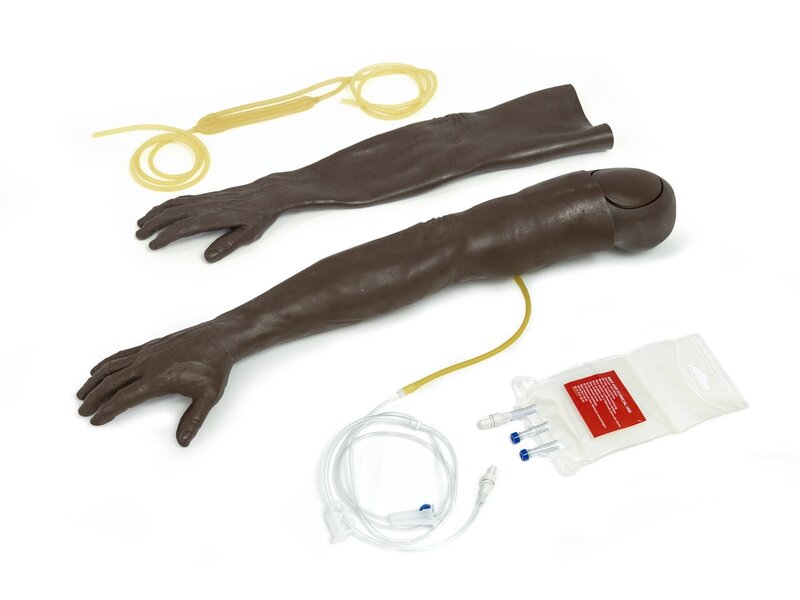 270-00001B
Intraveneuze trainingsarm kit, mannelijk donkere versie
809,00 €
Prijs excl. BTW:
978,89 €
Prijs incl. BTW:
Op voorraad
Bewaren voor later?
Meld je aan om dit item aan je favorietenlijst toe te voegen.
Overzicht
Male Multi-Venous IV Training Arm Kit - Brown
Lifelike adult male arm reproduction in brown skin tone with multi-vein system designed for peripheral intravenous therapy.


Venipuncture possible in the antecubital area or dorsum of the hand
Accessible veins include the median, basilic and cephalic
Articulates to adult male manikins
Arm may be purchased separately (380700B)

Includes: 1 Adult Male IV Arm - Right, 1 Replacement Skin and Multi-Vein System, 1 Bottle of Red Simulated Blood, 1 Can of Manikin Lubricant, 1 Blood Bag with Tubing and Connector, 1 Clamp and Hook, 1 Set of Shoulder Attachment Hardware


*Replacement skin and multi-vein system to fit this arm is available for purchase using catalog number 312029B.
*Multi-Venous IV Arm Kits are also available in adult female (375-50001B) and pediatric male (375-70001B) versions.
Compatibele oplossingen
Meer informatie over gerelateerde producten om uw ervaring te verbeteren