How to Improve Clinical Judgment in Nursing
3 Takeaways from a National Survey of Nursing Schools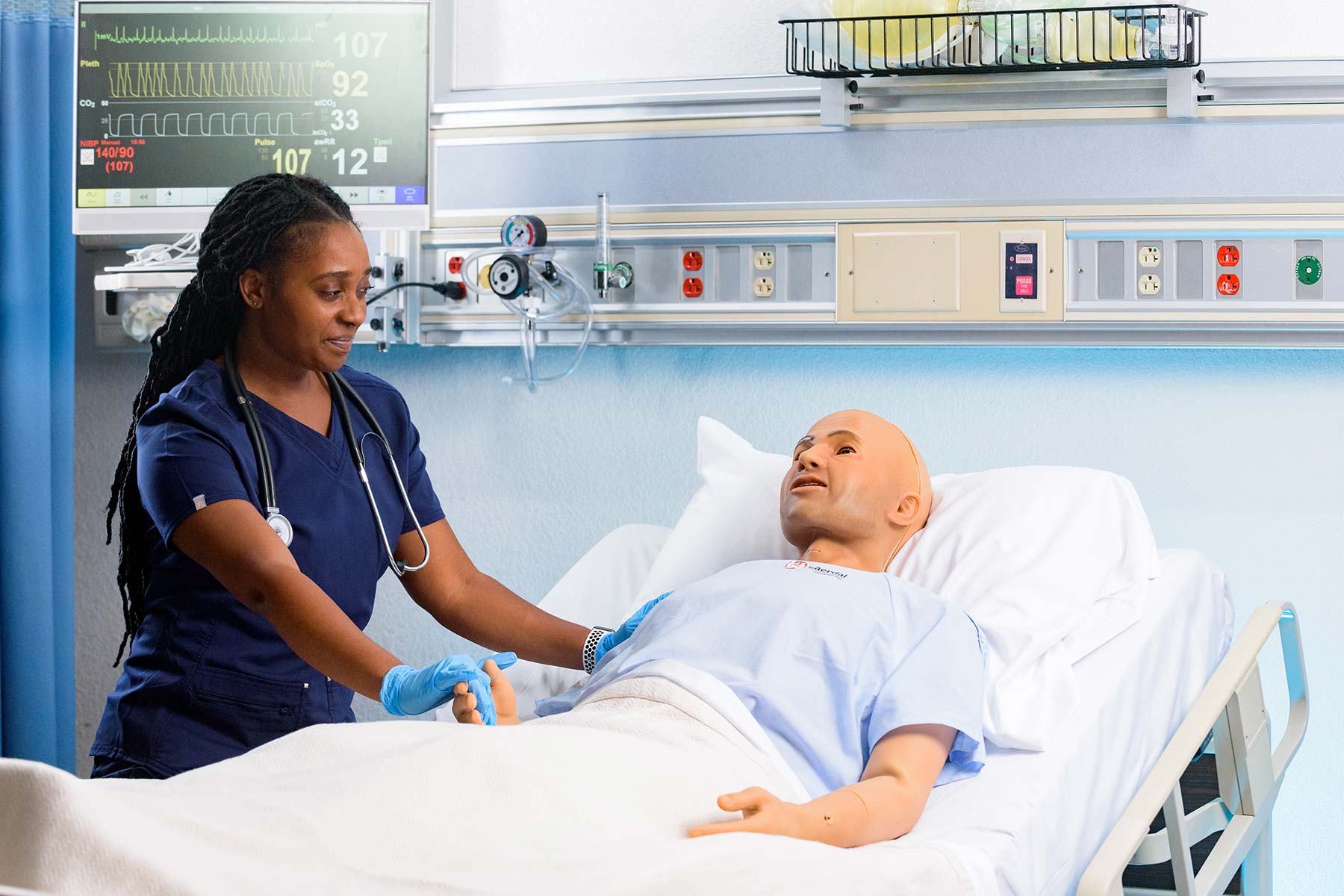 If you're in nursing education, you've likely been busy preparing your learners for the Next Generation NCLEX® launching in April 2023. This new version of the NCLEX puts a major focus on measuring clinical judgment, or "the ability to think like a nurse."1
The National Council of State Boards of Nursing (NCSBN) conducted an analysis that found clinical judgment was directly linked to more than 46% of tasks performed by entry-level nurses.2 Other research from 2017 indicated that only 23% of newly-graduated nurses are competent in basic clinical judgment skills - despite having passed the NCLEX.3 All of this underscores the importance of clinical judgment and the need to measure it within the NCLEX.
If your nursing program is looking to strengthen or adjust its current teaching methods for developing clinical judgment, you might be interested in how other schools of nursing are teaching it in their programs. A 2023 article published in Nurse Educator, "Current Practices for Teaching Clinical Judgment: Results from a National Survey" offers insights from a large study that included a survey of 234 deans and program directors.4 The research described in the article was part of a larger project intended to provide foundational evidence for how prelicensure programs in the U.S. are utilizing clinical judgment models, as well as teaching methods to develop clinical judgment. This study was the only one of its kind to comprehensively survey nursing schools about their strategies for teaching clinical judgment.5
Below, we share and discuss a few takeaways from the article. We've also included some related tips for leveraging simulation to help you develop your learners' clinical judgment.

1. Frequent, deliberate exposure to clinical judgment learning experiences is key to growth of the skill.
Survey participants agreed that repeated exposure to clinical judgment, woven throughout the curriculum, is essential for developing and cementing learning.6 Research shows that the development of clinical judgment relies on cumulative knowledge and experience.7
Simulation tip: Simulation lends the ability to provide consistent, frequent, and repeatable learning experiences that help to grow and demonstrate clinical judgment. When threading this skill throughout your curriculum, it will be important to closely track and measure how your students' clinical judgment skills are developing over time. Collecting simulation performance data, and having a system to help you organize it and gain insights into trends quickly at the course, evaluation, and individual learner levels can help you increase efficiencies by identifying and addressing any issues early.

2. Using a diverse teaching approach can support varying learning styles.
Survey participants noted that students learn in different ways and at different rates, which means multiple strategies are necessary in order to foster the development of clinical judgment.8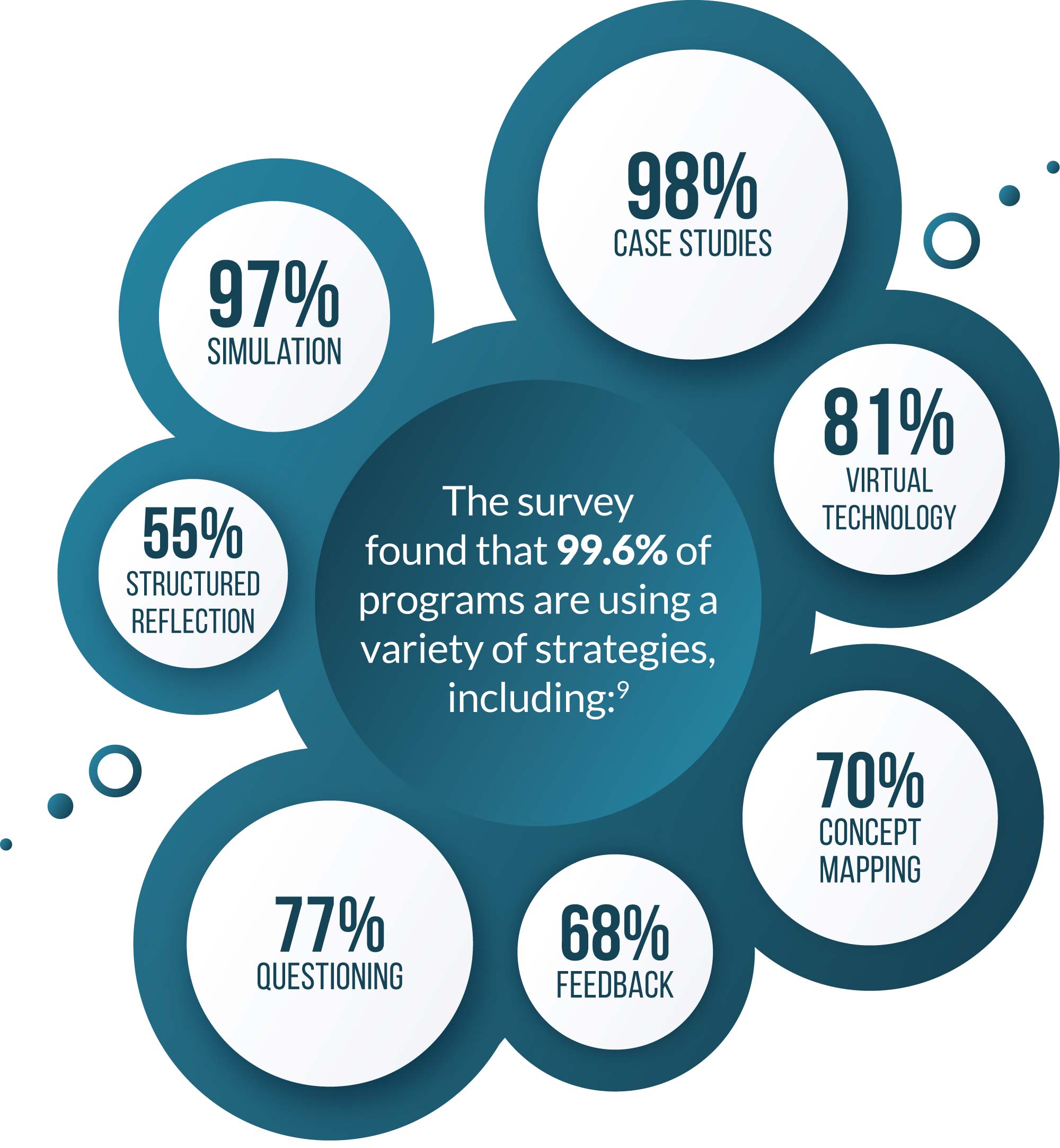 Simulation tip: Research indicates that virtual simulation is beneficial to the development of clinical judgment.10 Virtual simulation can help you increase your learners' exposure to clinical judgment while appealing to different learning styles. Consider using it as a bridge to your high-fidelity simulation program. Give your learners the opportunity to experience realistic patient encounters, interactive communication, and personalized feedback with virtual simulations so they can practice as often as they'd like and build their clinical judgment skills on their own time. Then, they can enter the sim lab with more confidence when they meet the same patients they encountered in their virtual simulations.

3. Reflection may be a missed teaching opportunity.
Only 55% of survey participants identified using reflection as a teaching method in their program – despite the fact that reflection is one of the most frequently mentioned teaching methods for supporting the development of clinical reasoning in the literature.11 According to the study, using the structured elements of clinical judgment to provoke learner analysis of situations solidifies their learning.12
Simulation tip: Evidence is building that the reflective process of simulation debriefing can help bridge the theory-to-practice gap and improve nursing students' clinical judgment.13 Reflective debriefing lends students the opportunity to re-examine their performance, delve into their feelings and emotions, and uncover existing or potential hurdles to their success.14 One particular debriefing method you may want to consider utilizing is video-assisted verbal discussion. This method involves using an advanced video-recording system to facilitate the ability for students to evaluate their own performances using peer observation and feedback. This peer feedback can give a unique perspective while engaging the observers.15 And, there is growing evidence suggesting that the video-assisted debriefing method improves students' technical and non-technical nursing skills, such as clinical judgment.16

4. Use of a clinical judgment model will serve as a "common language."
Participants said that when it comes to implementing teaching activities for clinical judgment, consistent use of a model can lend support.17 Using a model will help to unify the clinical judgment teaching approach among faculty and throughout the curriculum as well as lend practical meaning to an abstract concept.18 It will also ensure that students always receive a consistent message from faculty.
27% of participants are currently using a model, with 72% of them indicating that they intend to start using one.19
Tanner's clinical judgment model was the most highly utilized model among participants.20 Its clear language and definitions make it a common choice for nurse educators. And, another benefit is that it has an associated rubric, the Lasater Clinical Judgment Rubric, to facilitate teaching and assessment.
There are some reports using the NCSBN Clinical Judgment Measurement Model (NCJMM) as a framework for teaching clinical judgment.21 However, the NCSBN has clarified that the NCJMM is an assessment model intended for the measurement of student learning as opposed to teaching.22 The NCSBN has also explained that the NCJMM is not intended to be a replacement for the nursing process or any other evidence-based nursing theories or practices.23
According to the article, it is recommended that every nursing program review options and select a model that works best for them.24
Simulation tip: No matter which model your program decides on, your faculty will hold the keys to its implementation and success. You may want to invest in some professional development activities to ensure that everyone is unified and prepared to apply the "common language" that your model will be offering. Professional development activities could include training on how to use evaluation rubrics associated with your model to ensure reliability, or taking a course on debriefing or evaluation and assessment.
References
Reid, C. A., Ralph, J. L., El-Masri, M., & Ziefle, K. (2020). High-fidelity simulation and clinical judgment of nursing students in a maternal–newborn course. Western Journal of Nursing Research, 42(10), 829–837. https://doi.org/10.1177/0193945920907395
NGN Talks: A Look at the Strategic Practice Analysis & Special Research Section Video Transcript. (2019). National Council for State Boards of Nursing (NCSBN). Retrieved from https://www.ncsbn.org/public-files/videos/Transcript_NGNTalk_Episode02.pdf
Lewis, L. S., Rebeschi, L. M., & Hunt, E. (2022). Nursing Education Practice Update 2022: Competency-Based Education in Nursing. SAGE Open Nursing, 8, 237796082211407. https://doi.org/10.1177/23779608221140774
Jessee, M. A., Nielsen, A., Monagle, J., Gonzalez, L., Lasater, K., & Dickison, P. (2022). A national report on clinical judgment model use in prelicensure nursing curricula. Nursing Education Perspectives, 44(1), 4–10. https://doi.org/10.1097/01.nep.0000000000001062
Ibid.
Nielsen, A., Gonzalez, L., Jessee, M. A., Monagle, J., Dickison, P., & Lasater, K. (2022). Current practices for teaching clinical judgment. Nurse Educator, 48(1), 7–12. https://doi.org/10.1097/nne.0000000000001268
Lawrence, K., Messias, D. A. K., & Cason, M. L. (2018). The influence of simulation experiences on new nurses' clinical judgment. Clinical Simulation in Nursing, 25, 22–27. https://doi.org/10.1016/j.ecns.2018.10.008
Nielsen, A., Gonzalez, L., Jessee, M. A., Monagle, J., Dickison, P., & Lasater, K. (2022). See Reference #6.
Ibid.
Fogg, N., Kubin, L., Wilson, C. E., & Trinka, M. (2020). Using virtual simulation to develop clinical judgment in undergraduate nursing students. Clinical Simulation in Nursing, 48, 55–58. https://doi.org/10.1016/j.ecns.2020.08.010
Nielsen, A., Gonzalez, L., Jessee, M. A., Monagle, J., Dickison, P., & Lasater, K. (2022). See Reference #6.
Nielsen, A., Gonzalez, L., Jessee, M. A., Monagle, J., Dickison, P., & Lasater, K. (2022). See Reference #6.
AL Sabei, S. D., & Lasater, K. (2016). Simulation debriefing for clinical judgment development: A concept analysis. Nurse Education Today, 45, 42–47. https://doi.org/10.1016/j.nedt.2016.06.008
Ibid.
Ibid.
Ibid.
Nielsen, A., Gonzalez, L., Jessee, M. A., Monagle, J., Dickison, P., & Lasater, K. (2022). See Reference #6.
Jessee, M. A., Nielsen, A., Monagle, J., Gonzalez, L., Lasater, K., & Dickison, P. (2022). See Reference #4.
Nielsen, A., Gonzalez, L., Jessee, M. A., Monagle, J., Dickison, P., & Lasater, K. (2022). See Reference #6.
Jessee, M. A., Nielsen, A., Monagle, J., Gonzalez, L., Lasater, K., & Dickison, P. (2022). See Reference #4.
Nielsen, A., Gonzalez, L., Jessee, M. A., Monagle, J., Dickison, P., & Lasater, K. (2022). See Reference #6.
NGN FAQs for Educators. (n.d.) NCSBN. Retrieved from https://ncsbn.org/exams/next-generation-nclex/NGN+FAQS/ngn-faqs-for-educators.page
Ibid.
Nielsen, A., Gonzalez, L., Jessee, M. A., Monagle, J., Dickison, P., & Lasater, K. (2022). See Reference #6.
Helping Your Learners Build Clinical Judgement