Laerdal Medical, Wolters Kluwer, and the National League for Nursing collaborate to launch a virtual reality solution supporting new nurse transition to practice
Laerdal Medical, Wolters Kluwer, and the National League for Nursing collaborate to launch a virtual reality solution supporting new nurse transition to practice
WAPPINGERS FALLS, NY, June 14, 2023
Nursing schools are facing mounting pressure to yield practice-ready graduates to address the nursing shortage crisis in the U.S. High patient caseloads in short-staffed hospitals have made it even more critical for new graduate nurses to possess sound prioritization skills and clinical judgment. To support the training needs of these essential nursing competencies, Laerdal Medical, Wolters Kluwer Health, and the National League for Nursing today launched vrClinicals for Nursing at the International Nursing Association for Clinical Simulation and Learning (INACSL) conference in Providence, RI.
"Through realistic simulations and interactive scenarios, students can now bridge the gap between theory and practice in a safe and controlled virtual environment. With our new vrClinicals for Nursing solution, students can immerse themselves in lifelike clinical settings, where they will be forced to properly prioritize the care they give to the multiple patients assigned to them, as well as cope with potential interruptions characteristic of the "real world" clinical environment. This transformative technology empowers students to hone their clinical skills, improve critical thinking, and develop the clinical judgment required to excel in their transition to practice."
- Neil Weber, President | Laerdal Medical
Preparing Future Nurses for Today's Realities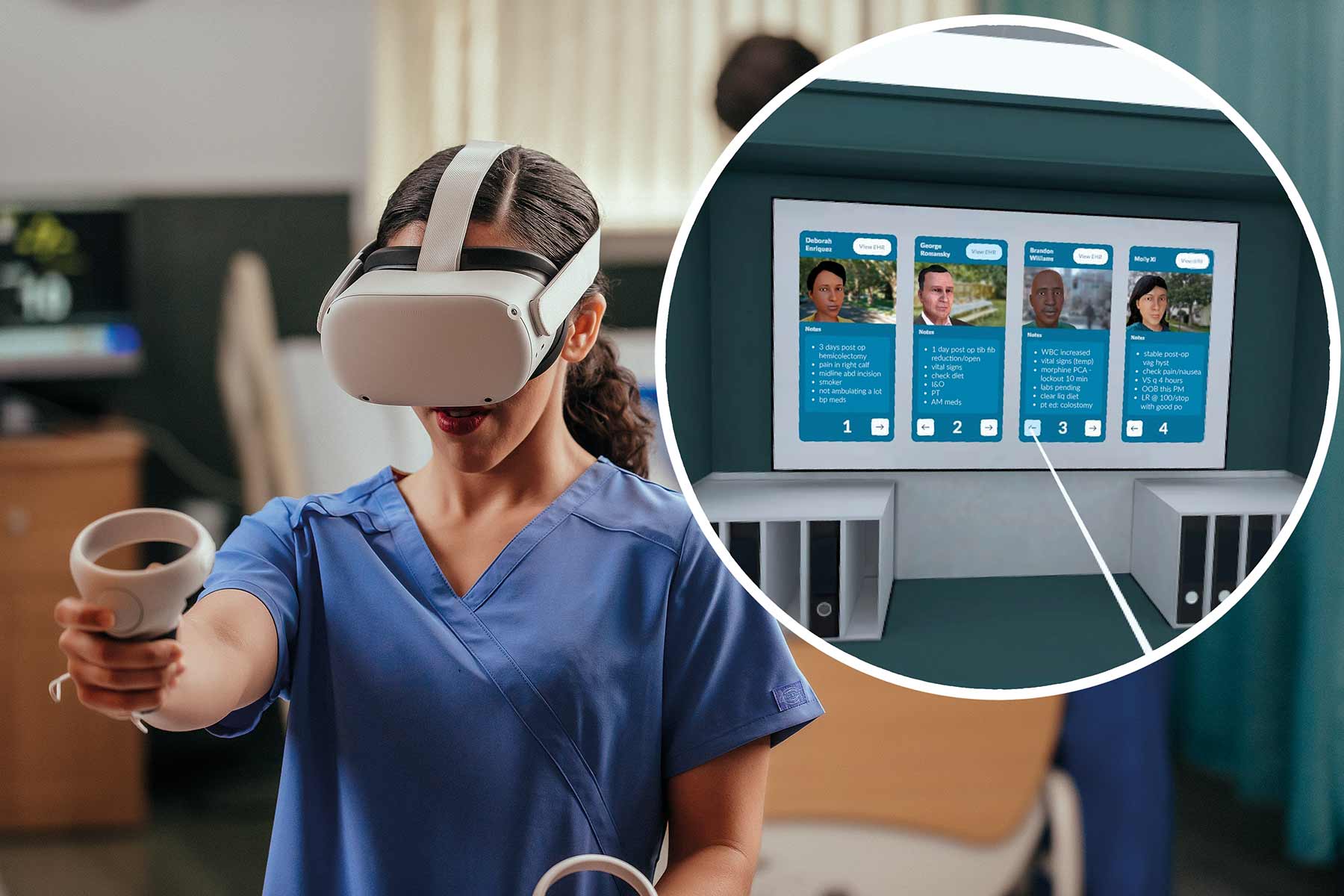 vrClinicals for Nursing uses virtual reality (VR) technology to immerse learners in an authentic, busy hospital environment. Just like in the real hospital setting, learners navigate diverse, multi-patient scenarios with interruptions to care and unfolding clinical experiences covering a range of learning objectives. These lifelike encounters provide the clinical practice opportunities that learners need to refine their prioritization skills, build clinical judgment, and prepare for their transition to the nursing workforce.
Key features of the new vrClinicals for Nursing include:
Multi-patient scenarios focusing on prioritization across the ward
Unfolding clinical experiences with a focused range of learning objectives designed to build practice readiness
National League for Nursing (NLN)-authored content aligned with Next Generation NCLEX
Guided reflection exercises and measurable feedback to the student and instructor
4-6 hours of total time per clinical experience
Compatibility with Meta Quest 2 headset
Simplified, resource-effective method for facilitating multi-patient simulations
"One of the biggest learning curves for new nurses is understanding the demands of the role when it comes to handling multiple patients with complex cases. Through immersive virtual reality, vrClinicals for Nursing provides students the opportunity to prioritize numerous patients in a safe-to-fail environment. Giving nursing students access to these types of day-to-day activities in a real-life environment can help make them more clinically confident and practice-ready once they begin their careers."
- Julie Stegman, Vice President, Nursing Segment, Health Learning, Research & Practice | Wolters Kluwer Health
Press Contact
Mary Lanigan
Email: [email protected]
Telephone: (845) 296-6433