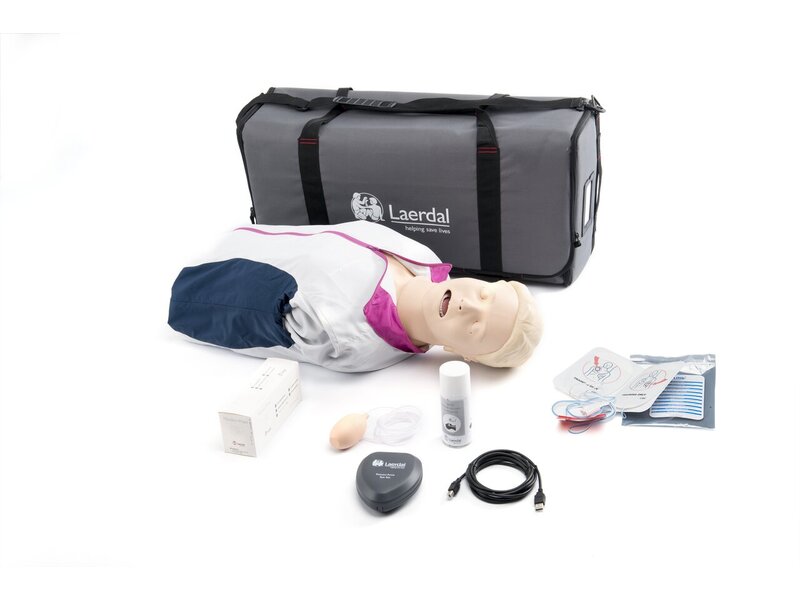 174-00160
Resusci Anne QCPR AED AW Torso - Rechargeable
Pris ekskl. moms:
21.995,00 kr.
Oversigt
High-performance CPR training for professional first responders Enables Training
Resuscitation team training or skills training
Training with live defibrillator with pad placement and rhythm selection on QCPR device
Advanced Airway Management with Airway devices
ERC, AHA and SRFAC Guidelines compliant CPR
Real time feedback to:

Compression depth, rate, release
Ventilation volume and hand placement

Improvement hints and guided debrief
Multiple chest stiffnesses
QCPR Feedback Options
Torso Manikin with Rechargeable battery in soft Carry Case that doubles as training mat
45kg Compression Spring Installed
Two extra compression springs (30kg and 60kg), Manikin Wipes, Important Product Information Document, User Guide, USB Cable A-C, AC Power Adapter USB 2A
Compatible Accessories and Upgrades
Video below shows the most advanced Resusci Anne QCPR configuration:
Full-body Resusci Anne QCPR with Airway Head and AED Skin
More information
Hygiene and cleaning procedures for CPR manikins
What types of intubation devices and methods does the Resusci Anne Airway Head support?