Transforming CPR Education
Rooted in the latest science, our training programs lead providers on an immediate journey to high-quality resuscitation.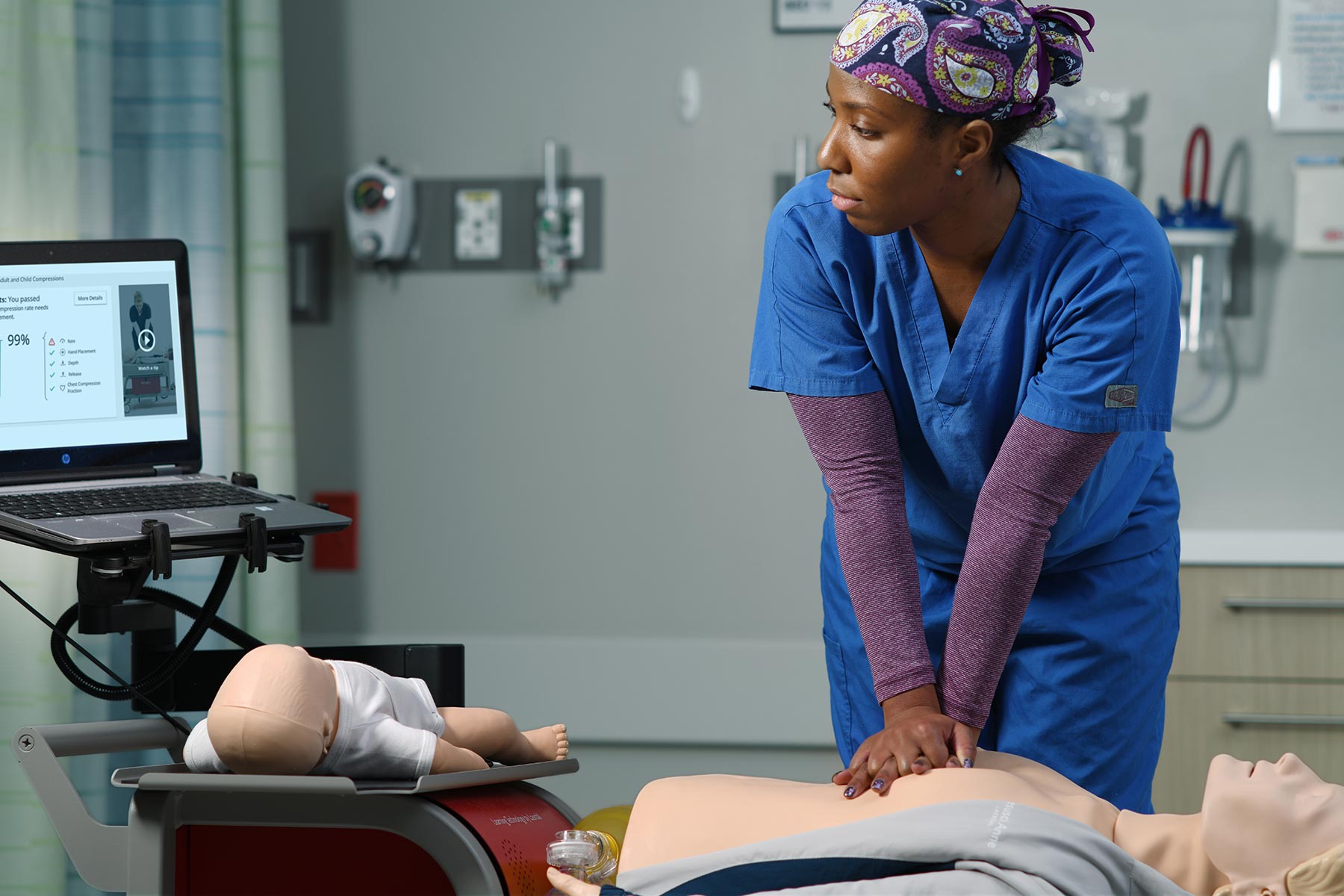 Overcoming Challenges Facing Resuscitation Programs
The right resuscitation program can make all the difference for delivering the highest standard of care. But widespread healthcare staff shortages and the ongoing pandemic are putting a huge strain on the healthcare system and are driving the need for time-efficient, resource-optimized, and high-quality resuscitation education.
Leveraging the latest resuscitation and education science can help busy healthcare organizations make the most of their resources while providing effective resuscitation training and the highest level of care.
Transition from Classroom to Digital CPR Education
Take advantage of the digital learning technologies and education science featured in the Digital Resuscitation Portfolio from the American Heart Association (AHA) and Laerdal Medical.
Incorporating eLearning ensures all learners have the same proficiency in the learning objectives.
Objective and directive skills feedback provides accurate hands-on performance.
Low-dose, high-frequency training sessions replace skills decay with verified CPR competence.
Make a change today. Begin the journey to high-quality resuscitation to maximize lifesaving outcomes.
Portfolio of Digital Resuscitation Programs
The Digital Resuscitation Portfolio, brought to you by the American Heart Association (AHA) and Laerdal Medical, provides safe, distanced, and self-directed resuscitation programs, ensuring continuity of education for high-quality CPR.

Resuscitation Quality Improvement (RQI) programs offer low-dose, high-frequency education for verified competence and mastery learning of life-saving CPR skills.

HeartCode Complete programs offer a consistent yet flexible training delivery method for verified CPR performance on a two-year training cycle.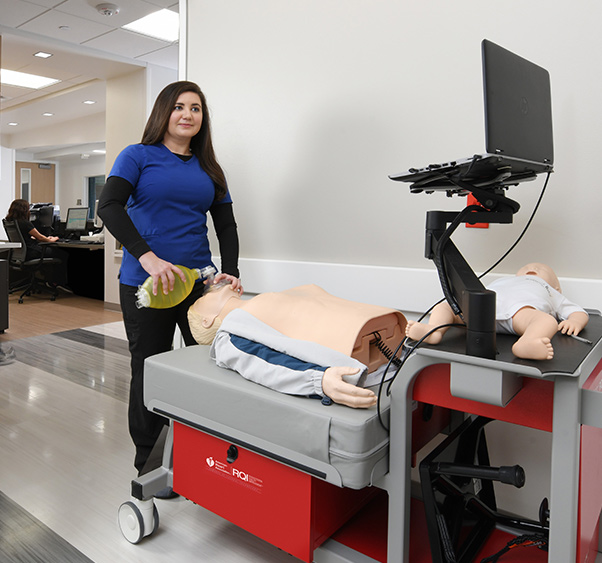 Verified Competence
Low-dose, high-frequency quality improvement program
Experts agree – small imperfections to CPR are harmful to patients and skills are perishable. The ability to consistently administer high-quality CPR is critical to improving outcomes and is the last chance for survival in a cardiac arrest emergency.
The AHA's Resuscitation Quality Improvement (RQI)® programs provide a high-reliability platform for simulation-based mastery learning, implemented through low-dose, high-frequency quality improvement sessions that measure and verify competence to help healthcare providers retain and master life-saving skills.
The quarterly RQI curriculum delivers cognitive eLearning and self-directed skills training in manageable sessions at the point of care.
Learn more about RQI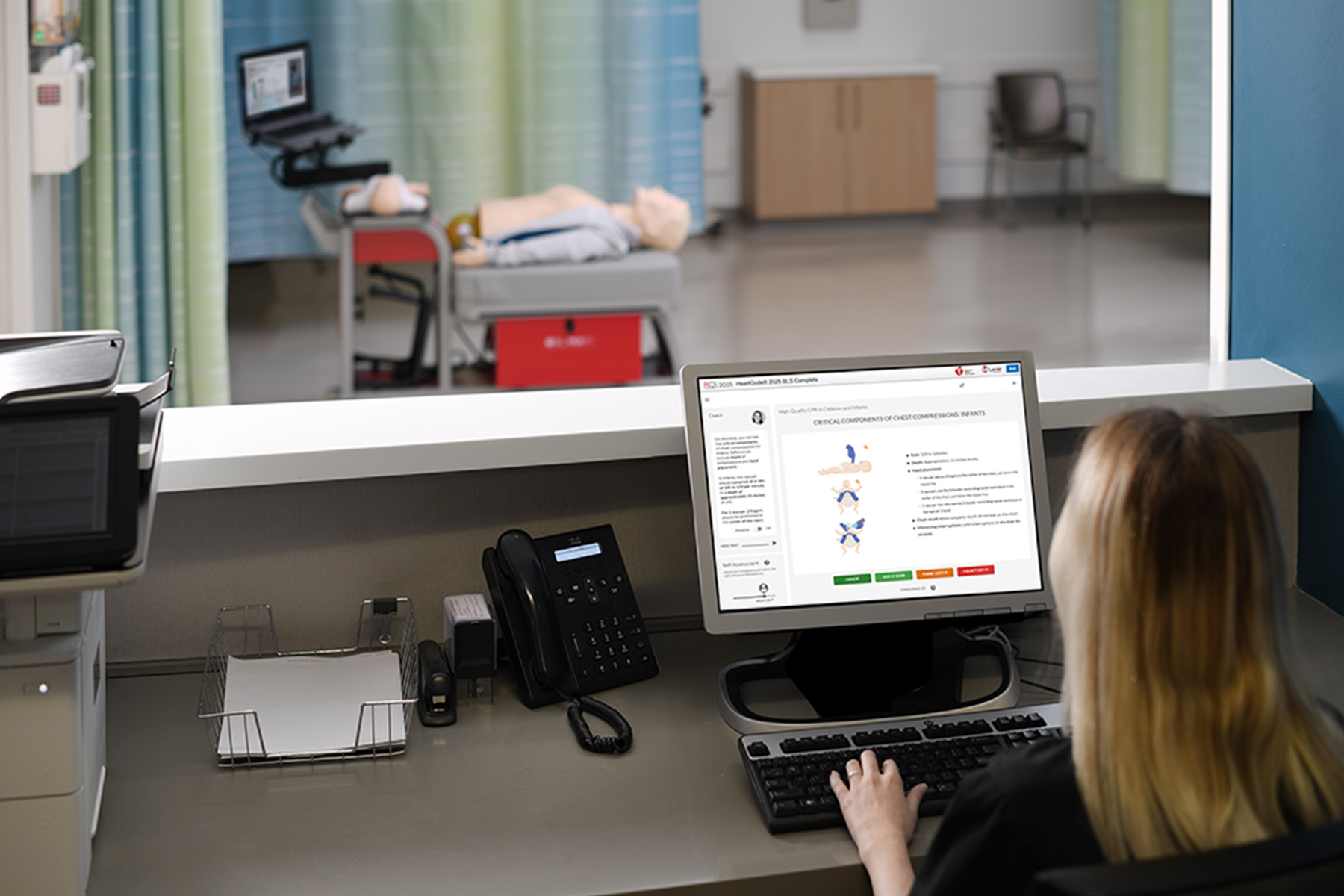 Verified Performance
Individual, self-directed CPR training
Conducting effective resuscitation training can be a challenge. Time, resources, cost, and quality are all important factors. The AHA's HeartCode Complete programs deliver high-quality resuscitation training through a more flexible delivery method.
By combining self-paced eLearning with self-directed hands-on skills training, learners and administrators gain more control of their time, schedule, and resources. HeartCode Complete delivers consistent, high-quality training across organizations at a pace that's right for every individual.
Learn more about HeartCode Complete
Blended Learning Resuscitation Training
Resuscitation training can be a time and logistics challenge for healthcare organizations, instructors, and students. The AHA's HeartCode Blended Learning courses combine self-paced cognitive eLearning with instructor-led, hands-on CPR skills practice and testing to prepare learners for real resuscitation events.
Your organization's resuscitation program directly impacts the quality of patient care—but not all resuscitation programs are created equal. Our CPR training programs are built using AHA resuscitation and education science, coupled with Laerdal Medical equipment and technology. These comprehensive solutions combine the latest resuscitation technology, data, analytics, and impact management, delivered through a robust system of support.