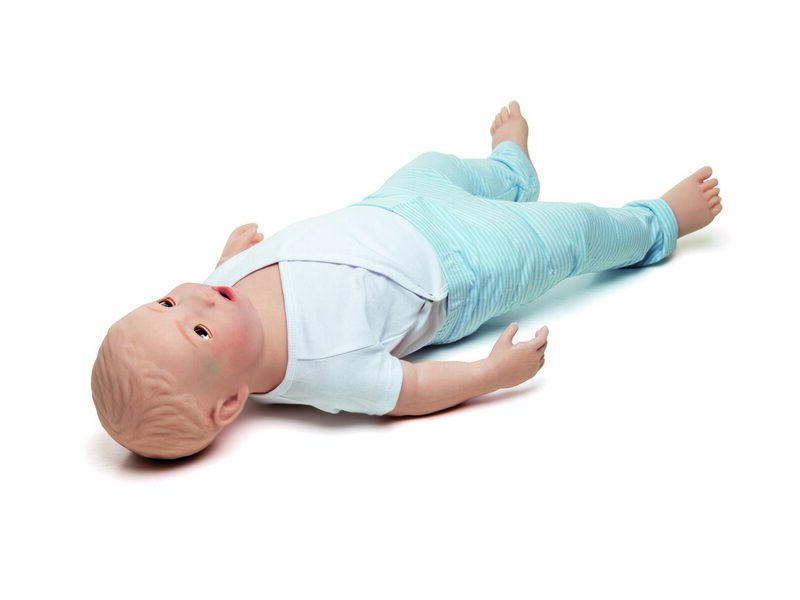 246-00050
SimBaby Light
This product is not available to purchase online
Save for later?
Sign in to add this item to your favourites list.
Overview
SimBaby™ is a tetherless simulator designed to help healthcare providers effectively recognise and respond to critically ill paediatric patients. The SimBaby simulator represents a 9-month-old paediatric patient and provides a highly realistic mannequin that meets specific learning objectives focusing on initial assessment and treatment. This SimBaby comes in a light skin tone.
Product Features
SimBaby Light skin tone simulator complete mannequin (1)
SimBaby clothing (1)
SimBaby trolley bag (1)
Lower IO leg modules (2)
Drain Bags for IV or IO complete (2)
IV port seal (20)
Syringe 60 ml (1)
Needle decompression module (5)
Silicone lubricant (1)
Silicone Tape (1)
IO sealing Tape (1)
Ethernet Cable (1)
LAN connector (1)
Laerdal Warranty (1)
SimBaby Important Product Information (1)
SimBaby User Guide (1)
Power cord (US/AU/EU/UK) (1)

Tetherless paediatric 9-month-old simulator in a light skin tone
Realistic and safe early assessment, diagnosis and intervention practice
Train respiratory emergencies, shock and cardiopulmonary arrest to gain confidence
QCPR technology for effective monitoring and improvement of resuscitation quality
Achieve learning objectives with easy-to-use scenarios
Integrate debriefing to capture, share and analyse training sessions to improve team performance

Length: 71 cm / 28 in

Weight: 4.9 kg / 10.8 lb
Compatible solutions
Learn more about related products to enhance your experience.