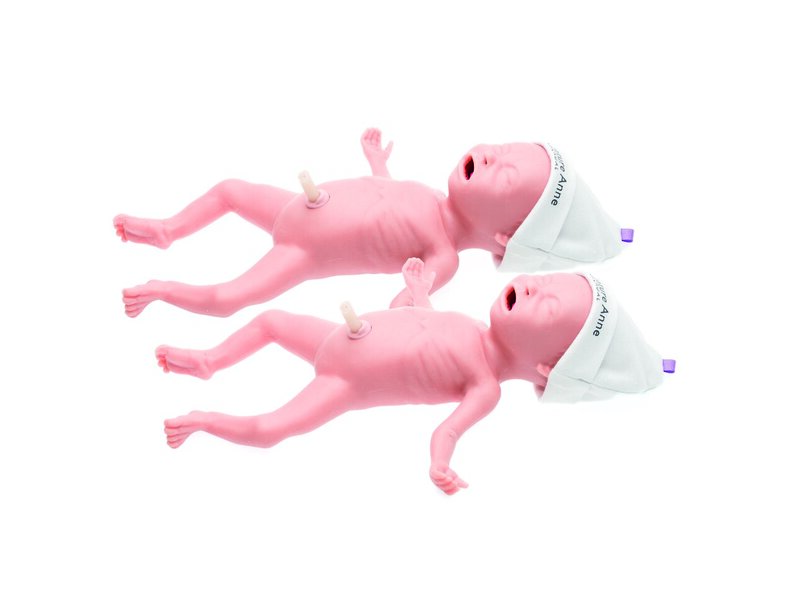 290-00150
Premature Anne Task Trainer Twin Pack
Premature Anne is a realistically proportioned 25-week preterm manikin developed in collaboration with the American Academy of Pediatrics (AAP). Premature Anne is designed to facilitate the training of healthcare professionals in the initiation of proper care and resuscitation of preterm infants.
En existencias
Este producto no está disponible para su compra en línea
¿Guardar para más adelante?
Inicia sesión para agregar este elemento a tu lista de favoritos.
Descripción general
You will receive two packages of the Premature Anne Task Trainer.
Each Premature Anne Task Trainer is packaged in a box that has been designed for both storage and training use with the addition of the simulated headboard on the rear of the package. In each box you receive, standard peripherals are included with the product, which are:
SimMom Birthing lubricant
Laerdal Airway Lubricant 45ml
Simulated Blood Concentrate
Umbilical cords (3)
42mm Face Mask
3M "Kind Removal Silicone Tape"
10ml Syringe
Hat and Blanket
User guide and Important Product Information
Tray for the storage of the Task Trainer
Meet your learning objectives
When used as a task trainer, Premature Anne is designed to help a learner develop and gain competence through hands on training.
Premature Anne Task Trainer is designed to strengthen skills in:
Airway management techniques
Delivering compressions
Vascular access (umbilicus)
Practice placement in dry pre-ported IV sites
Want to place learners into real-life scenarios?
Before putting skills into practice, make use of training scenarios specifically aligned to the objectives of the Neonatal Resuscitation Program (NRP) course curriculum, by pairing Premature Anne with SimPad PLUS.
Use the links below to find out more.
Soluciones compatibles
Comprar como parte de un paquete