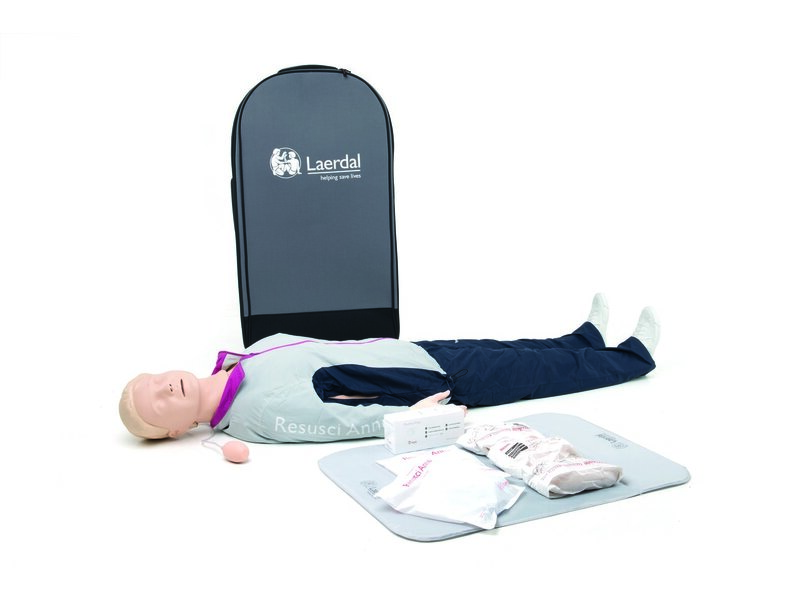 170-01250
Resusci Anne First Aid Full Body Trolley Suit.
This product is not available to purchase online
Save for later?
Sign in to add this item to your favourites list.
Overview
Resusci Anne is a CPR manikin designed to represent a standard adult cardiac arrest patient in terms of required chest compression force. Each Resusci Anne model simulates an adult of average physiology and is designed for realistic training in basic life support techniques following international recommendations. The First Aid manikin has no electronics and is suited for use in rough environments. Full body Resusci Anne First Aid manikin in a trolley case is a budget-friendly version of the Resusci Anne QCPR manikin.
Product Features
Resusci Anne First Aid Full Body manikin (1)
Airway Assembly (1)
Face skins Resusci Anne (3)
Jacket and trousers Resusci Anne (1)
Trolley suitcase (1)
Manikin Wipes pkg. 50 (1)
Important Product Information (1)
User Guide (1)

First aid and CPR training for professional first responders in one manikin
Please note: To use a digital feedback solution for Resusci Anne please refer to Resusci Anne QCPR
Enables resuscitation team training or skills training
Enables extrication training

Resusci Anne First Aid full body manikin

Length: 177 cm / 69.7 in
Width: 52 cm / 20.5 in
Height: 25 cm / 9.8 in
Weight: 36 kg / 79.2 lbs

Trolley Case

Length: 97 cm / 38.2 in
Width: 52 cm / 20.5 in
Height: 29 cm / 11.4 in
Weight: 8.5 kg / 18.7 lbs
Compatible solutions
Learn more about related products to enhance your experience.