Ir a la sección
Descripción general
Especificaciones
Downloads & Servicios
Contáctenos
Tienda
Resusci Baby QCPR
+ aplicación SkillReporter
Una potente
combinación
Con una realista rigidez del tórax, sensor de colocación de las manos y la nueva aplicación SkillReporter, Resusci Baby QCPR ofrece formación con un nuevo nivel de precisión para tratar bebés en paro cardiaco.
La aplicación SkillReporter incluye información objetiva y mediciones precisas de todos los parámetros de RCP vitales, que ayudan a los profesionales sanitarios a formarse hasta alcanzar la perfección.
Gamified learning with the new SkillReporter app - a professional-grade QCPR app designed to help meet learning objectives for professional providers.
La vista de la línea de tiempo de RCP permite a los usuarios obtener información de RCP en tiempo real y observar las tendencias simultáneamente.
Haga defriefing de forma inmediata con una línea de tiempo deslizable y haga clic para conseguir más detalles sobre sus puntuaciones a fin de obtener datos y observaciones adicionales.
Utilice métricas detalladas para revisar el rendimiento de la compresión torácica.
Revise las métricas de ventilación medidas al milímetro.
Obtenga información detallada sobre la fracción de compresión torácica, el parámetro más importante para la RCP de alto rendimiento.
Seleccione las pautas y personalice los parámetros de información individual.
Acceda a los informes y resultados guardados, incluidas las líneas de tiempo de RCP y la información de la sesión almacenadas, y exporte las sesiones para verlas fuera de la app.
Obtenga información en tiempo real precisa sobre cada compresión y ventilación.
Aplicación SkillReporter
Formación en cualquier lugar. En cualquier momento.
Obtenga acceso inmediato a información de RCP de calidad y debriefing con la aplicación SkillReporter, una combinación perfecta para los maniquíes Resusci QCPR.
Ayudando a salvar las vidas de los pacientes más pequeños
Pautas y consejos prácticos para la formación en RCP de calidad
Utilice su propio dispositivo
Descargue SkillReporter en tabletas IOS o Android. Consiga notificaciones sobre las nuevas actualizaciones al instante.
Conexión rápida y sólida
Conecte Resusci Baby QCPR y la aplicación SkillReporter con la conexión Bluetooth Low Energy.
Localización de protocolos
Configure SkillReporter para que admita sus protocolos y directrices locales.
Debriefing sólido
Vea los detalles mínimos de cada ventilación y compresión. Proporcione consejos prácticos y personalizados y exporte resultados para las iniciativas de mejora de calidad.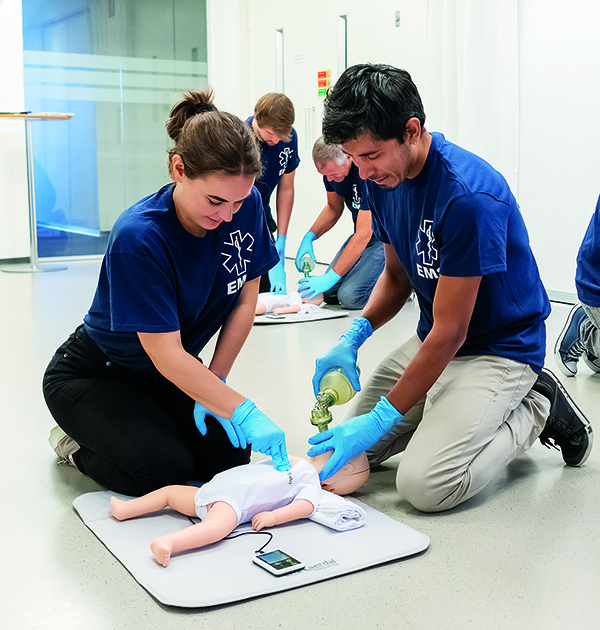 Formación realista - confianza real.
Diseñado para cumplir sus objetivos de aprendizaje
Contacto con sensores
Proporcione información precisa a sus alumnos gracias a los avanzados sensores de colocación de las manos. 
Tórax realista
Proporcione formación a sus alumnos sobre el uso preciso de la fuerza en la RCP de bebés. Resusci Baby QCPR tiene una realista rigidez del tórax para conseguir que las compresiones resulten reales.
Anatomía casi real
Realice la inclinación de cabeza, elevación del mentón y tracción mandibular, exactamente como en las situaciones de la vida real. Resusci Baby QCPR también permite rotar la cabeza hacia los lados. 
Listo cuando usted lo esté
Utilice Resusci Baby QCPR en cualquier lugar y en cualquier momento. Es completamente inalámbrico y recargable, con más de 37 horas de batería.
Novedades
Posibilidades de formación ampliadas
Ayuda a desarrollar el dominio de las destrezas adicionales de RCP de bebés con funciones opcionales.
Cabeza instrumentalizada
La configuración de la cabeza pensada para el aprendizaje de la vía aérea permite a los alumnos insertar dispositivos supraglóticos y practicar el proceso de trabajo en torno a la intubación endotraqueal.
Pierna para tratamiento intraóseo
La realista pierna para tratamiento intraóseo permite a los alumnos dominar las técnicas de infusión intraósea para bebés.
SimPad PLUS con SkillReporter
Haga más con SimPad PLUS
RCP para modo de equipos
Este modo admite los protocolos no estándar como las compresiones continuas. Además permite a los instructores proporcionar información sobre las habilidades de RCP y el trabajo en equipo de forma separada durante la misma sesión.
Proporcione formación con DEA y desfibrilador
Utilice SimPad PLUS y ShockLink para conectar un desfibrilador con corriente en el entorno de formación. ShockLink absorbe el choque de forma segura, mientras que SimPad PLUS controla los ritmos y muestra el choque administrado en la línea de tiempo de RCP.
Registro de eventos y eventos personalizados
Marque como realizadas las tareas importantes con listas de comprobación precargadas o cree eventos personalizados en su plan de formación. Acciones como "comprobar respiración", "comprobar pulso", y "llegada de desfibrilación" se anotarán en la línea de tiempo de RCP y se almacenarán en los datos de la sesión de RCP.
Dispositivos de información
Información objetiva para un mejor aprendizaje
Aplicación TeamReporter
Una aplicación móvil diseñada para la formación en equipo de RCP de alto rendimiento con debriefing en vídeo inteligente.


Resusci Baby QCPR pertenece a la misma familia de productos que Resusci Anne QCPR y Resusci Junior QCPR. Los tres utilizan la misma tecnología inalámbrica y trabajan con los mismos dispositivos de información.
Si aprende cómo funciona un maniquí Resusci QCPR sabrá cómo funcionan todos.
Especificaciones
Gender, age, size
Full-body manikin

Disponible

Infant

Disponible

Pediatric

Disponible
Other
Control Devices

Disponible
Airway features
Endotracheal tubes - insertion, securing and care

Disponible

Esophageal intubation

Disponible

Intubation

Disponible

Realistic chest rise and fall

Disponible

Supraglotic Airways (LMA, LTA and Combitube)

Disponible

Jaw thrust maneuver (movable jaw)

Disponible

Airway closes when neck is underextended

Disponible

Airway closes when neck is hyperextended

Disponible

Nasal passages open for nose pinch

Disponible

Supraglotic Airways

Disponible

NPA/OPA insertion

Disponible
CPR
Anatomical Landmarks

Disponible

Compression measurement and feedback

Disponible

Detailed CPR evaluation

Disponible

Mouth-to-Mouth ventilations

Disponible

Ventilation measurement and feedback

Disponible

Chest compression

Disponible

Head tilt/Chin lift maneuver

Disponible

Ventilations with visible chest rise

Disponible

Hand placement measurement and feedback

Disponible

Bag Valve Mask ventilations

Disponible
Gastrointestinal
Nasoenteric and Esophageal Tubes - insertion, care, and removal

Disponible
Circulatory skills and IV drug administration
Simulation administration
Event logging

Disponible

WiFi operation

Disponible

SkillGuide connectivity

Disponible

Mobile application connectivity

Disponible

SimPad connectivity

Disponible

Bluetooth Low Energy (BLE) operation

Disponible
Debriefing
Debriefing through recorded events

Disponible

Quick Review of CPR performance

Disponible
Descargas de productos
Contáctenos
No hay productos disponibles en esta categoría