Go to section
Overview
Specifications
Download & Services
Contact us
Shop

Creating confident care providers
A tetherless simulator supporting the entire patient pathway – from in-hospital intensive care, during ambulance transportation, and in a home care setting – SimBaby with Tracheostomy is used to improve confidence and competence in all aspects of pediatric care.
If you already own a SimBaby you can purchase a tracheostomy upgrade.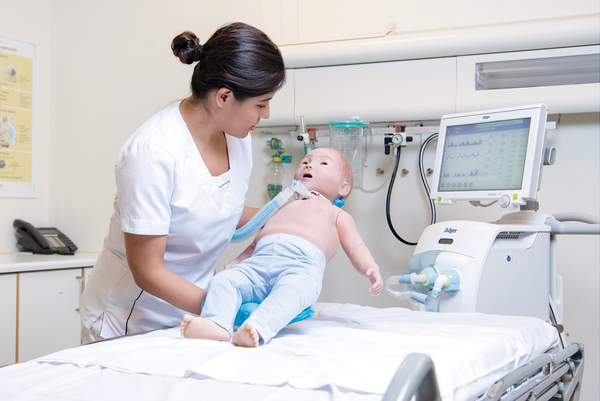 PICU training
Improving patient outcomes
It takes a team
Allow PICU teams and in-hospital care providers to experience correct insertion of tracheal tubes on a pediatric patient. Increase their proficiency to act quickly during high-stress experiences.
Simulate to improve
Studies show that care providers who received simulation training on emergency tracheostomy care exhibited a greater level of confidence.
Flexible operating systems
Use SimPad or LLEAP for PC to control every aspect of your training sessions.
Valuable debriefing
Allow your teams to review and reinforce their clinical problem-solving abilities after training sessions. Effective debriefing is a vital opportunity to improve critical life-saving skills.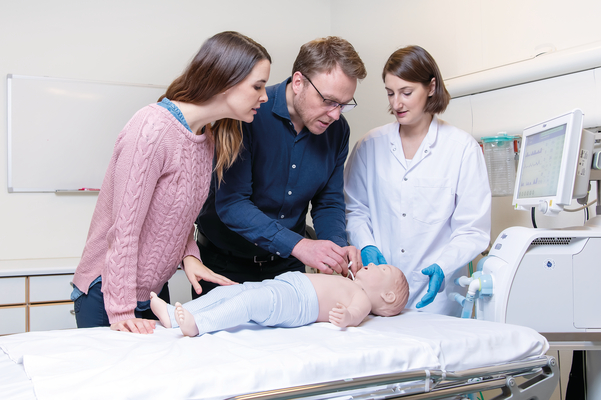 Training for care at home
Increasing caregivers' confidence
Care at home
The best place for long-term care is at home. Train parents and caregivers on correct procedures so that cannulated babies are well cared for in their own homes.
Parent training
Confidence in handling emergency situations is key. Teach parents how to change tracheal tubes and provide orientation on equipment.
Adjustable tracheostoma
Control the tracheostoma size so that learners can practice on realistic tracheal tube insertion.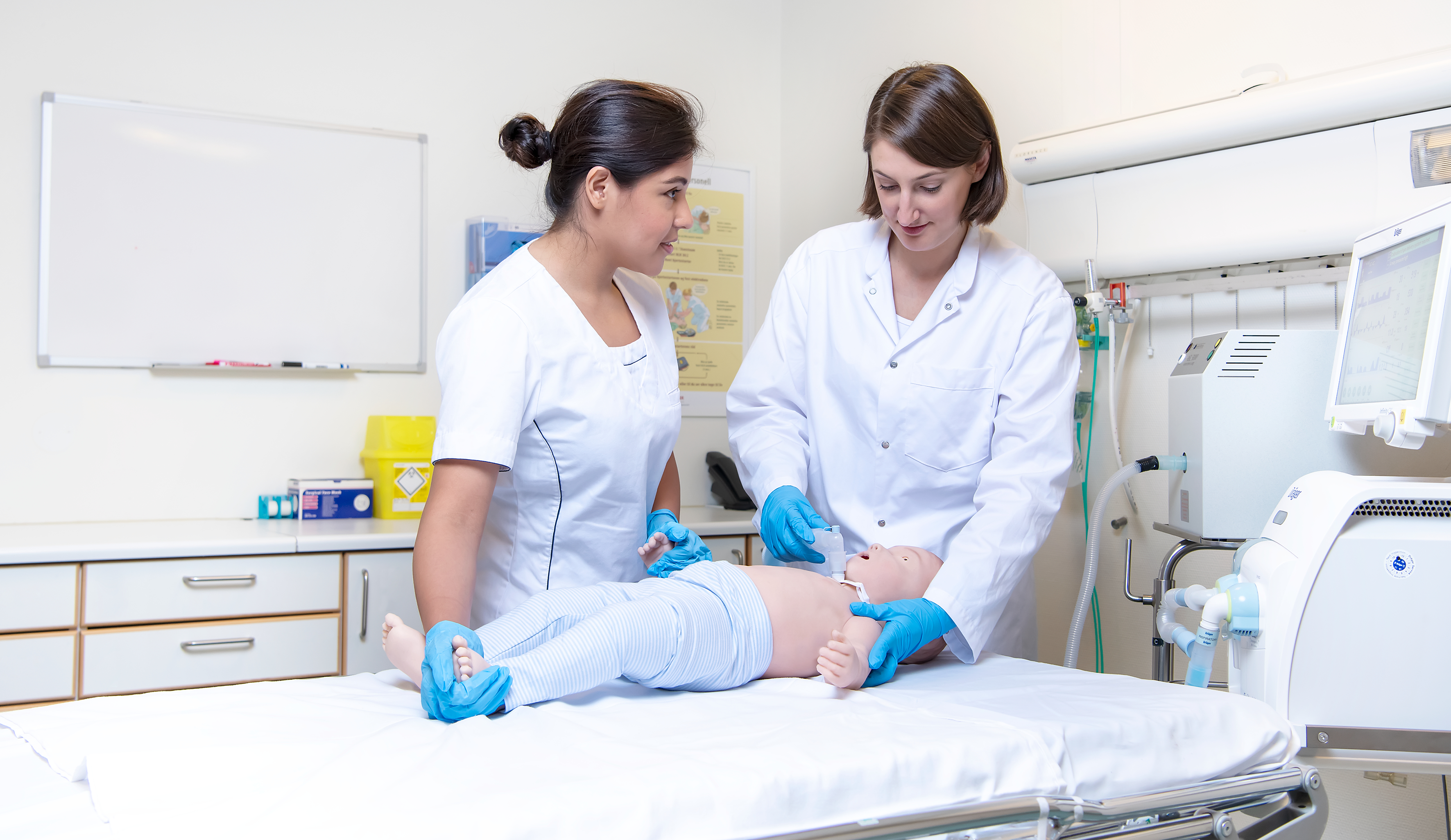 Use your own ventilator
Enhanced ventilation management
Connect SimBaby Tracheostomy with ASL 5000 Lung Solution to expand your training possibilities with mechanical ventilators.
The ASL 5000 replicates all types of respiratory conditions and seamlessly integrates with SimBaby, real ventilators, and patient monitors.
Practice early assessment, diagnosis, and intervention
Children can have different physiological responses to trauma compared to adults. Learning how to effectively recognize and respond to respiratory emergencies, shock, and cardiopulmonary arrest can improve the healthcare provider's ability to respond more confidently in an emergency situation.
Assess capillary refill time
Test pupillary light reflex
For more information and full product specifications:
Always stay operational and on top of the latest simulation knowledge through support of the extensive Laerdal technical and educational service portfolio.
References
T. A. Stanley, M. Battles, N. Bezruczko, C. Latty (2019), Efficacy of Simulation for Caregivers of Children With a Tracheostomy, Clinical Simulation in Nursing, 2019 June; 31:6-19.
K Prickett, A Deshpande, H Paschal, D Simon, KB Hebbar (2019) Simulation-based education to improve emergency management skills in caregivers of tracheostomy patients International Journal of Pediatric Otorhinolaryngology, 2019 May; 120:157-161.
N M Tofil, C Rutledge, J L Zinkan et al, (2013), Ventilator Caregiver Education through the Use of High-Fidelity Pediatric Simulators: A Pilot Study, Clinical Pediatrics, 2013 October; Vol 52 Issue 11; 1038-1043.
N M Tofil et al, (2018) Tracheostomy Education for Parents Utilizing Simulation: A New Paradigm In Parental Education, Pediatric Nursing, May-June 2018, Vol. 44, No. 3; 111.
J Thrasher et al (2018), Hospital to Home: A Quality Improvement Initiative to Implement High-fidelity Simulation Training for Caregivers of Children Requiring Long-term Mechanical Ventilation, Journal of Pediatric Nursing, 2018 Jan - Feb;38:114-121.
Specifications
Controllable tracheostoma size for realism when inserting tracheal tubes. Settings: Open, Partially Open, Closed.
Bag-valve ventilation
Connect to a mechanical ventilator
Simulate false passage or removal of a mucus plug
For a full list of specifications, please visit the SimBaby page
Specifications
Gender, age, size
Female

Available

Full-body manikin

Available

Pediatric

Available

Child

Available
Wounds / Trauma
Simulated Blood

Available
Other
SpO2 saturation

Available

Variable Fontanelles

Available

Body movement

Available
Airway features
Realistic chest rise and fall

Available

Intubation

Available

Needle chest decompression

Available

Suctioning techniques

Available

Endotracheal tubes - insertion, securing and care

Available

Oxygen delivery procedures

Available

Right mainstem intubation

Available

Sellick maneuver

Available

Obstructed airway simulation

Available

Oral and nasal fiberoptic intubation

Available

Positive pressure ventilation

Available

Stomach auscultation to verify proper positioning

Available

Esophageal intubation

Available

Laryngospasm

Available

Auscultation of lung sounds

Available

Individual lung or bilateral sound selection

Available

Lung sounds, synchronized with breathing rate

Available

Stomach decompression

Available

Tracheostomy care and suctioning

Available

Airway complications (instructor controlled)

Available

Instructor controlled mechanical airway closure

Available

Inflatable tongue edema

Available

Ventilation Sensor

Available

Increased left/right lung resistance

Available

Chest Tube insertion

Available

Decreased Lung compliance

Available

Supraglotic Airways

Available

NPA/OPA insertion

Available

Trach opening for tube placement

Available
CPR
Anatomical Landmarks

Available

Compression measurement and feedback

Available

Ventilation measurement and feedback

Available

Detailed CPR evaluation

Available

Chest compression

Available

Head tilt/Chin lift measurement and feedback

Available

Head tilt/Chin lift maneuver

Available

Ventilations with visible chest rise

Available

Hand placement measurement and feedback

Available

Bag Valve Mask ventilations

Available
Circulation
Defibrillation (manual/automatic)

Available

Optimised for ShockLink

Available

Defibrillation sensors

Available

ECG monitoring

Available

Instructor controlled ECG rhythm

Available

Auscultation of Heart Sounds

Available

Auto conversion of ECG w/defibrillation

Available

Pacing

Available

Cyanose

Available

Defibrillation Pad placement sensors

Available

Convulsions/Seizure

Available

Heart Sounds, synchronized with ECG

Available
Blood pressure / pulses
Adjustable Heart Rate

Available

Auscultative Gap, with On/Off feature

Available

Pulse Strengths dependent on Blood Pressure

Available

Adjustable Pulse strength

Available

Brachial Pulses

Available

Blood Pressure/Pulses

Available

Femoral Pulse

Available

Pulse Oxymeter SpO2

Available

Synchronized Pulse (w/ECG)

Available
Gastrointestinal
NG Tubes - insertion, care and removal

Available

Stomach Distention

Available

Feeding Tubes - insertion and removal

Available
Circulatory skills and IV drug administration
Realistic Flashback

Available

Volume Infusion

Available

IO Injections

Available

IV Injections

Available
Simulation administration
Create and edit Scenarios

Available

Event logging

Available

Log

Available

Pre-programmed Scenarios

Available

Simulated Patient Monitor

Available

Create and edit Themes

Available

Portability kit

Available

PC connectivity

Available

WiFi operation

Available

SimPad connectivity

Available
Scenario Cloud and scenariocloud.laerdal.com Courseware
Pediatric Advanced Life Support (PALS) Scenarios

Available

Scenario Cloud

Available
Educational Services (optional)
Introduction course

Available

Custom Scenario programming

Available

Customized introduction

Available

Scenario programming course

Available
Debriefing
Debriefing through recorded events

Available

Video debriefing

Available
Suction
Battery Charge Time

Available

Battery Operation Time

Available
Birthing Baby
Articulating Limbs

Available

Crying

Available

Fontanel

Available

Open Mouth

Available
Technical Services (optional)
Loaner Program (Americas Only)

Available

Preventive maintenance

Available

Installation

Available

ValuePlus Package

Available
Eye features
Blinking Eyelids

Available

Dilated Pupil

Available

Unequal Pupils

Available

Light sensitive Pupils

Available
Product downloads
Contact us
Technical Service and Support