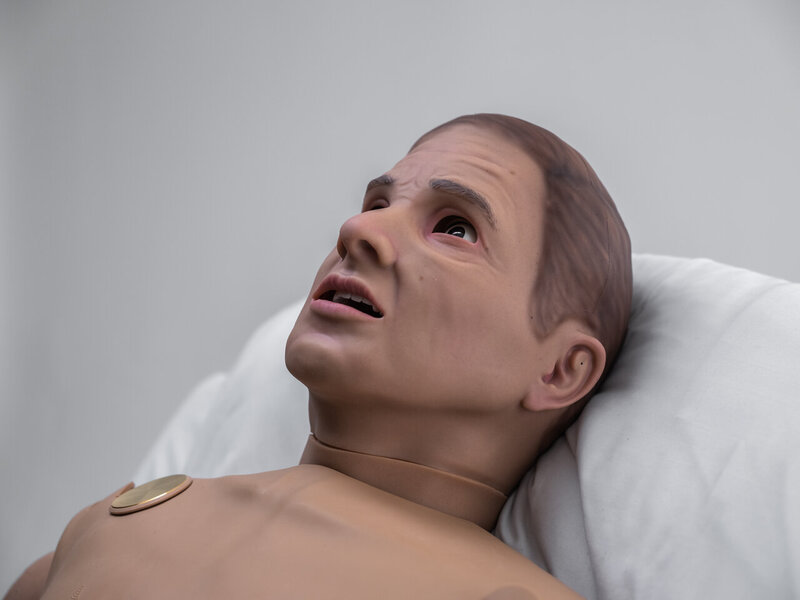 212-03150
SimMan 3G PLUS Medium Manikin and Accessories
This product is not available to purchase online
Save for later?
Sign in to add this item to your favourites list.
Overview
SimMan 3G PLUS is a durable patient simulator created for high-quality simulation training in a multitude of different medical procedures and patient cases. Use SimMan 3G PLUS as a stand-alone simulator, or expand your training possibilities with high-quality add-ons and your own equipment.
Product Features
Full-body mannequin with articulating legs and arms (1)
Set of SimMan Clothing (trousers, zipped hoodie, gown and belt) (1)
Hard upper teeth (1)
Set of Genitalia (Male, Female and Blank) (1)
Wound kit (wound + adhesive) (1)
Defib ECG tightener (1)
Lung compliance O-ring (10)
SimMan arm adapter (1)
IM gluteal pad (1)
IM deltoid pad (1)
IO humeral bone and pads (5)
IO tibia bone and pads (3)
Blood concentrate (1)
Fluid refill bottle (1)
Blood refill bottle (1)
Inline Filter Blood (2)
Chest drain pleura (6)
Airway lubricant (1)
Blood pressure cuff (1)
Clear film dressing custom sheet (1)
Clear film dressing for elbow/IV site (5)
IV port Hard plastic (5)
Silicone plug (1)
IV bag Plug with Luer lock (1)
Neck skin band 3G (3)
Neck skin band 3G PLUS (6)
Pneumothorax set (1)
Cricothyroid tape (1)
External power supply (1)
Battery Charger (1)
Tools (1)
SimMan Important Product Information (1)
SimMan User Guide (1)
Automated NIBP (1)
Automated SpO2 (1)

SimMan 3G PLUS offers interchangeable headskins, articulating arms and LiveShock

SimMan 3G PLUS

Length: 180 cm / 71 in
Width: 55 cm / 22 in
Height at Chest: 25 cm / 10 in
Weight: 38.5 kg / 85 lb

Two Trolley Bags for Legs and Torso

Length: 120 cm / 47 in
Width: 65 cm / 25.5 in
Height: 33 cm / 13 in
Weight: 15 kg / 33 lb per trolley

2 Li-ion (Lithium Ion) batteries. Pre-installed
Compatible solutions
Learn more about related products to enhance your experience.