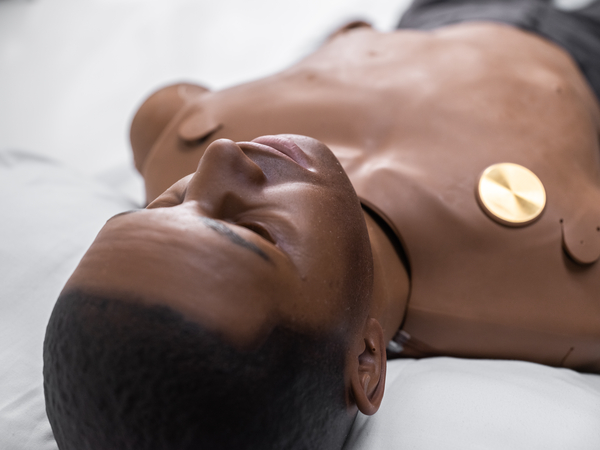 2022
One of the greatest challenges to our health care system globally is ensuring older adults receive equitable, patient-centered, quality care. Meeting the critical care needs of this growing demographic makes these challenges urgent and compelling.
Using simulation, we can improve the quality of care for elderly patients by helping learners recognize their preferences and needs.
Laerdal will be launching the Geriatric headskins for SimMan 3G PLUS, allowing you to create unique training opportunities for your students.
2021
In order to improve care quality and help learners develop the necessary skills to treat diverse patient populations, Laerdal released SimMan 3G PLUS. Built on decades of expertise, SimMan 3G PLUS offers a fully immersive simulation experience with heightened realism. Some of the new features are interchangeable face skins and a range of skin tones, fully articulating arms and non-invasive blood pressure.
2018
A large benefit that simulation offers is giving learners the opportunity to rehearse real-world, specialized training – something that might otherwise be hard to practice. Recognizing the need for multidisciplinary team training for Endovascular Specialists, Cath Lab teams, and Pre-hospital care providers, Laerdal developed SimMan Vascular. Built on Laerdal's SimMan 3G platform with Mentice's VIST® endovascular simulation technology inside, SimMan Vascular is an integrated emergency patient and endovascular procedure simulator.
2016
In 2016, Laerdal developed SimMan ALS, a mobile and durable solution to meet the needs of pre- and in-hospital emergency care providers. SimMan ALS can be used in conjunction with the Laerdal-SonoSim Ultrasound Solution, LiveShock, or ShockLink to meet a client's specific training requirements.
2014
In 2014, Laerdal released SimMan 3G Trauma. It was developed with severe trauma training needs in mind – particularly those of the military and the pre-hospital setting. SimMan 3G Trauma provides clients with the ability to simulate amputated limbs, sternal intraosseous infusion (IO) access, and bleeding control. These features, among many others, help to shape a realistic trauma emergency scenario for learners.
2010
In 2010, Laerdal introduced SimMan Essential. SimMan Essential offers comprehensive clinical functionality to teach core skills in airway, breathing, cardiac, and circulation management. By offering an expanded simulator portfolio, Laerdal gave clients the power to choose a solution tailored to their needs. It was not long before SimMan Essential was seen as a common element in training within EMS, the Military, and Hospital Emergency Rooms.
2009
After realizing the need for high-fidelity physiological responses in a simulator that could be used in an in situ setting – i.e., a real clinical environment – Laerdal developed SimMan 3G . This member of the SimMan family can display neurological symptoms as well as physiological symptoms and can easily be made mobile with wireless technology. SimMan 3G provides educators with the flexibility to train basic and advanced skills in a team-based setting.
2004 - 2007
The Human Factor (2004) shed light on the importance of teamwork and communication.1 Recommendations to reduce error included the use of the SBAR (situation, background, assessment, recommendation) tool and closed-loop communication tactics.
In 2006, the Agency for Healthcare Research and Quality (AHRQ) released Team Strategies and Tools to Enhance Performance and Patient Safety (TeamSTEPPS). These insights were designed to serve as the national standard for team training in healthcare.2 Shortly after, in 2007, the Quality and Safety Education for Nurses (QSEN) Institute created the QSEN Competencies. The competencies can be applied in a multitude of settings to develop nurses with the knowledge, skills, and attitudes necessary to continuously improve the quality of healthcare.3
Each of these initiatives made evident the fact that the healthcare community had begun to respond to threats on patient safety.
2001
In 2001, the Institute of Medicine (IOM) published the groundbreaking "Crossing the Quality Chasm: A New Health System for the 21st Century." In response to the high death rate occurring annually in hospitals due to medical error, the IOM defined six aims for delivering quality care. The IOM states that healthcare should be: safe, effective, patient-centered, timely, efficient, and equitable.4 The IOM put the issue of patient safety front and center before healthcare policymakers, setting plans in motion.