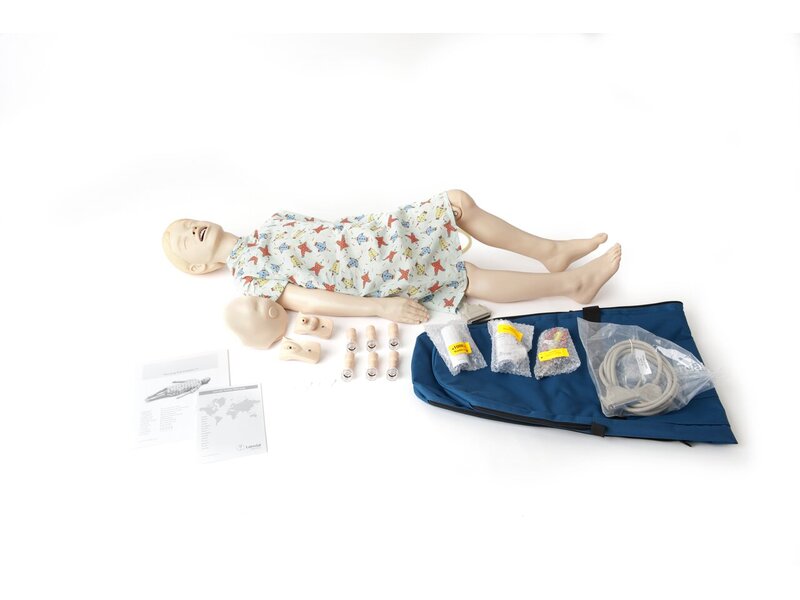 350-05050
Nursing Kid SimPad
I lager
Denna produkt är inte tillgänglig för köp online
Översikt
Nursing Kid is a training manikin realistically representing a six-year old child. He is designed for skill and scenario based training of the care and management of a variety of pediatric in-hospital patients. Training includes sound auscultation, IV cannulation, urinary catherization, and general pediatric patient care. This child is ideal for clinical training in core pediatric in-hospital clinical skills. Product benefits:
Delivers education efficiently, targeting key skills specific to pediatric care providers
Programmable scenarios provide standardized training while customizable scenarios and real time instructor control allows training to be adapted to meet student needs
Durable, rugged and lifelike; made to withstand years of use
Highly mobile for use in multiple clinical settings and hospital transport
Efficient training care and management of a variety of both common and uncommon in-hospital pediatric patients including wound assessment and care, first aid, and child abuse training
Product features:
Head with anatomical landmarks, trachea, and esophagus along with simulated lungs and stomach allow the practice of many procedures, including NG, OG, tracheal care and suctioning, and insertion, securing and care of endotracheal tubes
Allows for the ausculation and diagnosis of normal and abnormal heart, breath and bowel sounds
Bilateral deltoid, bilateral thigh, gluteal intramuscular injections possible
Articulating IV arm allows for practice of IV cannulation, medication administration and site care and maintenance
Presents normal and abnormal heart, breath and bowel sounds for auscultation. Pre-programmed and instructor-controlled scenarios aid in standardizing teaching
VitalSim™ Unit is required for operation. Sold separately. See part # 200-10001.
Nursing Kid is shipped with : Manikin Airway Lubricant, Simulated Blood, Hospital Gown, Carry Case, and Directions for Use.